The Truth About Cher's Relationship With Her Youngest Son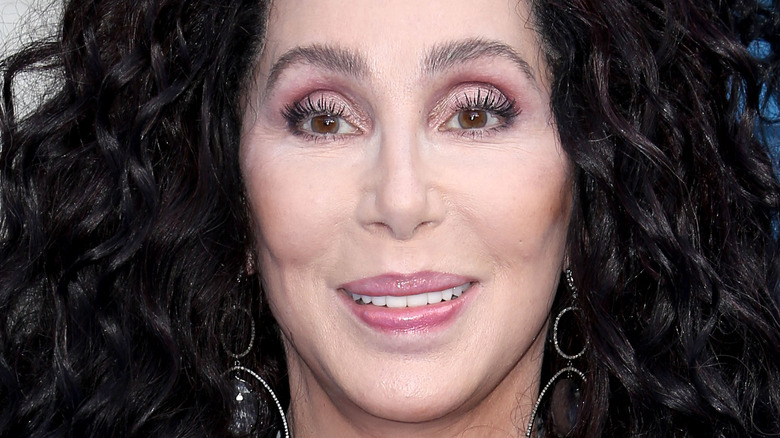 Cubankite/Shutterstock
Cher's career collided with her personal life in the 1960s. At the time, the superstar was married to Sonny Bono, and the two were so popular they scored their own TV variety show called "The Sonny and Cher Comedy Hour". In 1969, the "I Got You Babe" singers welcomed their only child together, Chaz Bono, per Who.
Sonny and Cher didn't last, but the Bob Mackie-wearing superstar made headlines when she got married a second time, this time to Allman Brothers Band frontman, Gregg Allman. The two tied the knot in 1975 — just three days after Cher's divorce from Sonny Bono became final, per Entertainment Weekly. Just nine days later, Cher separated from the "Midnight Rider" singer and prepared to file for divorce, but she paused the plan when she found out she was pregnant. Cher and Allman welcomed Elijah Blue Allman in 1976. At the time, Cher told People that Elijah's birth changed her relationship with her rock star husband. "For the first time I feel like married people," she admitted. While they tried to forge on as a family, the famous couple ended their marriage for good in 1979.
Cher's marriage was not the only rocky thing in the Allman family — she supposedly didn't have the best relationship with her son, Elijah, either. Keep scrolling to learn about the truth about Cher's relationship with her youngest son. 
Elijah Blue Allman felt like he was 'shunned' by his celebrity parents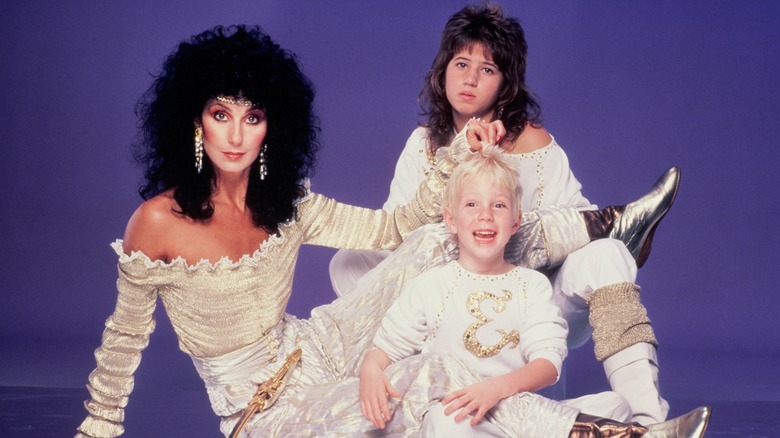 Harry Langdon/Getty Images
While Chaz Bono made frequent cameos on his parents' variety show, his little brother, Elijah Blue Allman, was rarely seen by fans. Because his parents were busy with their careers and sometimes on the road, Elijah spent the bulk of his school-age years at boarding schools. In 2014, he told Entertainment Tonight about how that lifestyle affected him as a kid. "When you go to boarding school at 7 years old, it's kind of hard to feel like you're not being shunned," he said. 
Elijah added that while he learned to make peace with his childhood traumas as an adult, it still didn't make it "right." According to the Daily Mail, Elijah attended multiple boarding schools over a 10-year span, and his mother once "punished" him for getting into trouble at school by sending him to a military academy for one year.
Revealing more about his unconventional childhood, Elijah told ET that while he was close to Chaz when they were young, the two grew apart because they weren't "geographically around each other" after their parents sent them to different East Coast schools. Elijah also admitted that as an adult, he still has "issues" with his mom. "We've worked through a lot of them," he shared. "We've got some more to go ... there's unresolved stuff, for sure."
Things got really rocky for Cher and her son due to his engagement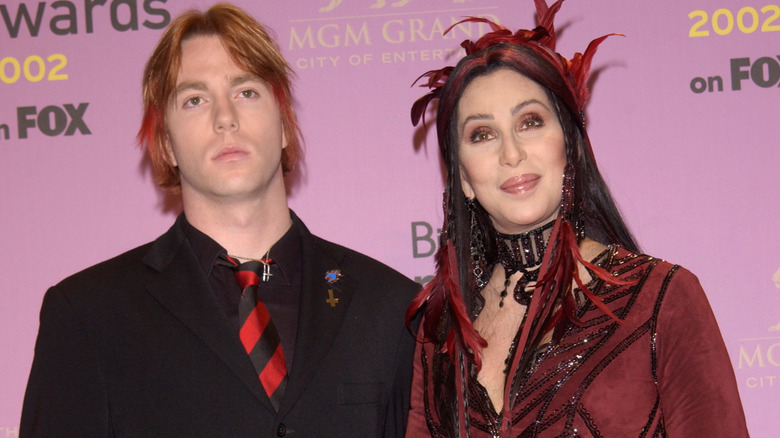 Featureflash Photo Agency/Shutterstock
In 2013, Elijah Blue Allman temporarily moved into Cher's Malibu mansion with his then-fiancee, British singer Marieangela King. He admitted to Entertainment Tonight that the two women in his life sometimes butted heads, and that after he moved out of Cher's place later that year, he didn't speak to her for months. 
Cher also reportedly didn't acknowledge Elijah's engagement, per the Daily Mail. Elijah and Marieangela ultimately eloped on December 1, 2013. While a few friends attended the small ceremony, the bride and groom did not invite Cher. "I wasn't going to wait for anyone's approval and congratulations just like I've never waited for any of that my whole life," Elijah told the publication of his decision. That year, Elijah and his wife weren't invited to Cher's home in Malibu for Christmas.
Elijah, who followed his parents' footsteps in music with his own band, Deadsy, told the Daily Mail that he has "always been the black sheep of my family." He added, "We just have different value systems and we just have a different mentality and that clashes a lot." Despite their multiple estrangements, he acknowledged that Cher "had her moments" and knows "she's tried." He also admitted that fame didn't help Cher's role as a parent. "I know it's a real regret, a real thing that for sure haunts her," he said. "I definitely know that the intent has been genuine. "