The Truth About Leah McSweeney's Relationship With Her Family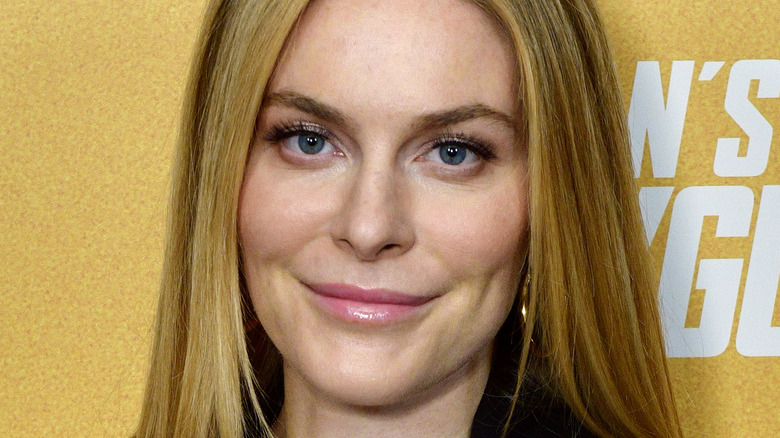 Eugene Gologursky/Getty Images
Fashion designer Leah McSweeney first burst onto the Bravo scene in 2020 when she joined the affluent, albeit eccentric, cast of "Real Housewives of New York City." During her time on the show, viewer's have been privy to many parts of her life — including how she runs her successful fashion brand Married to the Mob, the special bond she shares with her daughter Kier, and even the amicable yet unconventional friendship she shares with Kier's father. 
Perhaps, however, one of the most interesting facets of the RHONY newbie is the loving yet oftentimes dysfunctional relationship she shares with her parents. "I was a really f***ed up teenager. I put my parents through hell," Leah famously admitted on camera during one of her RHONY confessional scenes (via Distractify). "My mother was like, 'Hey, we really can't have you in the house anymore because you're disrupting your brother and your sister's life.'"
What's the real story behind the hot and cold rapport she has with her mother and father? Keep reading after the jump to find out!
Leah clashed with her parents over past addiction issues
Leah McSweeney's storyline has definitely had one recurring theme throughout both her freshman and sophomore seasons on "Real Housewives of New York City": the rocky relationship she shares with her parents. Throughout the ups and downs, however, her prior issues with addiction have always played an integral role in fanning the flames in their troubled union. 
During an interview with "The Today Show," Leah admitted that her mother, Bunny McSweeney, had cut off all communication with her after she chose to start drinking again during her first season of RHONY. Fortunately, it wasn't too long before Leah realized she had made a mistake and chose to get sober again.
Alas, it appears that Bunny now thinks Leah has moved on to a brand new addiction: plastic surgery. During season 13, things became increasingly intense between the mother and daughter when Leah confronted her mother about the slight at a family dinner. "Everything I do, you have a criticism for," Leah said to her mother (via Daily Mail). In a rare moment, Leah's father seemingly agreed with Leah as he piped in, "You might have a point there." While Bunny first dismissed Leah's accusations, she eventually came around and vowed to support her daughter 100 percent. 
If you or anyone you know is struggling with addiction issues, help is available. Visit the Substance Abuse and Mental Health Services Administration website or contact SAMHSA's National Helpline at 1-800-662-HELP (4357).
Leah McSweeney lost her grandmother Marie
Aside from the rather tumultuous relationship with her parents, fashion mogul-turned-reality star Leah McSweeney also tragically lost her grandmother, Marie — someone with whom she was very close. 
Some time after her grandmother's death, Leah posted a loving memorial on her Instagram account wherein she did her best to articulate the love she had for her while also explaining the special bond that they shared. "My Queen. You understood me in a way that most of the adults in my life never could," she wrote in the touching post. "You helped me reconcile and understand the most deeply baffling issues I grappled with from addiction to relationships to motherhood." 
As reported by Bravo TV, Leah lost her grandmother during the beginning of filming Season 13. Alas, the show must go on and during one particular scene in her apartment, viewers were privy to Leah's grief as she processed the emotions with her sister and brother. Later Leah confessed on her Instagram account just how challenging it was to share that deeply personal moment in her life. "It's been very hard watching these episodes and reliving losing my grandma," she penned in a candid Instagram post. "This was by far the most challenging experience with the show thus far."  We wish Leah the best as she continues to mourn the loss of such a special person in her life.