Travis Scott's Surprise Present For Stormi Sparks Intense Reactions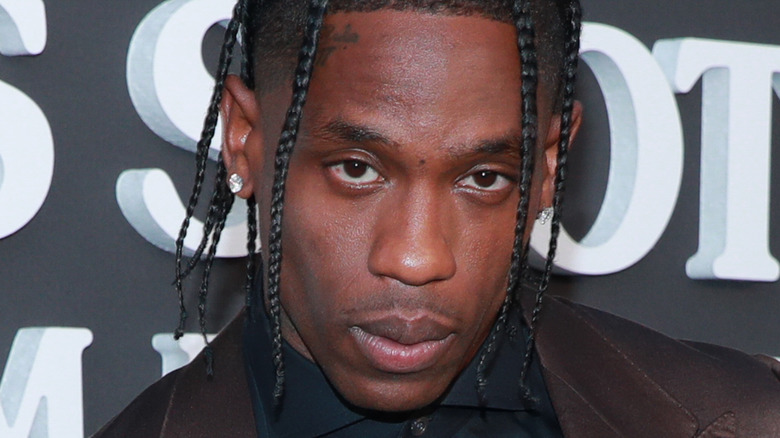 Rich Fury/Getty Images
Travis Scott and Kylie Jenner's daughter Stormi Webster is no stranger to extravagant — and often thoughtful — gifts from her dad. For Christmas in 2019, the rapper surprised his adorable daughter with a visit from her favorite movie character. He arranged for an actor to appear in a giant costume as Poppy from "Trolls," per E! News. "Poppy!," Stormi exclaimed when the costumed character stopped by, which Kylie shared in a heartwarming Instagram post. In another video in the post, Stormi showed off her mini-mansion playhouse to Poppy that was gifted by her grandmother Kris Jenner.
The following Christmas, the "Sicko Mode" rapper treated his daughter to a gift that was (even more so) straight out of a fairytale. Travis arranged for a Cinderella carriage to arrive in front of Stormi's home, and it was adorned with a bevy of dresses from a myriad of Disney characters, per Teen Vogue.
In another attempt to make his daughter's wishes come true, Travis got Stormi ... a school bus. As usual, Kylie shared the experience on social media, but this time, fans were a little taken aback by the father's gesture. Keep reading to see how fans reacted to Stormi's solo ride to school in her bus.
Some people found Stormi's empty bus birthday gift unrelatable
Kylie Jenner shared photos on her Instagram Stories (via Page Six) of Stormi Webster outside a giant yellow school bus for her birthday. "All Stormi has been talking about is riding a big yellow bus. Daddy surprised her," the reality TV star wrote in her Stories. She also added two photos of Stormi going down the aisles with all the seats on the bus completely empty. "It's unclear if the 30-year-old performer rented the bus or bought it outright," as Page Six wrote.
Many internet users quickly pointed out that the gift was a little out of touch. "Kylie and Travis buying Stormi a yellow school bus because all she wanted to do was be a normal kid and ride on one is the most dystopian, surreal, depressing, and funny thing I've ever seen," one person tweeted. "[R]ich people are literally so far from reality they bought a school bus for [S]tormi to sit on," another added. "Did she intend for this to be so profoundly sad?" comedian Andy Richter wrote. "All my kid wanted was a piggy back ride so I bought a person to give her one," a Twitter user joked. 
One fan wondered why Stormi could not simply ride a full bus, writing, "Is she not allowed to be among the peasants?" While another Twitter user pointed out that a normal bus ride was not an option due to Covid-19. Well, happy birthday, Stormi!