The Real Reason Kaley Cuoco Covered Up One Of Her Tattoos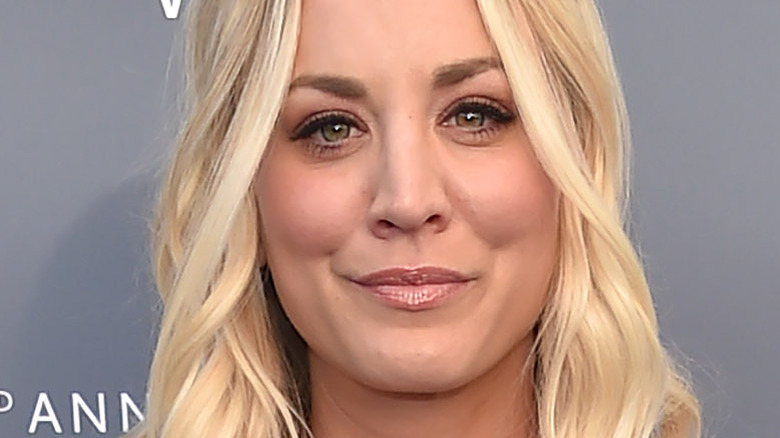 DFree/Shutterstock
The stories behind celebrity tattoos are always fascinating. In a world where everything seems so fleeting, what was so important that a star felt inspired to permanently commit to it in the form of body art? Kaley Cuoco, the actress best known as Penny from "The Big Bang Theory," certainly doesn't have many tattoos compared to some celebrities — we're looking at you Justin Bieber and Miley Cyrus — but she is also no stranger to ink. Cuoco has four tattoos, and each is uniquely personal.
The first tattoo is of a Chinese symbol Cuoco had inked onto her lower back when she was just 17. She jokingly called it a "tramp stamp" in an interview with Ellen DeGeneres, saying that she'd got it at the time because she "wanted to be cool." She also has an intricate bird tattooed on her ribcage, which she's never commented on, so little is known about it, according to Popsugar. Her most recent tattoo, however, is the sweetest one of all. It's a matching tattoo of a paper plane on her lower calf, which she got with Zosia Mamet and other "Flight Attendant" costars as they were wrapping up the show's first season, according to the Daily Mail. Cuoco posted photos of the tattoos on Instagram with the caption "A special little tribute to our wonderful little show."
But Cuoco's fourth tattoo has a particularly interesting story behind it. Read on to find out the real reason Kaley Cuoco covered up one of her tattoos.
Kaley Cuoco covered up the wedding tattoo she calls "a mistake"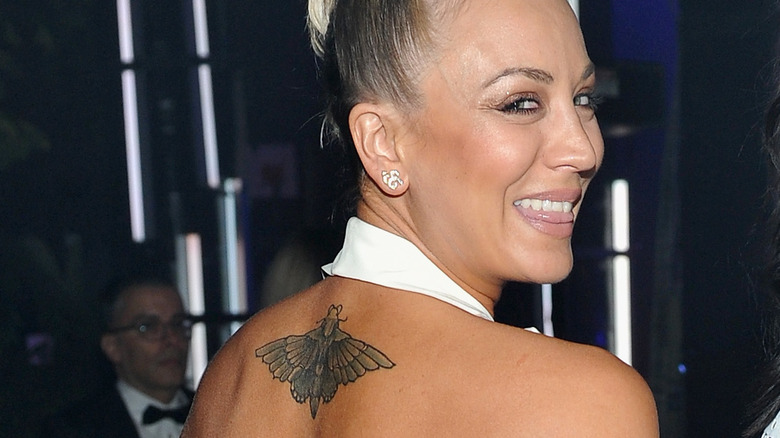 Donato Sardella/Getty Images
Kaley Cuoco's fourth tattoo used to be of Roman numerals just underneath her neck that symbolized the date of her first wedding to professional tennis player Ryan Sweeting — December 31, 2013 — but she covered this tattoo up with one of a large moth. In an interview with Ellen DeGeneres, Cuoco admitted, "The tattoo was a mistake. I had to cover it. [The numerals] were big. So then I had to cover it with the wings, which I think turned out okay."
When asked how long she'd been married for, Cuoco told Ellen, "Not that long! I was married for a year and a half. I had the date tattooed on my back and everything to remind me." Then she put her head in her hands in a display of embarrassment. Ellen joked that a moth was an odd choice for a tattoo, asking "People do butterflies, but why a moth? What's the significance?" Cuoco laughed and explained, "The significance is that it was big enough to cover the numbers ... The wings, big wings! Silence, quiet, on a wall. You know how they do that, they're stationary..." Then she admitted that the moth was actually "just what I picked out when I was there."
Ellen offered her own interpretation, saying, "I picture a moth because a moth is drawn to the light all the time," to which Cuoco jokingly responded, "That too! That's exactly what I was thinking."
Kaley Cuoco said that getting divorced is "like losing someone"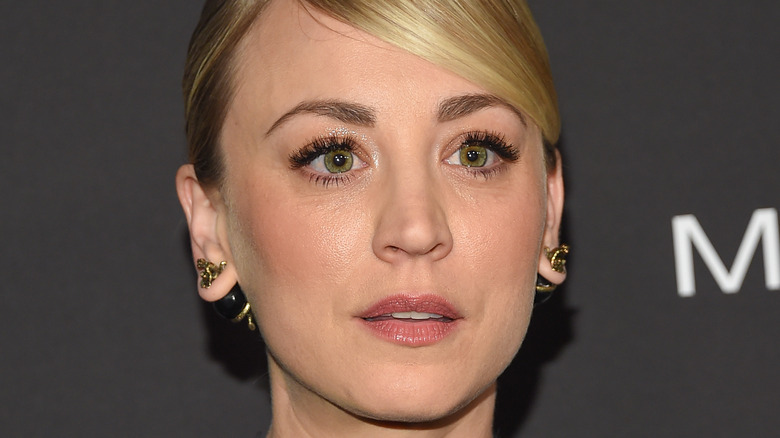 DFree/Shutterstock
Kaley Cuoco's short-lived marriage to Ryan Sweeting ended after just 21 months. In an interview with Cosmopolitan, she revealed that she'd ended the marriage due to "circumstances [she] couldn't get past," but that she'd tried her best to make things work. "I wanted it to work so badly, more than anything, and tried harder than anyone could have tried."
She added that, although she'd been through breakups before, her divorce was far worse. "It's like losing someone. All of a sudden, the sadness hits me out of nowhere. It's a loss of hope, it's just... it's a loss of hope." She also said that "It changes the way I look at marriage, and that makes me sad. It does not change the way that I look at love. I cannot wait to be in love again."
Fortunately, by the time she'd had her wedding tattoo covered up, she'd told Ellen DeGeneres that things were looking up. "Last year was very bizarre ... It's been rough but things are going good, and I'm much, much better now, and I'm in a much better place than I was." In the interview, Cuoco cautioned viewers, "Don't tattoo wedding dates." However, seeing how well things seemed to have turned out with Cuoco and her current husband Karl Cook, we're pleased to see that the past can be left behind in favor of a brighter future — like a moth headed towards the light.