The Real Meaning Behind Kaley Cuoco's Tattoos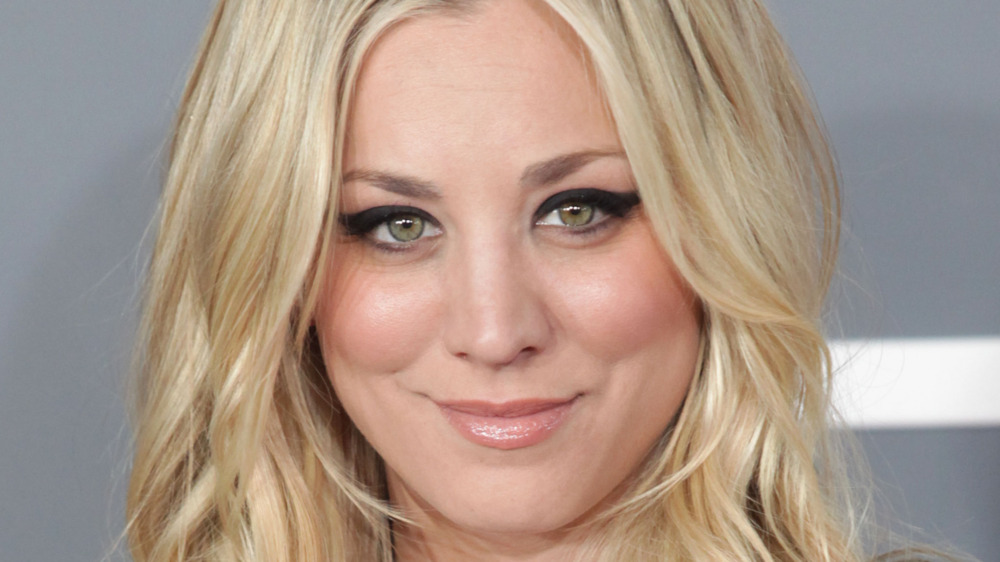 Shutterstock
Kaley Cuoco is known for many things: acting, her love for animals, and ... tattoos? While The Big Bang Theory actor isn't necessarily known for tattoos, she does have her fair share of unique ink. Cuoco has a total of four tattoos, and she's been pretty open about why and when she got them (and the one she regrets). Cuoco opened up about her first-ever tattoo, which she got when she was just 17, on The Ellen DeGeneres Show (via UPI). "I was trying to be cool. I know, it's so dumb," Cuoco said of her first tattoo, which is a Chinese symbol on her lower back. "I forgot I even had it."
While Cuoco may have forgotten about her lower back tattoo, fans are trying to catch a clear glimpse of another tattoo, which appears on the actor's rib cage. According to Steal Her Style, Cuoco has some sort of ink on her ribs, and despite a few photos of it existing, fans can't quite make out what it is. Also, Cuoco has avoided talking about it, so it may always remain a mystery!
Of all the star's tattoos, there's one that she's been the most candid about ... and it happens to be the one she regrets the most. Keep reading to learn more about Cuoco's tattoo regret and the cover-up she went with instead. 
Kaley Cuoco regrets getting her wedding date tattooed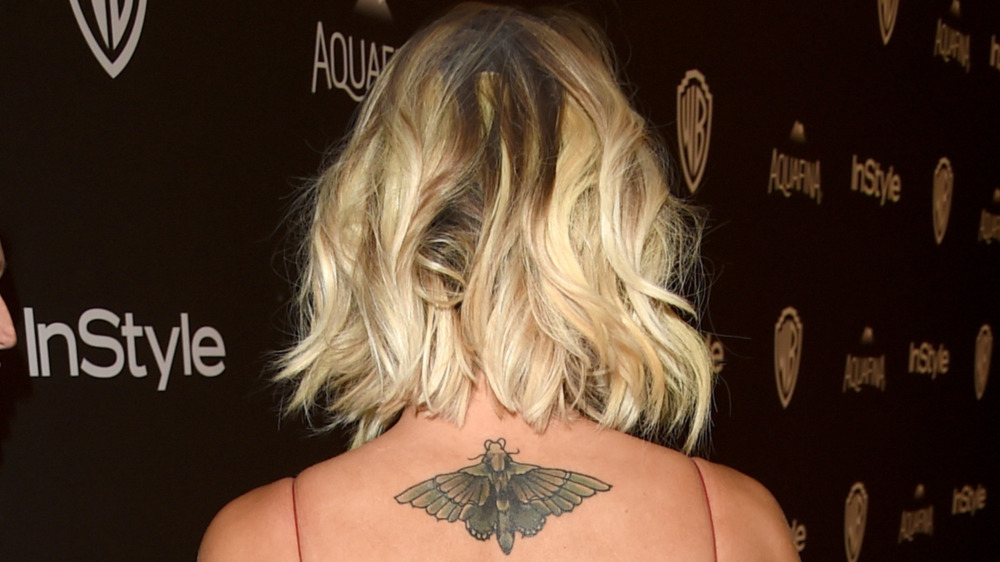 Jason Merritt/Getty Images
What's more relatable than getting a regrettable tattoo? For Kaley Cuoco, she's all too familiar with regretting a tattoo, but fortunately, she's been able to cover-up her misstep. Cuoco married former tennis player Ryan Sweeting in December 2013, but less than two years later, the duo called it quits, per People. Before their eventual divorce, however, Cuoco decided to commemorate the couple's wedding date with a roman numeral tattoo that sat just between her shoulder blades. Once the couple broke up, Cuoco was pretty eager to cover up the tattoo, so she eventually covered it up with a giant moth.
During an interview on The Ellen Degeneres Show, Cuoco offered up some more insight into why she covered up her tattoo. "The tattoo was a mistake and I had to cover it ...so I got a moth, and I think it turned out okay," the actor explained. Degeneres then asked Cuoco what the significance of a moth was, and Cuoco quipped that "the significance is it was big enough to cover the numbers." There you have it!
Kaley Cuoco got a fun tattoo with her co-stars
While Kaley Cuoco may regret getting her wedding date inked, she has another commemorative tattoo that she likely won't develop hard feelings towards. In October 2020, Cuoco showed off a dainty paper airplane on the back of her ankle, which celebrates her show The Flight Attendant. 
In a photo set on Instagram, Cuoco showed off the tattoo process, which she did with some people involved with the show. Cuoco also showcased a sweet picture of her watching co-star Zosia Mamet get a similar tattoo. "A special little tribute to our wonderful little show," she captioned the post.
It's not surprising that The Flight Attendant holds a special place in Cuoco's heart. Her performance in the show landed her some big nominations during the 2021 award season, including a Golden Globe and SAG nomination. Though she didn't win either of the awards, Cuoco's tattoo proves that she has nothing but fond memories of the show thus far and her co-workers!