You Probably Didn't Know Jeff Bezos Was Related To This Country Singer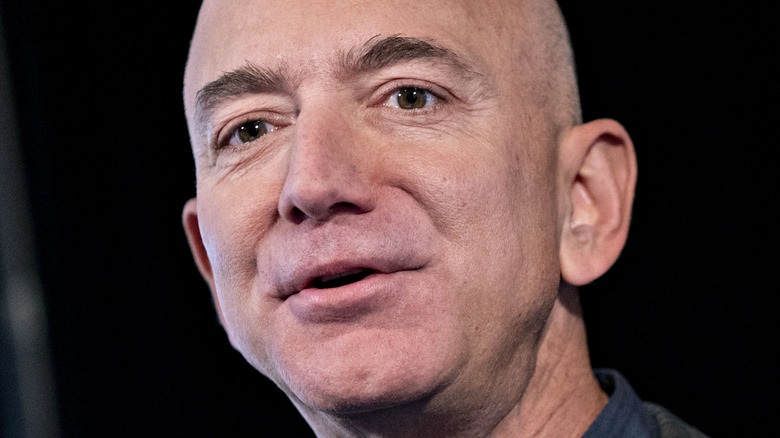 Bloomberg/Getty Images
We may receive a commission on purchases made from links.
Jeff Bezos is one of the most recognizable faces in the world, thanks to the considerable wealth he's amassed through his Amazon empire. In August 2020, Forbes reported that Bezos was the first person in the world to reach a net worth of $200 billion, a staggering sum that most of us can't even fathom. While that number has fluctuated a bit ever since, Bezos is still one of the very few people in the world considered to be a "centibillionaire," AKA people who have a net worth higher than $100 billion, per Billionaires Bloomberg Index.
With such an extraordinary fortune to his name, it stands to reason that Bezos has always been extraordinary, even as a kid growing up in Houston, Texas. According to a 1999 article from Dallas Morning News, Bezos was only a fourth grader when he taught himself to sign "on to a primitive terminal, which, through a time-sharing process, was attached to a main-frame computer downtown." In this way, he and his friends were able to play Star Trek "long before Nintendo or video games," per the outlet. Bezos also taught himself how to build an infinity cube as a youngster, which was later documented in "Turning On Bright Minds: A Parent Looks At Gifted Education in Texas." Now, you may have guessed that Bezos has always been bright, but there's plenty you probably didn't know about the Amazon billionaire, including the fact he's related to a certain country singer. So, who is it?
Jeff Bezos and George Strait haven't publicly acknowledged one another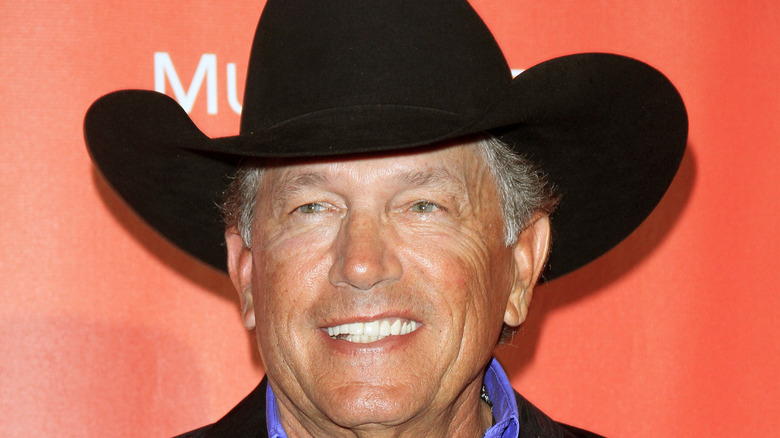 Kathy Hutchins/Shutterstock
When Jeff Bezos was seeking an HQ2 location for Amazon in 2018, The Statesman was quick to note that the native Texan was eyeing the big cities of Dallas and Houston as prospective candidates. While it was later announced that Amazon HQ2 would be breaking ground in Arlington, Virginia, Texas continues to hold sway for Bezos, beyond the fact he grew up in the state. This is because Bezos maintains an unusual connection through his relation to one of the kings of country music (and fellow Texan) George Strait. Per Dallas Morning News, "Bezos spent 10 hot summers on his grandfather's cattle ranch in Cotulla, Texas, and his cousin is country singer George Strait."
Both men may run in different circles, but they're incredibly famous in their own rights. Still, neither have publicly acknowledged each other, whether it's Strait joking about Bezos' space jaunt, or Bezos opening up about his taste in country music. So, why is this the case? Taste of Country offers the explanation that the two are simply too distantly connected to take much notice of each other, which begs the question — exactly how are they related?
How are Jeff Bezos and George Strait related?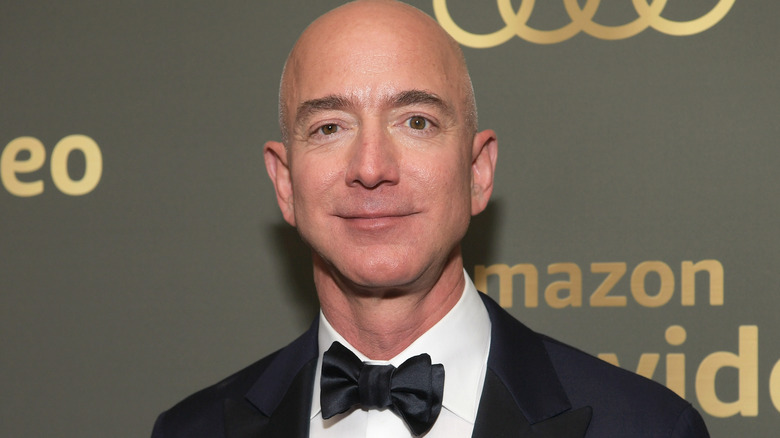 Emma Mcintyre/Getty Images
Sometimes, the term "cousin" is applied liberally, which Taste of Country confirmed after digging into the familial connection between Jeff Bezos and George Strait. According to the outlet, the pair are more like "cousins twice removed," with the explanation being that "Strait and Bezos' mother, Jacklyn Gise, are second cousins, making Strait's son, Bubba, third cousins to Jeff Bezos."
If your head is spinning, let's break it down a bit further. Per Find a Grave, Strait's great-grandfather was John Joseph Strait, who had six children in total, including John Samuel (Strait's grandfather) and Yancey Clarence (Bezos' great-grandfather). As Find a Grave outlines, Clarence had a daughter named Mattie Strait, who went on to marry Lawrence Preston Gise and give birth to Jacklyn Gise, or Bezos' mother. So by these standards, it seems that we might all be able to trace our ancestry back to someone of influence! And given their distant connection, it makes sense that neither Bezos nor Strait appear to have cultivated much of a relationship with one another. Even so, maybe we'll see Strait turn up on Bezos' spaceship one of these days!