Did Jennifer Lopez's Kids Have A Close Relationship With Alex Rodriguez?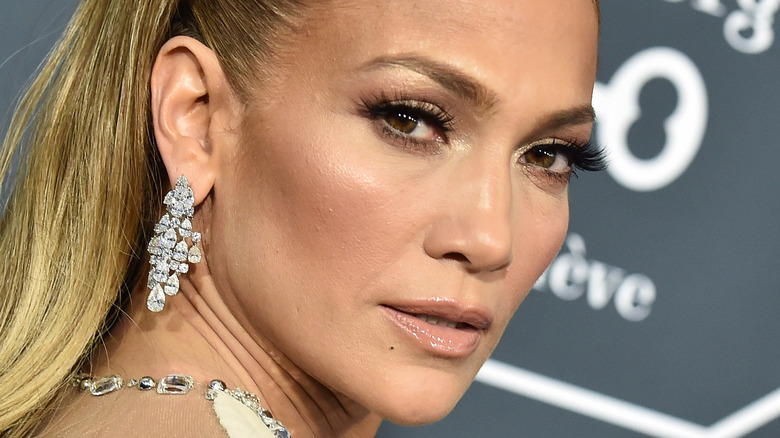 DFree/Shutterstock
At one point in time, former power couple Jennifer Lopez and Alex Rodriguez was the talk of the town. With the combined star power of the Latina songstress and the MLB legend, Lopez and Rodriguez were an unstoppable force for the media to ignore. Social media PDA, countless world travels, and raising four children (two from Lopez and two from Rodriguez) made for quite the rollercoaster ride between the jet-setting couple and the media that followed suit.
Though the couple eventually called it quits in March 2021, Lopez and Rodriguez's four-year relationship changed the trajectory of not only their lives but also their children's. As Lopez and Rodriguez continued to have their lives intertwined, their children soon fell in line behind their parents and eventually operated as one big family — even spending Thanksgiving together, per Fox News.
And now that Lopez has gone her separate way and reunited with ex Ben Affleck, one has to wonder how her kids felt regarding her four-year relationship with the MLB veteran. Did Jennifer Lopez's children have a close relationship with Alex Rodriguez? Read on to find out!
Patience is a virtue for Alex Rodriguez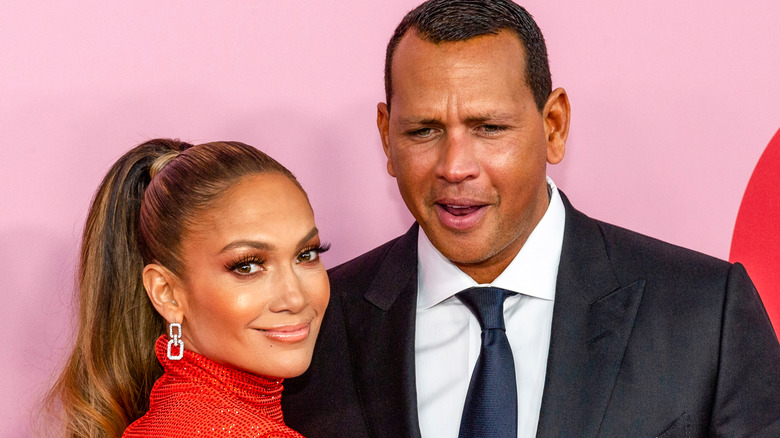 Ovidiu Hrubaru/Shutterstock
As it turns out, Jennifer Lopez's kids did indeed have a close relationship with Alex Rodriguez. Both of Lopez's kids, Max and Emme (who are twins!), took a particular liking to the baseball great, with Max especially developing a wholesome relationship with Rodriguez.
In an interview with Oprah Winfrey as part of the talk show host's "2020 Vision: Your Life in Focus" tour, Lopez sat down and talked about her now-over relationship with Rodriguez and how her kids bonded with the slugger. "[Max and Emme] really liked him," Lopez revealed before recalling a "conversation with [Max[" from "like three years ago" (via Today). In the conversation, Lopez noted that Max "said something like, 'Alex is the only one who ever doesn't ever get mad at me.'"
Why would Rodriguez be mad at Max to begin with? It turns out Max has a history of raising hell wherever he goes! Lopez mentioned that "Max is the one who always gets in trouble in the house" and noted that Rodriguez "had so much patience with [Max] because he's all over the place." Lopez then referred to her only son as "the most beautiful boy and the most loving boy," though "he will knock [something] over in a second," Lopez jokingly added.
With the two developing a sweet relationship, this begs the question — did Alex Rodriguez's kids feel the same way about Jennifer Lopez? Keep reading to find out!
The sweetest note from Alex Rodriguez's daughter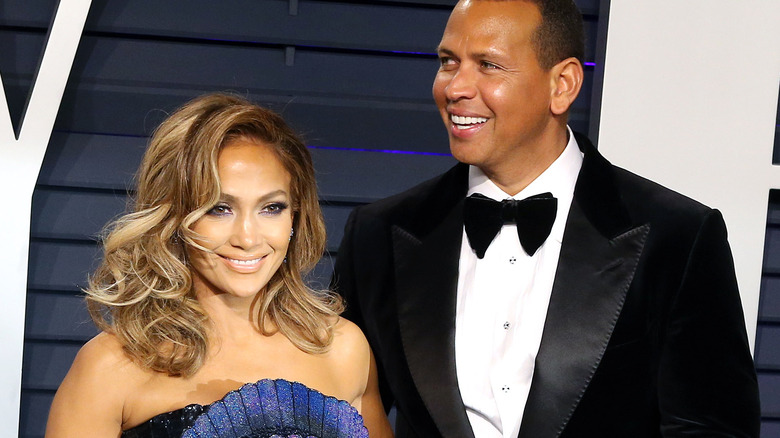 Joe Seer/Shutterstock
The feelings between Alex Rodriguez's children and Jennifer Lopez were, indeed, lovingly mutual. In fact, Lopez revealed that Rodriguez's daughter, Natasha, penned a beautiful letter expressing her gratitude for Lopez, as the singer revealed to Hoda Kotb in 2019 (via Today).
Upon receiving "the most beautiful card from" Natasha, whom Lopez affectionately refers to as "Tashi," the then-14-year-old wrote, "it's an honor to be your stepdaughter." The card left Lopez "crying" afterward. The singer also noted that she feels "mom guilt" when working away from her children and that she "just [hates] being away from them, even for a moment." Elsewhere in the interview, Lopez added that she felt "so blessed to have all of the dynamics that are going on in my life right now," especially with "creating a family that [she's] always wanted." Those dynamics eventually came undone once the power couple eventually called off their engagement after being together for four years.
Today, Jennifer Lopez has reunited the dream couple of Bennifer with Ben Affleck, while Alex Rodriguez revealed that he is in a "great place" following the split (via ET Online).