The Truth About Erin Andrews' Fertility Journey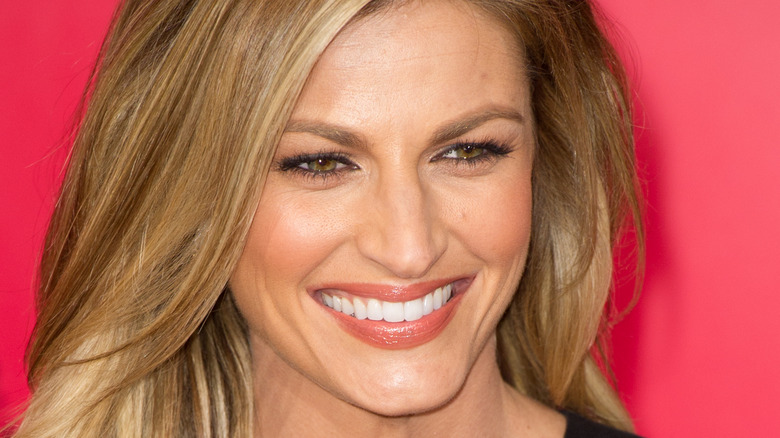 Christopher Halloran/Shutterstock
Erin Andrews is widely known for her work as an American sportscaster. She first came on the scene at ESPN, where she worked until 2012. That year, she joined Fox Sports where she hosted "Fox College Football," became a contributor for "Fox NFL Sunday" and served as a sideline reporter. In 2014, she replaced Brooke Burke-Charvet as a co-host of ABC's "Dancing With The Stars," which she did until 2019. In short, it's safe to say that Andrews' career as a sports reporter and television personality has been a highly successful one.
However, Andrews has also had to deal with some personal struggles that have played out for the world to see. In 2008, a fan requested to stay in the room next to her, where he removed the peephole in the door and filmed her changing. The video was uploaded online for millions to see. Andrews pressed charges and, in 2016, won $55 million in the lawsuit, per Deadline. The former "Dancing With the Stars" host also revealed in 2016 that she had been diagnosed with cervical cancer which she successfully treated through multiple surgeries, per Health.
Andrews is now opening up about another facet of her health: her fertility. Read on to find out more. 
Erin Andrews reveals her fertility struggle in an emotional personal essay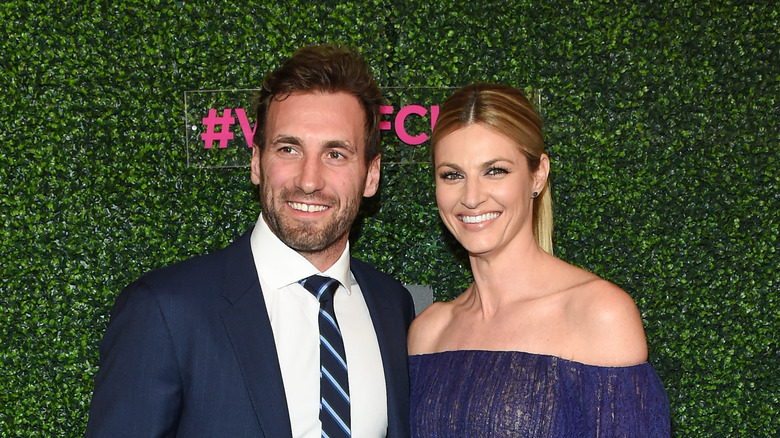 DFree/Shutterstock
Erin Andrews and her husband, former NHL player Jarret Stoll, are hoping to expand their family, and have been trying to for some time now. In a heartfelt essay shared on Bulletin, the Fox Sports reporter divulged details of her struggle to conceive. "For those familiar, you know it's a time-consuming and emotionally draining process," Andrews wrote of her IVF treatment. "This is my 7th one, and I've been going through these treatments since I was 35 years old." Andrews, who is now 43, described the toll the procedures have taken on her physically and mentally. "You could go through this whole experience and get absolutely nothing out of it — that's the crazy part," she continued. "It's a ton of money, it's a ton of time, it's a ton of mental and physical anguish." 
Erin Andrews decided she no longer wanted to keep the details of her fertility journey a secret, and instead share it, in hopes that it would help other women feel less alone. "Why am I keeping this such a secret when this is just a part of our lives? Instead of feeling ashamed, we need to give ourselves more love," she explained. "It freaking sucks, because it can seem like it's such a lonely thing. There are so many of us going through this though, and it's just not talked about."
Erin Andrews has dealt with IVF for years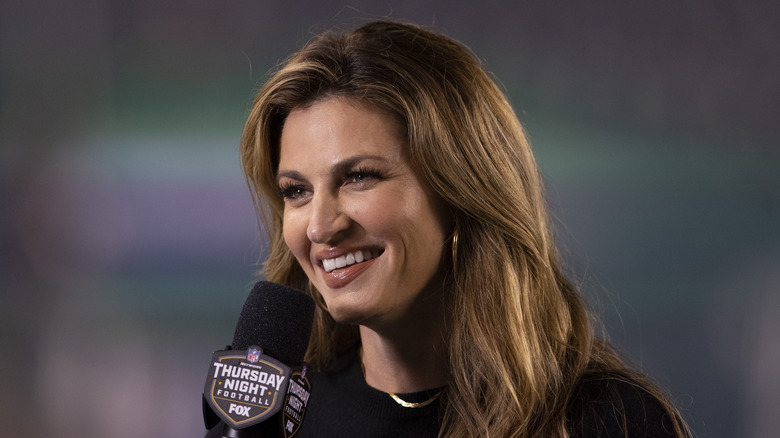 Mitchell Leff/Getty Images
This isn't the first time Erin Andrews has gotten candid about her fertility journey. Prior to her surgeries to remove cervical cancer (which was discovered when the sports reporter was 38) she and her husband Jarret Stoll had a tough conversation around conceiving. Her doctor had recommended freezing embryos for her best shot at having a child in the future, as infertility can be a side effect of cervical cancer. "One thing I love my future husband for is that our oncologist said the smart thing to do would be to have some insurance waiting — so we have frozen embryos because we've taken the steps," Andrews told Health in 2017. "If we need 'em, we need 'em; and if we don't, we don't. We just wanna be smart."
Andrews also previously revealed how difficult it has been to keep up with IVF treatments while working. "It's really really hard, I'll say, to do it during football," Andrews said on The Carlos Watson Show in April. "I've tried smuggling in IVF needles into a big NFL game and looking at the clock when it's time to go, and you look at your security and you're like, 'I gotta go stab myself in a bathroom really fast, you mind taking me up?'"
Here's hoping this next round of IVF is a successful one for the couple!