Who Was Tiffany Trump Named After?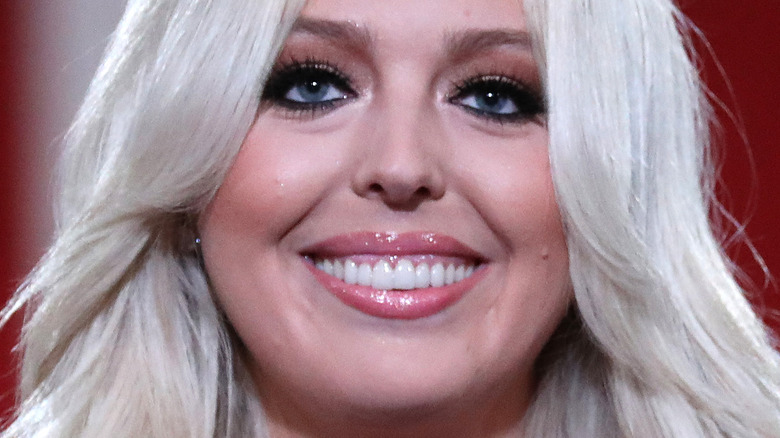 Chip Somodevilla/Getty Images
Tiffany Trump is one member of her family that both fans and critics don't often hear from. While she did her part to campaign on behalf of her father, Donald Trump, during his two presidential campaigns, she's not a prominent fixture in the media like her three half-siblings Ivanka Trump, Donald Trump, Jr., and Eric Trump are. 
While she lives a much more quiet life than her half-siblings, she still remains close to the Trump family — at least in public. While speaking about her father during the 2016 Republican National Convention, she said, "He possesses a unique gift for bringing that trait out in others, starting with those closest to him. He's always helped me be the best version of myself by encouragement and by example. He motivates me to work my hardest and to always stay true to who I am and what I believe." 
It turns out that Tiffany has the same enthusiasm for the rest of her family. In a 2016 interview with ABC News, she said she's attending law school so she can work with her whole family. "I'm applying to law school, though, so I like to bring — a different kinda skill set to the company," she said. Tiffany has another thing that ties her to her older half-brothers and sister: Their father all gave them names with significant meanings. Here's how Tiffany got hers.
Was Tiffany the jewel of her father's eye?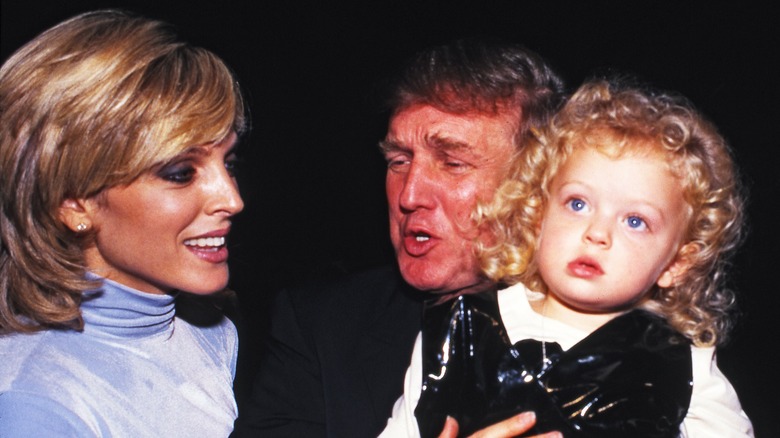 Catherine Mcgann/Getty Images
The Trump children all got their names from special people, or in Tiffany's case, an interesting place. Ivanka Trump was named after her mother, Ivana Trump. "Ivanka" is the diminutive form of the Slavic name, which she explained on Twitter. Donald Jr., of course, was named after his famous father. Meanwhile, Eric's middle name is Frederick, which is after his grandfather, Fred Trump, per Town & Country.
But when Donald Trump and his ex-wife Marla Maples welcomed their first daughter together in 1993, the business mogul gave her a name with a special meaning and a business tie, too. Tiffany was named after the jewelry famous for their baby blue boxes, Tiffany & Co. In fact, Donald reportedly purchased the air rights to the company's Fifth Avenue flagship store during the 1980s. This was the same time that he was building Trump Tower right next door, as detailed by Vanity Fair.
Tiffany's name is certainly special, but does her father buy her Tiffany's jewelry for her birthday? Read more on their relationship today below. 
Tiffany's Trump's relationship with her father is underwhelming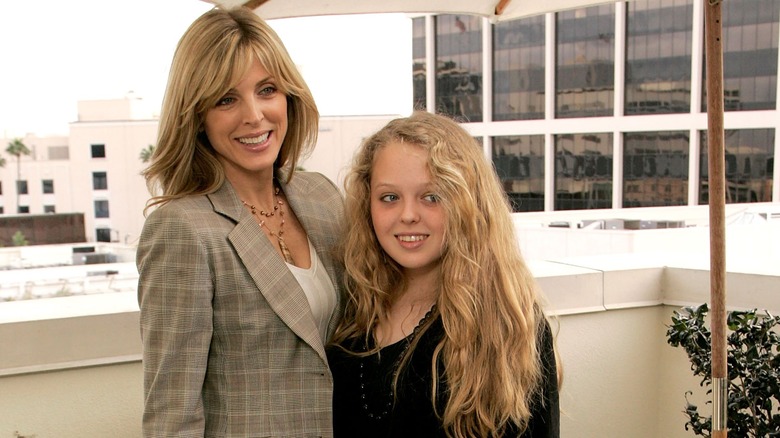 Michael Buckner/Getty Images
Tiffany Trump has a very close relationship with her mother, Marla Maples (pictured above), per the Daily Mail. However, she hasn't been seen or photographed with her father, Donald Trump, ever since he left the White House. She has been spending a lot of time with her fiance, Michael Boulos, in Greece and planning their future nuptials with him.
Now, as far as whether or not Tiffany checks in with her father from time to time, no one knows. According to People, though, it doesn't sound like Donald is having breakfast with Tiffany, or at Tiffany's. In fact, sources even suggest that Tiffany's relationship with her famous father is rather awkward. "Since the inauguration, Tiffany and her father have sometimes gone for months without speaking and she went a very long time without seeing him," one insider close to the situation told the publication in 2018. "The last time she was at a family function with him, it was awkward for her and she didn't feel totally welcome," the source added. Maybe the Republican National Convention speech was just for show, after all. 
At least Tiffany can take comfort in knowing that she can start her own gift registry at the store she was named after.