How Erika Jayne Really Feels About Sutton Stracke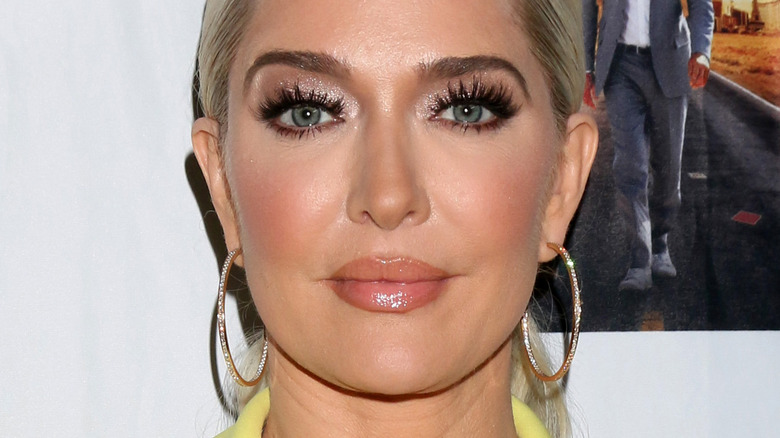 Kathy Hutchins/Shutterstock
If we were to describe how this season of "Real Housewives of Beverly Hills" is going for Erika Jayne, it would probably be the "Bro, I'm straight up not having a good time," meme. Amidst the pandemic, her divorce, legal woes, and a truckload of gossip, it seems our girl Erika is losing her patience, in particular with new housewife Sutton Stracke.
The two have had a few major dustups on the show, mostly relating to Sutton questioning Erika about the charges against her ex-husband Tom Girardi, per Vulture. To recap quickly, Tom has been charged with embezzlement and fraud, lost his legal license, and has been placed under a conservatorship due to dementia, via People. The question on Sutton's mind was, of course, what did Erika know, and when did she know it?
Sutton hasn't been shy about talking about the tiff in interviews, so what does Erika think? Keep reading to find out.
Sutton Stracke had questions for Erika Jayne
The whole fight started when Sutton Stracke and the other "RHOBH" women decided to confront Erika Jayne directly about what her involvement was in the alleged embezzlement scheme. One reason Sutton is so pressed about this, according to her, is that she's worried about her own reputation if she's thought to be associated with it. And when that got around to Erika, she was less than understanding. "How small town of her. The 'I don't want to be associated with you because of what the neighbors may think,' to me, is cowardice. It's like, girl, come on. What are we in, small-town Georgia?" the singer asked on the show (via TooFab).
If the previews for future episodes are to be believed, the tensions between Sutton and Erika only get messier from there. At one point, Erika says, "If you ever call me a liar again, I'm coming for you," (via Entertainment Tonight).
But have things gotten better since filming wrapped up?
Erika Jayne hasn't said much about Sutton Stracke
Erika Jayne seems to have kept mostly mum on her thoughts about Sutton Stracke personally since the season stopped filming. Sutton, on the other hand, has had a little more to say. On Twitter, the native Georgian responded to Erika's "small town" quip with a photo of her hometown, writing, "Does this look 'small town' to you? A little #tbt of my pride and joy home town, AUGUSTA GA." And in an interview with Entertainment Tonight, she said, "It still feels pretty heavy." She explained that while she started the season as a supporter of Erika, the more she learned about the details of the case, the more she started to feel uncomfortable.
"I don't read it once. I don't read it twice. I read it three times. And I start to put things together, for me. ... And I have a fresh perspective because I don't know Erika as long as the other girls, and I think I have fresh eyes on it. And so I think it doesn't go well," she explained.
As for Erika, she hasn't blasted Sutton on social media or interviews, but it's safe to say the relationship between them is still icy.