Inside Lorde And Justin Warren's Relationship
Arturo Holmes/Getty Images
Now that Lorde has finally released a new album, the internet is abuzz trying to get glimpses of her intimate private life, which she has famously kept hidden. And now it looks like fans have a little more of an idea of the singer's rumored relationship due to a series of photos captured during a romantic outing with her (supposed) boyfriend, Justin Warren.
The New Zealand-born Lorde burst on the music scene in 2013 with her massive hit "Royals," an anti-materialism anthem written in the mixolydian mode — a mode in a major scale not often used in pop music — which Time magazine credits as "one of the key elements that makes [Lorde] so distinctive from her peers." The single was a massive hit, earning the then-16-year-old the status of "youngest solo artist to achieve a U.S. number-one single in 26 years."
It was four years before her second album, "Melodrama" was released in 2017, with its hit single "Green Light," also in mixolydian mode. Though she didn't intend for her third album to also take four years, life got in the way. Lorde finally released her third album on August 20, and its eponymous summer-anthem first single, "Solar Power."
Now, about that sweet romantic outing between Lorde and her gent? Don't worry, we won't hold that from you any longer.
Lorde and Justin Warren were caught snuggling on camera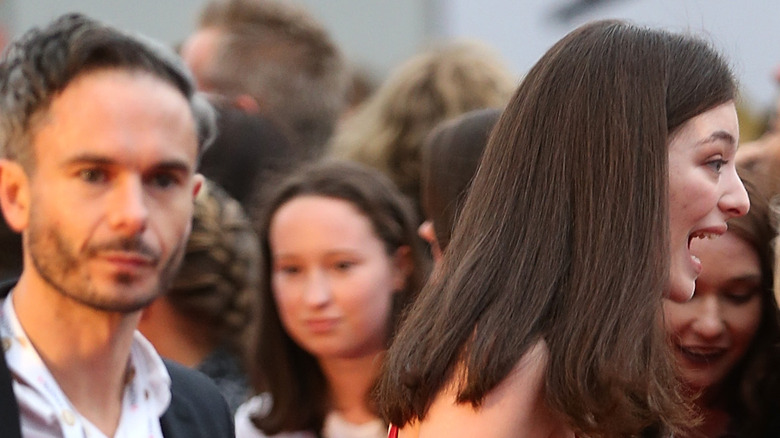 Michael Bradley/Getty Images
While the mysterious Lorde is known for being extremely private, Page Six shared photos of the pop singer and her rumored music executive boyfriend Justin Warren caught snuggling while enjoying an evening out. The pair was snapped by paparazzi in West Hollywood on August 25, hugging in a parking lot after sharing an outdoor dinner with friends. Lorde, in braids, tan pants, and a grey blazer, was photographed with her arms around her supposed beau, who was dressed in black jeans and a sweater.
Born Ella Yelich-O'Connor, signed with Universal Music Group (UMG) in 2009, when she was 13. Warren, who is 17 years her senior, is 41 years old and the promotions director for UMG, according to the New Zealand Herald, and the two reportedly started working together then. But don't worry: they weren't first linked as a couple until February 2016, when Women's Day magazine published photos of them having "a cozy breakfast...just around the corner from the $3 million villa Lorde has recently purchased" (via the New Zealand Herald).
But Warren denied any claims of their romance at the time. "Ella and I have worked together for years and we're good friends," he told the Herald. "Any rumors of us being 'a pair' are ridiculous." He also added that "Ella has a really busy year ahead of her and we'll be spending more time together as plans for the next Lorde record unfold." It looks like something may have changed between them...
Lorde won't be posting photos with Justin Warren anytime soon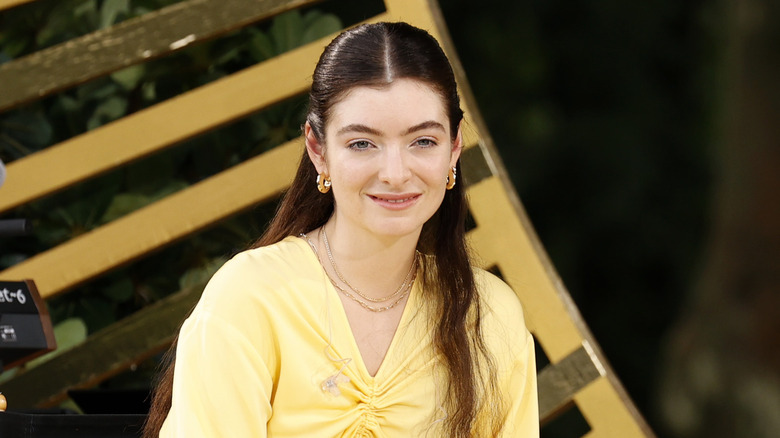 Arturo Holmes/Getty Images
Lorde and Justin Warren have been able to keep their rumored relationship secret over the years, with a few minor exceptions, Page Six said. They were also spotted together on a beach in Auckland in October 2020. When Lorde arrived at the New Zealand Music Awards in November 2015, she walked the red carpet with Warren at her side (see photo above) — though that was during the period of time Warren denied any romance rumors between the two.
The singer recently told James Corden that she has completely given up social media. She got rid of her Facebook, Twitter, Instagram (though she currently has three promo photos), and even YouTube accounts, relying on her assistant to keep her off and informed. She can't even Google anymore. "I felt like my brain wasn't working very well anymore," she told Corden. "It was horribly difficult, the hardest thing I've ever done." But she does stay connected to the world in one way: through the New York Times Cooking app. And presumably through her alleged boyfriend, Justin Warren.