How Hugh Jackman Helped Nicole Kidman Her Split With Tom Cruise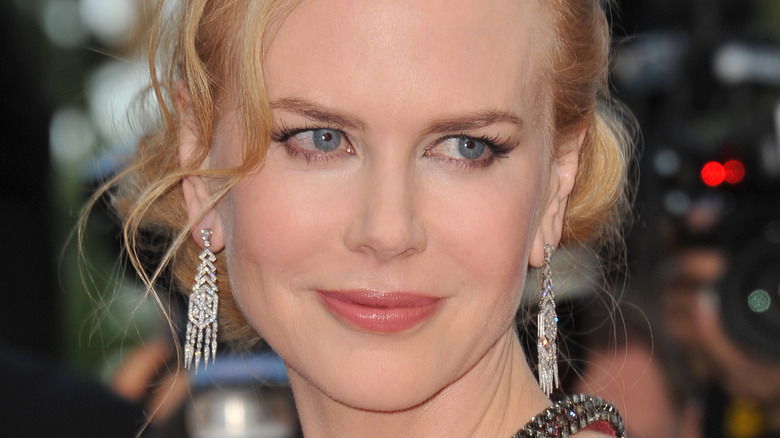 Featureflash Photo Agency/Shutterstock
They may have split up over 20 years ago, but Tom Cruise and Nicole Kidman's marriage is one we'll never forget. The pair met in 1989 on the set of the race car movie "Days of Thunder" and instantly fell in love. "He swept me off my feet," the actor later told Vanity Fair. "I fell madly, passionately in love. And as happens when you fall in love, my whole plan in terms of what I wanted for my life — I was like, 'Forget it. This is it.' I was consumed by it, willingly. And I was desperate to have a baby with him. I didn't care if we were married. That's what I wish I'd done." They got married one year later.
Unfortunately, Kidman and Cruise's love story came to an end in 2001 which left the actor "heartbroken." Kidman told Du Jour (via People) that it took her a "very long time to heal" and that she was so "damaged" she didn't know whether love and marriage was "ever going to happen again to me." However, there was at least one person who was there to give her a hand through a tough time. Scroll ahead to find why Kidman credited her good friend Hugh Jackson for helping her through her high-profile divorce from Cruise.
Hugh Jackman helped Nicole Kidman 'heal'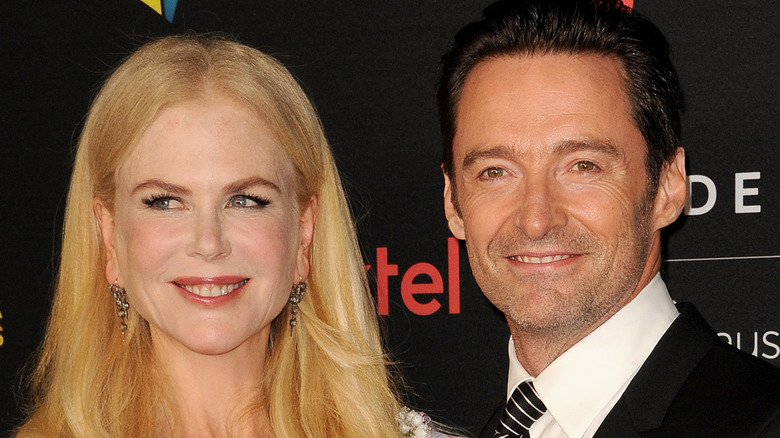 Tinseltown/Shutterstock
Nicole Kidman later revealed she leaned on Hugh Jackman and his longtime wife Deborra-Lee Furness following her split from Tom Cruise. "When I got divorced, Hugh and Deb were so much a part of my healing," she told Australian Women's Weekly. "They were some of my best friends through that period." Though she didn't detail how they helped her, they've been friends for years. According to the Daily Mail, Kidman and Furness met in the late '80s when Kidman first came to Los Angeles as a teenager. In her time before her big break in "Days of Thunder," where she was introduced to Cruise, she spent time sleeping on Furness' couch.
Of course, Kidman and Jackman both made it big, and even starred opposite each other in 2008's "Australia." These days, Kidman remains close friends with Jackman and Furness and they continue to be there for each other — especially during life's big moments. They even attended the "Big Little Lies" star's wedding to Keith Urban in 2006, per ABC News, where the "X-Men" actor sang for the couple.
Did Nicole Kidman turn to Hugh Jackman for help in another relationship?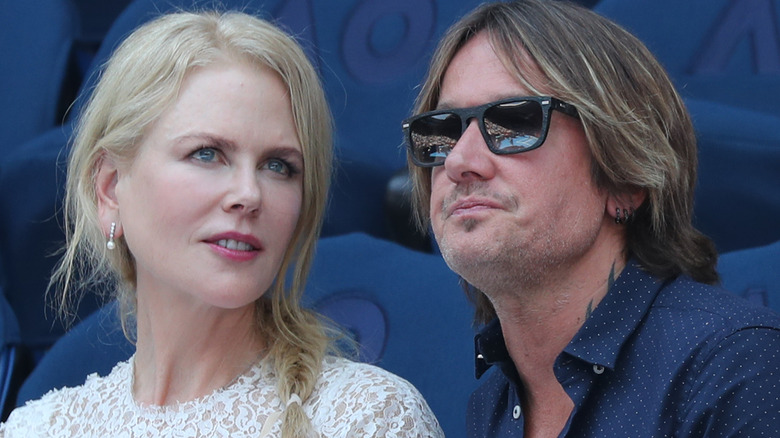 Leonard Zhukovsky/Shutterstock
In 2019, there were rumors that Nicole Kidman's marriage to Keith Urban was in trouble after the National Enquirer claimed the couple had hit a rough patch (per Gossip Cop). At the time, it was believed that the actor's relationship with Hugh Jackman was a problem for the country singer. "Hugh and Deb love sharing their wisdom with an old friend — but Keith does get frustrated with how she goes running to them with every little problem," the insider reportedly told the tabloid. "He puts up with it to a point, but it's certainly a little insulting that she listens to them more than she does her own husband."
Gossip Cop debunked the rumors about Kidman and Urban's relationship being on the rocks. However, one thing does ring true: Jackman's marriage to wife Deborra-Lee Furness is certainly one to look up to, as the couple have been together for over 25 years and seem blissfully in love.