The Real Reason Kim Kardashian's Dress At Kanye West's Donda Event Is Raising Eyebrows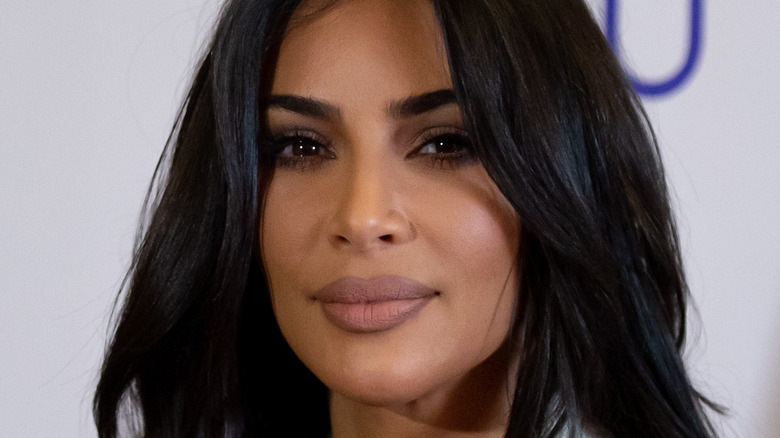 Asatur Yesayants/Shutterstock
Kim Kardashian and Kanye West may be going through a divorce, however, it looks like she's still willing to show up and support him. And that's just what she did when he held his highly anticipated "Donda" event on Thursday night (er, early Friday morning?).
Putting on a show at Soldier Field in Chicago, Consequence tweeted about a few of the reasons the performance was so buzz-worthy. For one thing, both Marilyn Manson and DaBaby — two men who are both facing scandalous situations — turned up. Ye also stirred things up by getting the event lit to a shockingly intense degree; by setting himself on fire. Yes, he set ... himself ... on fire (with safety precautions in place, of course).
Granted, those weren't the only reasons that fans were left buzzing after the event (or perhaps looking for the nearest fire extinguisher). That's because the rapper's (soon-to-be-ex) wife, Kim Kardashian, also appeared during the show wearing a dress that was sure to cause some speculation.
Why was Kim Kardashian wearing a wedding dress at her ex's event?
When Kim Kardashian stepped out at Kanye West's "Donda" event during the last song, "No Child Left Behind," fans might not have immediately realized that it was her. That's because she was wearing a veil. That arguably unusual accessory makes more sense when you realize that she was also wearing a wedding dress. That's right, she walked out in a Balenciaga Couture gown that would surely be coveted by most to-be brides.
As Kim approached the man with whom she shares four children and has been married to since 2014, he kept his eyes on her, watching her with a clear and seemingly adoring focus. Did anyone else think for a split second that we might have been about to witness their vow-renewals? But, no. TMZ noted that "sources with direct knowledge [revealed that] the two are NOT back together ... but they're forever family. Kim and Kanye have always supported the other's endeavors and will continue to do that in the future, whether it be a collaborative effort or not."
The outlet explains that, per their source, "Kim was happy to do it for Kanye and the event, which was so important to him." It looks like these two are trying their best to remain loving even through their split.