Who Is Larray From The Hype House?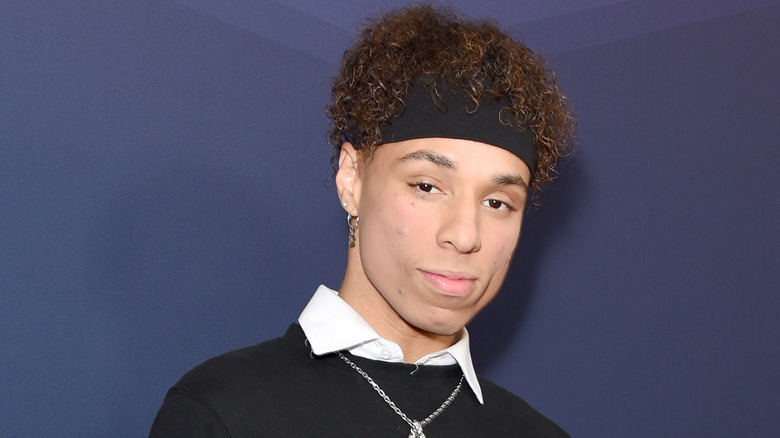 Presley Ann/Getty Images
In case you haven't noticed, TikTok stars are taking over the world — or at least the digital world. Content creators with a huge following on the popular video-sharing app have become today's newest crop of celebrities, and it looks like it will continue to be the norm as these social media stars remain popular with audiences across the globe.
Some of these TikTok stars have gotten so big that they've formed their own collective and have even landed themselves a Netflix show. The so-called TikTok royalty is part of a group called Hype House, which is, coincidentally, also the name of the mansion they currently reside in.
The Hype House is composed of the most popular teens on TikTok. If you're well-versed with the app, you might have gotten across a number of them, like Addison Rae, Chase Hudson, Charli D'Amelio, Dixie D'Amelio, and Thomas Petrou. They are the biggest TikTok stars today, but there are also Hype House members who don't have as much following that you may want to know more about. One of them is Larray. Keep reading to learn more about the social media star.
Larray got his start on Vine
Larri Merritt, more popularly known as Larray, is a rising TikTok star now, but not many know that he has gotten his start on another social media app — the now-defunct Vine. There, he would post funny skits of his everyday life.
When the app eventually met its demise, that didn't stop Larray from creating content. Along with the audience he had already garnered, he started a YouTube channel and built a huge following there. He has 8.39 million YouTube subscribers as of this writing.
Larray's YouTube content isn't far off from what he used to post on Vine and what he shares on TikTok. He would share videos of him playing games, pulling pranks with his friends, and doing internet challenges with his boyfriend, fellow YouTuber Brady Potter. He also occasionally shares music videos of the songs he writes, because guess what? Larray is also a musician. 
Larray is an actor and a musician
Larray isn't just a social media content creator. He's also an actor and a musician, and a successful one at that. Just last year, he scored his first entry on the Billboard Hot 100 chart following the release of his track, "Canceled." A diss track calling out his fellow social media influencers like James Charles, Tana Mongeau, and Shane Dawson, the song landed debuted on the No. 81 spot.
On top of being a musician and digital content creator, Larray will soon be busy with acting. His first project? A fictionalized version of himself. Per Deadline, he will soon star in a yet-to-be-titled feature created by "Songbird" producer Invisible Narratives.
Larray will star as a version of himself, and instead of present-day, his character will go back in time to 1992, when no one had any idea what a smartphone was. He must then survive without his social media following and "discover his 'analogue instincts' to survive the '90s and return back to 2021." What an interesting project for someone whose life is laid out online!