The Real Meaning Behind Kanye West's 'Jail' Featuring Jay-Z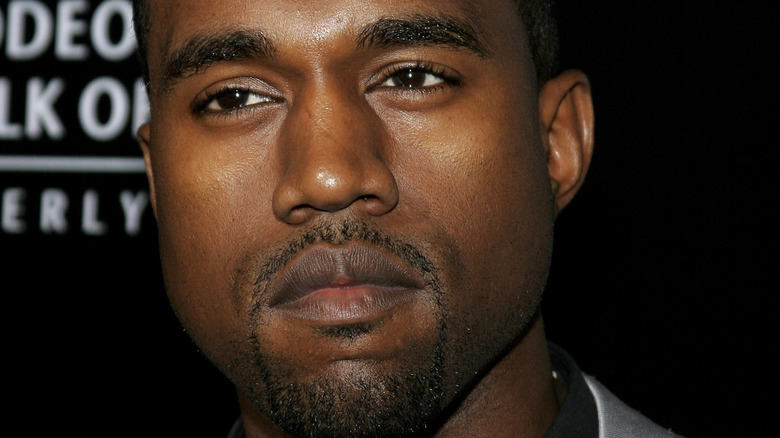 Tinseltown/Shutterstock
After much anticipation and a few delayed release dates, Kanye West's 10th studio album "Donda" dropped on August 29. The album's release was preceded by a series of listening parties with West present, each one more unique than the next.
In Atlanta on July 22, West hosted the sold-out event and didn't speak once. Instead, he played the album and paced across the minimalist stage for 48 minutes, according to MTV News. But his silence might very well have signified the deeper meaning to the album. Named after his late mother, "Donda" is, in its bare form, "a theme of her legacy," the outlet noted. In one moment, he got down on his knees and pressed his forehead to the stage.
In Chicago, West held another listening party where he set himself on fire in a stunt in front of his replicated childhood home, according to the New York Post. Later that same night, ex-wife Kim Kardashian came out on stage in a wedding dress and they recreated their wedding vows as his song "No Child Left Behind" played. West certainly knows how to build anticipation for an album's release. While his hype is on point, the songs on "Donda" are epic too. In fact, the hit "Jail" is gaining major traction. Here's what it's about.
Is 'Jail' a dig at Kim Kardashian?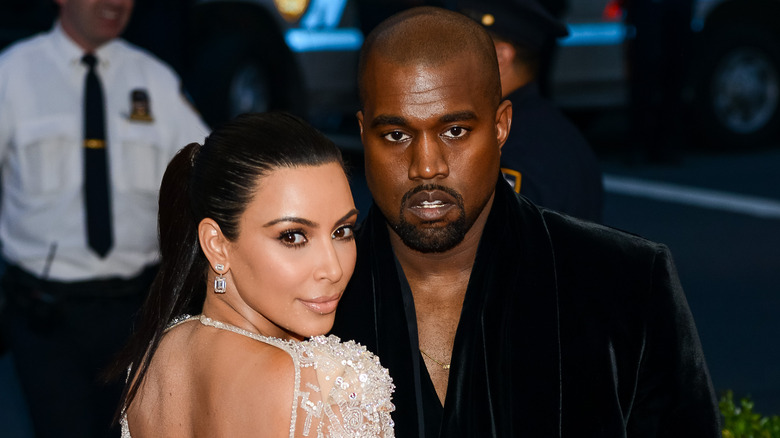 Sky Cinema/Shutterstock
Kanye West's "Jail" starts with an unexpected classic rock sound and he begins the song by singing, "Take what you want / Take everything / Take what you want," per Genius. While some sources speculate that the lyrics reference a robbery, others wonder if the lines are directed at Kim Kardashian as the couple undergoes divorce proceedings, per Just Random Things. West then goes on to create a juxtaposition through the lyrics: "I'll be honest, we all liars / I'll be honest, we all liars." Then West follows with a repetition of: "Guess who's goin' to jail tonight."
The possible references to Kardashian come up again in a later verse when West sings, "Guess who's getting 'exed? Like, next / Guess who's getting 'exed? You made a choice that's yo' bad, single life ain't so bad."
In another song on "Donda" called "Welcome to My Life," West links his life with Kardashian in Southern California to imprisonment. "Tell the assassins I escaped from Calabasas," he sings, according to The Daily Beast. While it certainly seems plausible that West is poking at his former marriage to the reality star, the fact that Kardashian came out in a wedding dress during a listening party might not mean they're on bad terms. Lord knows West loves artistic expression and hyperbole. But "Jail" was unique for one other major reason. The song featured long-time collaborator Jay-Z. Here's what that's all about.
Jay-Z references Kanye West's mom in his collaboration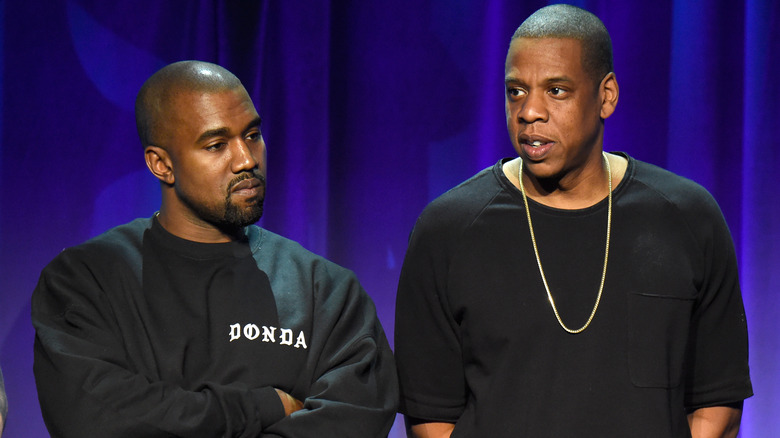 Kevin Mazur/Getty Images
Jay-Z makes a guest appearance on Kanye West's song "Jail," and echoes much of West's famously spiritual sentiments. "God in my cell, that's my celly / Made in the image of God, that's a selfie / Pray five times a day, so many felonies / Who gon' post my bail? Lord, help me," Jay-Z raps, per Genius.
He even mentions West's mother, Donda, in the lyrics: "Hol' up Donda, I'm with your baby when I touch back road / Told him 'Stop all that red cap, we goin' home.'" Jay-Z also references his former collaborations with West as well as Biblical references when he raps, "This might be the return of The Throne (Throne) / Hova and Yeezus, like Moses and Jesus." The two rappers collaborated on the 2011 album "Watch the Throne."
Rumors circulated that Jay-Z wrapped up his verse for "Jail" only hours before the Atlanta listening party, according to Just Random Things, a speculation that came from Young Guru's tweet on July 22, "HOV did the verse today!!!! At 4pm." Clearly, the two rappers don't need much time to make something amazing.