The Real Meaning Behind Kanye West's 'Donda' Featuring Ariana Grande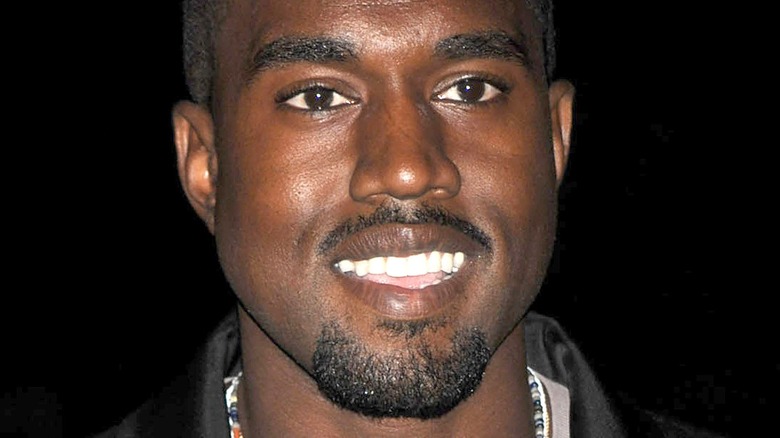 Everett Collection/Shutterstock
The debut of Kanye West's 10th studio album is decidedly one of the biggest music events of 2021. In the years leading up to "Donda" dropping, the "I Am a God" rapper raised eyebrows with his vocal support of former President Donald Trump and caused outrage by saying that "slavery is a choice" during a TMZ interview. However, none of Kanye's many controversies have been career killers, including his surprising switch to recording gospel music in 2019. In fact, his album "Jesus Is King" won a Grammy Award for Best Contemporary Christian Music Album.
During a May 2020 interview with GQ, Kanye suggested that he might stick to singing gospel songs. "I was thinking of not rapping again because I rapped for the devil so long that I didn't even know how to rap for God," he said. However, a pastor changed his mind when he told Kanye that his son "would want a rap album about Jesus from Kanye West." 
While the musician's faith is one of the themes explored in his new record, its titular track is also a celebration of family. The song bears the name of his late mother Donda West, who died in 2007 after undergoing multiple cosmetic surgery procedures. Donda's voice is fittingly featured on the track, which also includes vocals from Ariana Grande, Pusha T, and Tony Williams, per Just Jared. It was produced by Kanye, FNZ, BoogzDaBeast, and Ojivolta. Read on to learn the significance of Donda's words.
The Donda West recording is from one of her speeches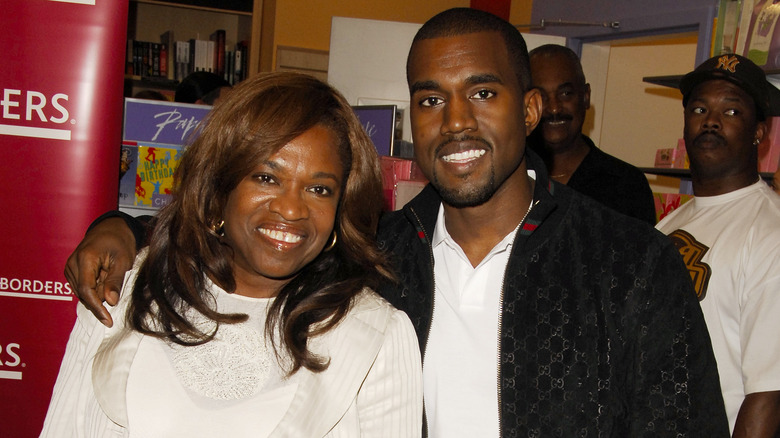 Ray Tamarra/Getty Images
"Donda" begins with dramatic, slow piano music and the repetition of the word "forever." Later on, we learn that Kanye is giving his faith a shout-out when the word is included in a chorus sung by a choir and borrowed from the Lord's Prayer. "Is the kingdom (Is the kingdom)/ And the power (And the power) / And the glory (And the glory) / Forever? (Forever)," the repetitive lyrics read (via Just Jared). However, the majority of the two-minute track is Donda West speaking over piano music.
Donda worked as a professor for more than three decades and was the chairwoman of Chicago State University's English department, per MTV News. She left her career to become her son's manager and wrote a book about her experiences titled "Raising Kanye: Life Lessons from the Mother of a Hip-Hop Superstar." 
As reported by WBEZ Chicago, Donda spoke about the book and her son when she delivered a keynote speech during the 17th Annual Gwendolyn Brooks Writers' Conference at Chicago State University in October 2007, just weeks before she died. Kanye included snippets of this speech seamlessly stitched together in "Donda." In them, Donda describes herself as "her son's mother" and lauds Kanye while talking about why she decided to write a book about him. "I got a chance to share not only what he has meant to me, but what he has meant to a generation," she says.
Why Ariana Grande's inclusion on Donda is surprising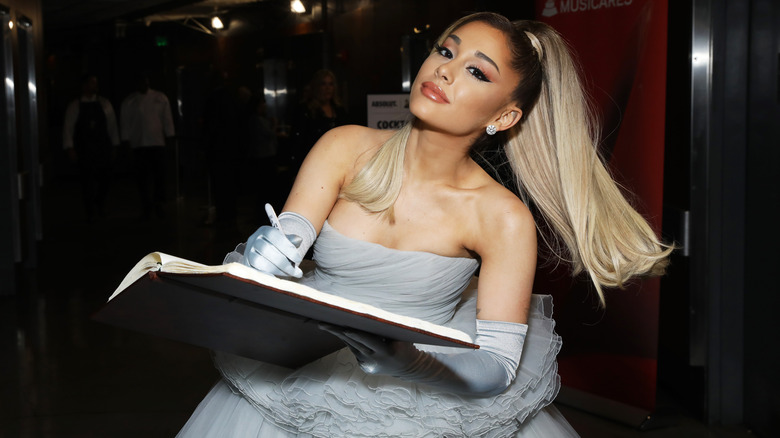 Robin Marchant/Getty Images
Ariana Grande's vocal work on "Donda" mostly consists of her singing the words "forever" and "glory." Her inclusion shocked Arianators who remembered her 2018 Twitter tiff with Kanye West. The drama started when an aggrieved West decided to go off on Drake on Twitter. His tirade was sparked by a text about the "God's Plan" rapper desiring clearance of a music sample for his track "Say What's Real." West also complained about Drake doing "sneak disses" and even accused his rival of threatening him.
When Grande entered the chat, she poked fun at the rappers' feud and used it to plug her song "Imagine." She also tried to help fellow former child star Miley Cyrus out by mentioning that she was dropping new music, too. "Guys, I know there are grown men arguing online rn," Grande wrote in a now-deleted tweet (via Mashable). "But Miley and I [are] dropping our beautiful, new songs tonight, so if y'all could please jus behave for just like a few hours so the girls can shine that'd be so sick thank u." Kanye didn't find her lighthearted jibe funny at all. "I know Ariana said this to be cool and didn't mean no harm but I don't like even slightest level of slight commentary from someone I know loves and respects me," he tweeted in response. 
Grande tweeted (and deleted) an apology (per Billboard), and now we know for certain that all was forgiven.