For Every Time Kanye West Has Been Controversial, This Moment Stands Above The Rest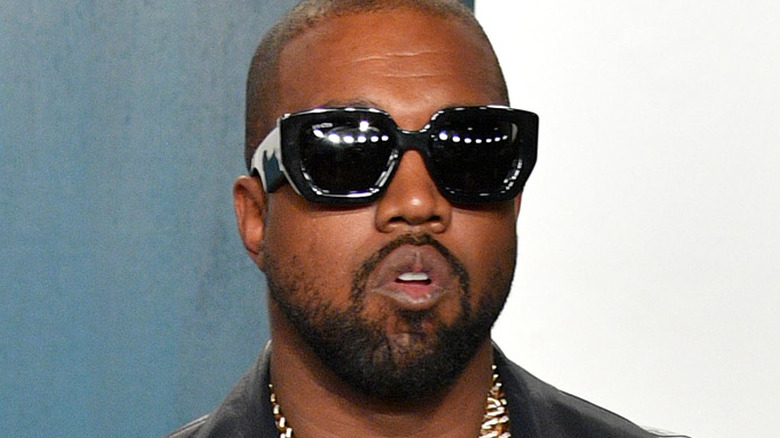 George Pimentel/Getty Images
For many musicians who are labeled "problematic," their actions often overshadow their talent and their potential to elevate in their careers. Unlike those artists who can't shake off their past, Kanye West's controversial moments haven't necessarily cost him his career. The rapper toggles a number of different titles as a fashion designer and self-proclaimed genius, but there's one more he has on his list: conversation starter (and not in a good way). West has always been outspoken about how he feels about certain things, and it's often that his words and actions go a little too far in getting the point across. For instance, the rapper shocked viewers of the 2009 MTV Video Music Awards when he stormed to the stage to interrupt Taylor Swift's award acceptance speech for Best Female Video, saying Beyoncé had the "best video of all time."
In September 2020, the "Rain" crooner went on a brazen Twitter rant in which he shared screenshots of ten documents from his recording contract with Universal Records. "Here are my ten Universal contracts ... I need every lawyer in the world to look at these," West wrote at the time (via Billboard). He followed up by informing fans that the PDFs would not load on Twitter. After posting the ten screenshots, he tweeted: "This is what me Kanye West deal looks like today ... I PRAY IN THE NAME OF JESUS THAT IT DONT LOOK LIKE THIS TOMORROW." There are a number of outrageous moments in Ye's career that had us all talking, but there's one controversial incident of his that continues to raise eyebrows.
Kanye West's endorsement of Donald Trump had many of his fans concerned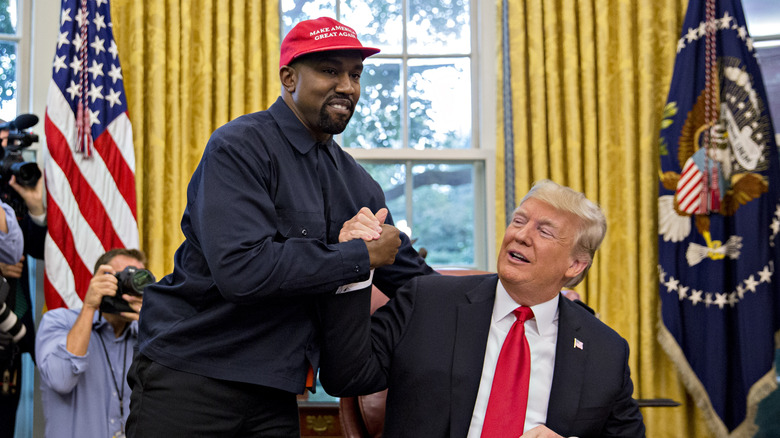 Bloomberg/Getty Images
Kanye West's political takes haven't always been favorable for many people. Aside from his failed run for President of the United States in November 2020, the rapper doesn't shy away from vocalizing his thoughts on those who hold political power. A forgotten moment early in West's controversial timeline of events involves him criticizing former President George Bush during NBC's "A Concert For Hurricane Relief" for Hurricane Katrina in September 2005. Despite being known for his impulsive outbursts, West's commentary and endorsement of former President Donald Trump rubbed many people the wrong way.
West met with the then president-elect at the Trump Tower in New York City in December 2016, per Buzzfeed News. The unlikely pair gave an awkward press statement announcing that they spoke about what West later said were multicultural issues. Two years later, West and Trump met up once again to discuss prison reform, manufacturing, and gang violence in parts of Chicago over a compliment-filled lunch. Additionally, the rapper said that Trump's "Make America Great Again" hats made him "feel like Superman" (via USA Today).
Critics expressed discontent with West's actions, including comedian Dave Chappelle. "Honestly, all jokes aside, I felt like my friend is bipolar, and I felt like he was having a manic episode on television," Chappelle said in leaked audio obtained by Too Fab. The rapper's controversial action had many of his colleagues concerned about him, and even lost him a lot of followers on social media. From the looks of things, it may be pretty hard to live this one down.