What Really Happened Between Saweetie And Diddy's Son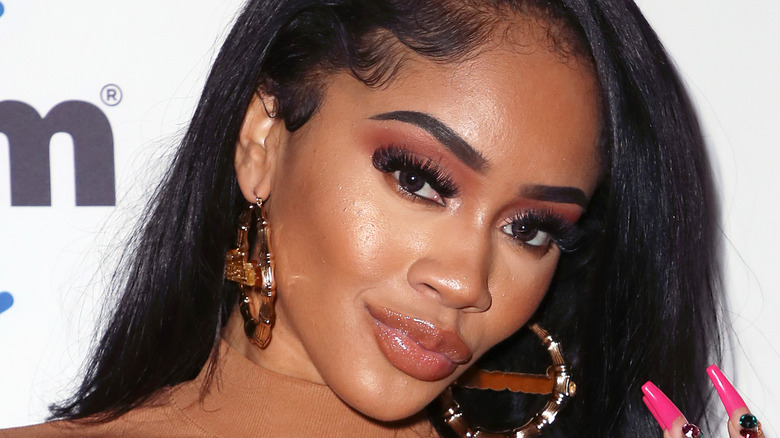 David Livingston/Getty Images
Despite Saweetie's public relationship (and breakup) with Quavo, this wasn't her first time dating a celebrity. In the past, for example, the "My Type" rapper dated model and actor Keith Powers, who starred in movies such as "The New Edition Story" and "'Straight Outta Compton." The two dated for a few years and, as Powers explained, they split because the relationship became "too toxic."
"I was in a relationship for four years from like, 18 to 22," he told "Hollywood Unlocked," referencing his relationship with Saweetie. "We separated because it was just too toxic." Saweetie's song "23" from her 2018 mixtape "High Maintenance" was reportedly about her relationship with Powers ... though its title led others to believe it was inspired by another rumored past lover: Michael B. Jordan. "@Saweetie okay. 23. Michael Jordan's number was 23. Michael B. Jordan's last name is Jordan," one fan on Twitter pointed out. "Saweetie made 23 about Michael B Jordan and I'm shook af," another fan tweeted.
"I do music, you in acting, so we keep that low profile," Saweetie rapped in the first verse of "23" (via Genius). "Private and lowkey, you know that is my type of style." Given Jordan's acting career and lowkey profile, he fits the description. Per WhoDatesWho, they dated for just two months, from November 2017 until January 2018. But before reportedly dating Jordan, Saweetie was in a somewhat public relationship with another celebrity ... whose father is even more popular. Find out all the details below.
Saweetie's 'B.A.N.' was reportedly inspired by Justin Combs
After breaking things off with Keith Powers, Saweetie began dating Justin Combs, Diddy's son from his relationship with Misa Hylton. According to Capital XTRA, the two met while Saweetie was attending the University of Southern California, in the summer of 2016. Though it's unclear how long the two dated, Combs reportedly broke up with the rapper to pursue a relationship with model Aaleeyah Petty.
According to Empressive, Saweetie dissed Combs on her 2018 song "B.A.N." (which stands for "B***h A** N****s"), in which she rapped about a man leaving her for a lesser woman. "You not tall enough, your bank account not long enough for this / Style is weak as f**k, your d**k ain't bomb enough, boy, you a b***h," she rapped (via Genius). "Yeah, played the queen for a pawn b***h, yawn, n***a, you borin' / Your side b***h look up to me, now step aside, you corny, bye."
Despite Saweetie's savage diss, Combs never addressed the breakup. He eventually broke things off with Petty, too, and she later had a child with NBA player Brandon Ingram (per BlackSportsOnline). Still, Saweetie and Diddy's son seem to have remained on amicable terms, as she recently guest-starred on the REVOLT show "Respectfully Justin." During her appearance, Saweetie and Combs discussed spicy topics such as cheating and threesomes which, according to some, didn't sit well with her then-boyfriend, Quavo ... who reportedly retaliated in a major way. Read more below.
Did Justin Combs cause Saweetie and Quavo to split?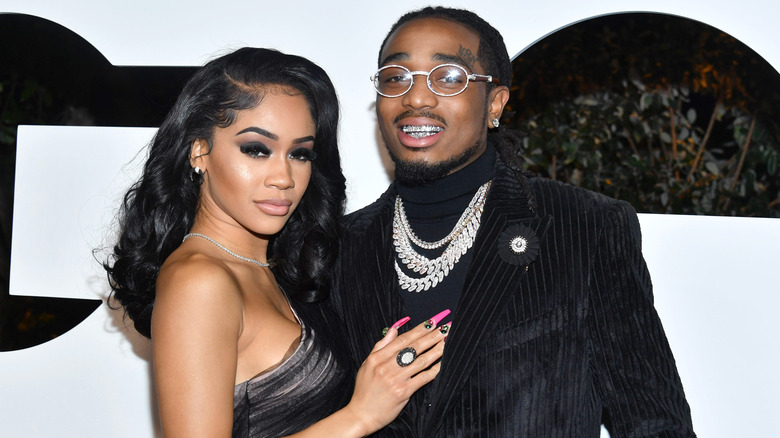 Amy Sussman/Getty Images
In March 2021, Saweetie stopped by REVOLT's "Respectfully Justin," co-hosted by Justin LaBoy and Justin Combs. On the episode, which aired while she was still in a relationship with Quavo, Saweetie discussed her preferences when it comes to sex, dating, and more. In one particular instance, LaBoy asked Saweetie if she would ever allow her man to have a threesome. 
"So, a threesome, right? I normally talk to men who are cultured, who have been around the world, who know a lot of people," she said. "But because he's doing everything right, I'm going to give him the honor of picking the n***a who we gonna have a threesome with." Pretty soon, fans started wondering how Quavo felt about Saweetie discussing such topics with her ex-boyfriend. "Okay so I'm watching the Saweetie Justin laboy Justin combs interview... and if I was Quavo I'd be pissed too. It's all sexual questions. And her ex is at the interview? Naahhh," one fan tweeted. 
Apparently, Quavo didn't appreciate the interview and allegedly went as far as physically attacking LaBoy in Atlanta, just days after the episode aired (via Capital XTRA). Then, Saweetie and Quavo announced their breakup, so it's possible that her "Respectully Justin" interview played a part. Still, the two may be trying to make things work. "Saweetie and Quavo are currently both in New York and have quietly been spending time together on the DL," a source told Hollywood Life in August.