Did Kim Kardashian Consider Having A 5th Baby Before Her Divorce Announcement?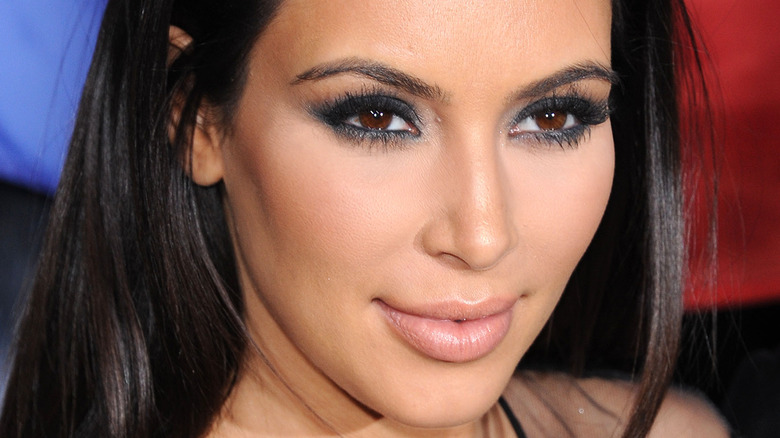 DFree/Shutterstock
Kim Kardashian has a lot of roles in her life, but if there's one that she values the most, it's that as a mom. While their marriage didn't work out the way they hoped, Kim and Kanye West still work together to co-parent their four children: North, 8; Saint, 5; Chicago, 3; and 2-year-old Psalm. The reality star had such difficult pregnancies with North and Saint, that both Chicago and Psalm were born via surrogacy.
During her pregnancies, she suffered from preeclampsia and placenta accreta, and had to go through five surgeries in order to repair the damage. However, in an Instagram video promoting her Skims line in 2019, Kim said she has no regrets. "I am just so thankful for my beautiful kids," she said in the video. "No matter how they came to me, they came to me ... I would've gone through the same pain and back for the result of having my babies. It was all worth it."
With that said though, a lot of people can't help but wonder if Kim considered having a fifth child before her separation from Kanye last year. Despite having her hands full with her four children now, could she have handled a fifth? Find out below.
Inside Kim Kardashian's life and family balance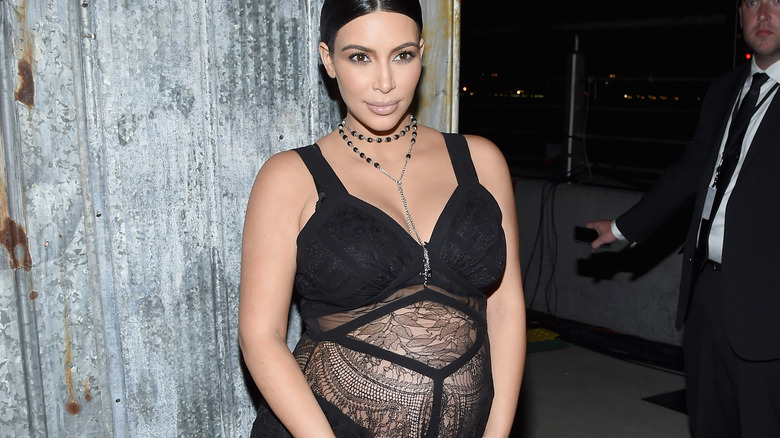 Larry Busacca/Getty Images
Kim Kardashian pulled the plug on her marriage to Kanye West after seven years of marriage in February 2021, per CNN. Their journey began when Kanye proposed to Kim in a baseball stadium in San Francisco, complete with an orchestra and fireworks display back in 2013 and began to fizzle out during the same time that he ran for president in 2020. During a rally in South Carolina, had told the world that Kim allegedly considered aborting their child during her first pregnancy, but later apologized for his comments, according to the Independent.
But that hasn't stopped Kim from doing what she cares about most, and that's being the best mother she can be to her four children. As a mom, she apparently gets it all done, despite her hectic day-to-day schedule. "I just micromanage my day," Kim told Australia's Sunrise on 7, when asked about her life as a parent. "I know every day I wake up at a specific time and I have my schedule set in stone and I really don't like to veer off of that, because it's so planned out and with four kids, you just have to be so organized. So being organized is key."
But it's her comments about having a fifth child that have everyone raising their eyebrows.
Why Kim Kardashian is done having more babies
While the world was in lockdown during the early months of the COVID-19 pandemic, Kim Kardashian was holed up in her home with all four children for several weeks. That was enough for the reality star and business mogul to make up her mind about not wanting to add a fifth child to her clan.
She also told "The View" in an interview at the time that she had a newfound respect for her children's teachers after attempting to homeschool them, along with the rest of the parents out there who were trying to keep it all together. Kim put it this way: "Let me say, being at home with four kids — if I ever thought for a minute that I wanted another one, that is out the door. It's really tough."
Keep in mind that this was when Kim was still married to Kanye West. Despite all of the extra help she gets at home, she still felt overwhelmed. "It's been tough juggling it all. You really have to put yourself on the back burner and just focus on the kids," she admitted. It's safe to say that during the lockdown months, Kim wasn't the only person in the world who stayed at home and thought to themselves, "No more kids." Tons of parents probably shared those feelings too, for sure.