The Truth About Kanye West And Chris Brown's Relationship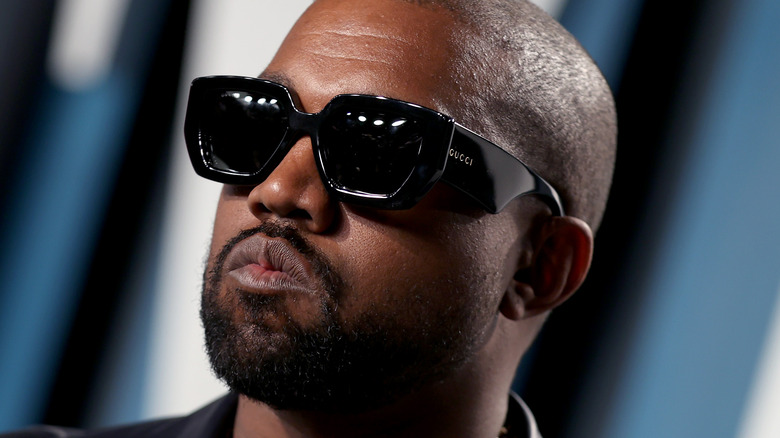 Rich Fury/vf20/Getty Images
Kanye West and Chris Brown have been friends for decades. Back in 2007, for example, Brown wanted to name his album "Graduation" because he was turning 18, but changed it because West was dropping an album with the same title. "I was like, I'll change mine because I respect his reason more with '[The] College Dropout' and 'Late Registration' all that, so it kind of went with his," Brown told MTV News that same year. 
"So I was like, I don't need mine to be 'Graduation', you know, I'll change mine to 'Exclusive', because I'll make an album exclusively for my fans," Brown continued. That same album included a feature with West, titled "Down." Over the years, West and Brown collaborated on a few more songs such as "Deuces (Remix)" and "Waves." More recently, the R&B singer hinted at working with West on his anticipated new album, "Donda." "DAT YEEZY AND BREEZY THO [wide eyes emoji]," Brown wrote via Instagram Story in July (via The Shade Room). 
Meanwhile, in November 2020, Ye gifted Breezy with a $120,000 truck. "Congratulations to Chris brown, 20 years in the game you have overcome many hurdles and obstacles, you deserve the recognition for all the hard work you have put in," West's handwritten note reportedly read, per TMZ. "THANK YOU KANYE [heart emoji] @kanyewest," Brown wrote on Instagram, sharing a picture standing on top of the massive vehicle. However, Brown and West's friendship may be on the rocks now ... and it's all because of "Donda."
Chris Brown called out Kanye West for cutting his verse on 'Donda'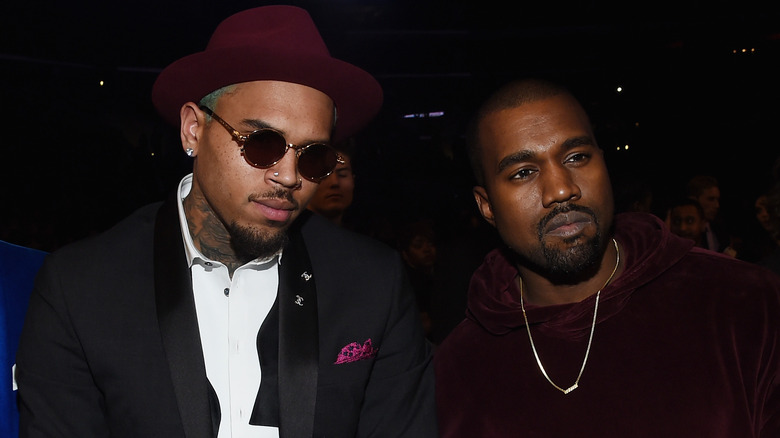 Larry Busacca/Getty Images
Kanye West's rollout for "Donda" has been filled with drama. After postponing the project several times, the anticipated album dropped on August 29 ... though West claimed it was done without his consent. "UNIVERSAL PUT MY ALBUM OUT WITHOUT MY APPROVAL," Ye wrote on Instagram the day of the release. "AND THEY BLOCKED JAIL 2 FROM BEING ON THE ALBUM," he continued, referencing his controversial collaboration with DaBaby and Marilyn Manson.
"Donda" also includes a feature with Chris Brown, titled "New Again." On the song, West and Brown thank God, while seeking repentance for their sins. "Thank You, thank You, thank You for Your mercy, make me new / Make me new again, make me new again," the two sing on the hook (via Genius). "I repent for everything that I'ma do again." The song only features Brown on the hook, but judging by his reaction on social media, the original version included a verse from the singer.
"KANYE A WHOLE H*E," Brown wrote on Instagram Stories after "Donda" released (via The Neighborhood Talk). "NAH HE TWEAKIN," he continued in another now-deleted post. Considering the fact that he's still featured on "New Again," fans believe that the song included more of Brown. "Chris brown probably had verse where he was rappin and Kanye took it off," one fan tweeted. This isn't the first time that Brown has criticized Yeezy, though. Read more below.
In the past, Chris Brown called Kanye 'a clown' and 'talented but crazy'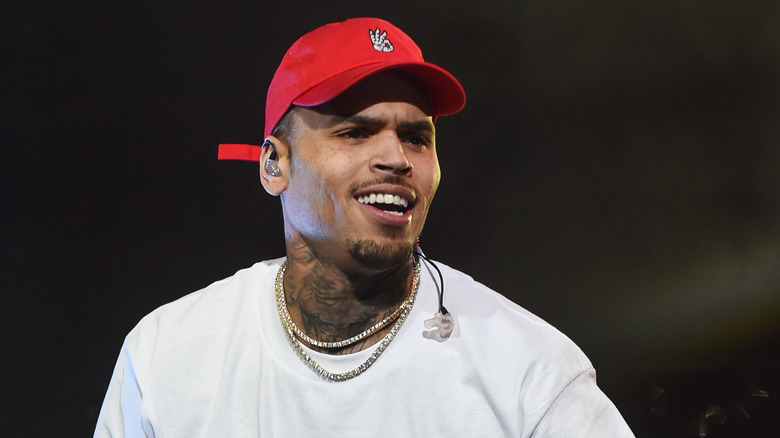 Aaron J. Thornton/Getty Images
In 2016, Kanye West released the video for "Famous" from his album "The Life of Pablo." The provocative clip featured naked wax figures of himself and wife Kim Kardashian, Amber Rose, Rihanna, Donald Trump, Taylor Swift, and more ... all in the same bed. A wax of Chris Brown was included, too, and the singer took to social media to react to the shocking visuals. 
"Why I gotta have the plumbers butt/ crack showing WAX figure?" he wrote on Instagram in a now-deleted post in June 2016 (via Billboard). "This n***a KANYE CRAZY, talented, but crazy." Then, two years later, the singer had even more harsh words for Ye. In 2018, West sat down with TMZ and discussed everything from his admiration for Trump and free speech — and made some questionable remarks about slavery, calling it a "choice." "When you hear about slavery for 400 years ... like, you was there for 400 years and it's all of y'all?! It's like we're mentally in prison," he said.
Fans and celebrities alike soon reacted to West's claims, Brown included. "THIS IS JUST ENTERTAINMENT TO YALL... THIS MAN IS A CLOWN!", Brown wrote on Instagram (per USA Today). "WAKE THE HELL UP KANYE.... PLEASE. SLAVERY WAS A CHOICE???????? Whattttttt??????" He continued, "PLEASE BLACK PEOPLE... DO NOT FOLLOW (West) ON HIS PATH TO DESTRUCTION! WHATEVER HELP U THINK I NEED.... GET IT FOR HIM ASAP."