Kanye West Makes A Surprising Claim About The 'Donda' Release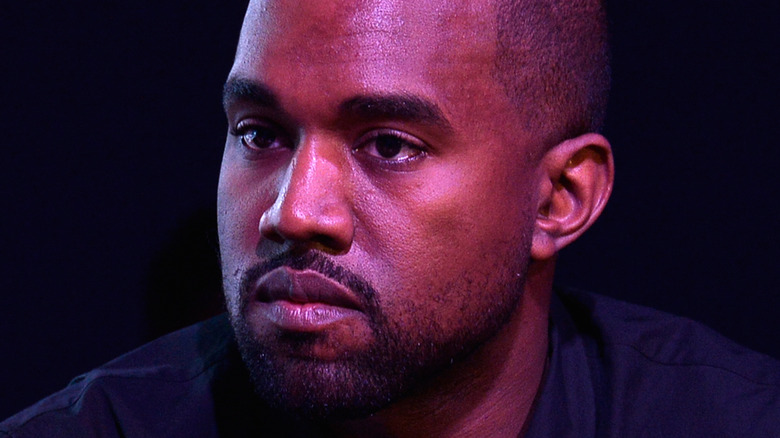 Frazer Harrison/Getty Images
Less than 24 hours after "Donda" released, Kanye West has now made shocking claims about the project's rollout. In case you missed it, West postponed the album several times, before settling on September 3 as the final release date. However, "Donda" ended up dropping on August 29, with many thinking it was done to avoid coinciding with Drake's album.
The same day "Donda" dropped, West took to social media to reveal that the album almost didn't come out because of DaBaby's controversial verse on "Jail." In a now-deleted screenshot shared on Instagram, West's manager Abou "Bu" Thiam informed him of the issue. "On another note, DaBaby's manager isn't clearing 'Jail," Bu texted (via The Shade Room). "So we won't be able to Upload unless we take him off."
West insisted on wanting to keep DaBaby, though. "I'm not taking my brother off," he replied. "He was the only person who said he would vote for me in public." Once the album dropped, "Jail" only featured Jay-Z's verse, so fans assumed West had given up. Judging by his latest statement, however, things went differently.
Kanye Wests says Universal released 'Donda' without his permission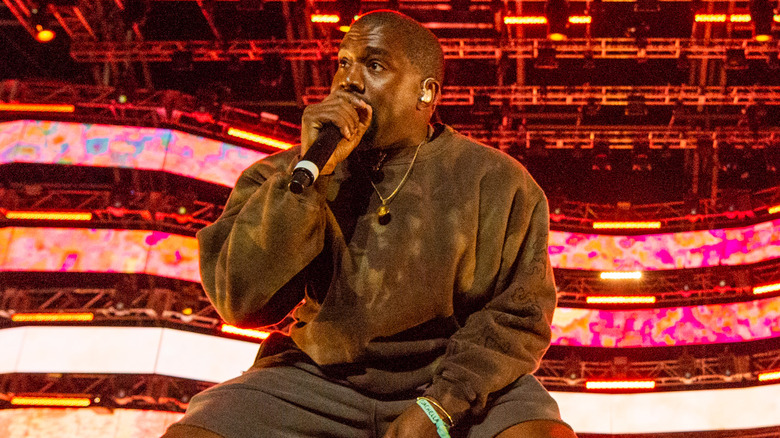 Timothy Norris/Getty Images
Taking to Instagram on August 29, just hours after "Donda" landed on streaming platforms, Kanye West accused his label of releasing the project without his final consent. "UNIVERSAL PUT MY ALBUM WITHOUT MY APPROVAL," he wrote. He also claimed that it was the label that refused to clear DaBaby's verse. "AND THEY BLOCKED JAIL 2 FROM BEING ON THE ALBUM."
After finding out that DaBaby's verse on "Jail" would have stopped "Donda" from releasing, West reached out to the rapper, claiming that his team was working against them. "Yo manager cap. The people next to you trying to destroy you," a now-deleted screenshot read. "But God gotta bigger plan." "A plan that can't be stopped!!," DaBaby added.
DaBaby's manager, Arnold Taylor, took a moment to respond to West's claims. "This is CAP, I woke up this morning to this social media bulls**t," he wrote on Instagram. "I never got a call or email from @kanyewest @__bu @johnmonopoly I just received it today and cleared it in 2 seconds. Why wouldn't I want a hit song out when #SCMG is all about the growth and culture of hip hop and my artist!!! To all of the media blogs and outlets don't believe everything you see in a post, thank you!!!"
Did Apple Music take down 'Donda' after Kanye's claim?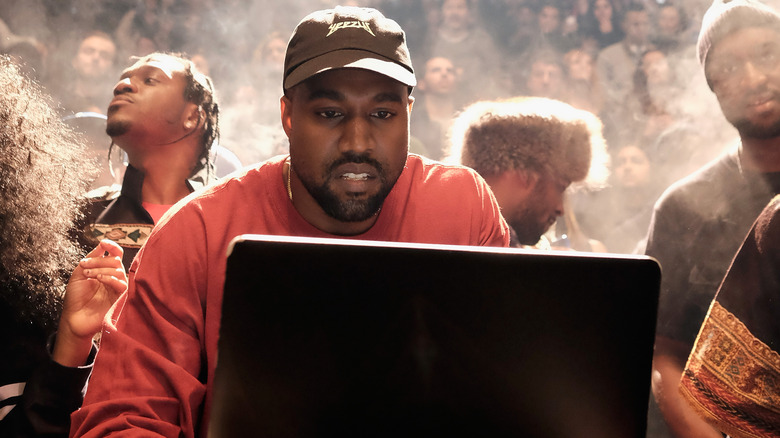 Dimitrios Kambouris/Getty Images
Just minutes after Kanye West accused Universal of releasing "Donda" without his permission, fans noticed that the album had completely disappeared from Apple Music. "Damn the og version of donda got taken down on Apple Music," one fan pointed out on Twitter. "donda getting taken down rn
this can't be life," another wrote. 
Due to West's surprise claims, others predicted there would be issues with the album. "guys start screen recording donda incase kanye gets this s**t taken down," one fan suggested. Although "Donda" wasn't playable on Apple Music, it was still up on streaming platforms such as Spotify, and the issue apparently turned out to just be a glitch. "if you're listening on Apple Music and it says unavailable, it is a glitch," one Twitter user noted. "The album wasn't taken down, just close app and reopen." 
Once the album reappeared on Apple Music, though, fans noticed that it included an extra song — "Jail Pt. 2," featuring controversial features from DaBaby and Marylin Manson. "When I started the album Jail Pt 2 wasn't on it and by the time I finished the album it was on there," a listener pointed out. "Marilyn Manson singing on Jail Pt. 2 'guess who's going to jail tonight!' YOU BRO," one fan joked. Given the album's drama-filled release, we can't rule out any additional changes, so stay tuned for updates!