The Truth About Mark Consuelos' Past As A Stripper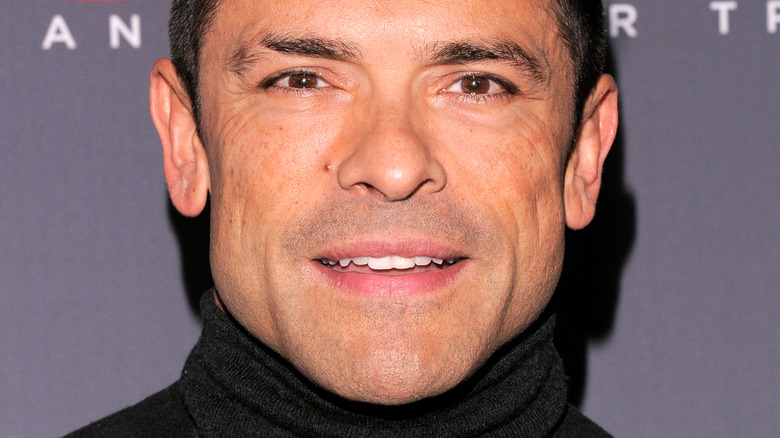 Ron Adar/Shutterstock
Mark Consuelos is perhaps one of Hollywood's most enigmatic actors. Though you might recognize him from roles such as Mateo Santos on the long-running soap opera "All My Children" and Hiram Lodge on The CW's "Riverdale," the Spanish heartthrob has not always called acting his primary career. In fact, prior to popping up on television screens in the late 1990s, Consuelos had a rather salacious job elsewhere — on the stripper's pole.
But before we dive into the nooks and crannies of Consuelos' mysterious past, it's important to note that the actor has long since traded in his life on the pole for a more stable existence. Happily married to television host extraordinaire Kelly Ripa, the couple tied the knot in 1996 (well after his stripping career) and have three children — Michael, Lola, and Joaquin — together. The couple met in 1995 on the set of "All My Children," where the power couple ironically portrayed love interests. Soon, the on-screen couple found themselves smitten with each other in real life and, after one year of dating, the two decided to take a gamble and elope in 1996. Somebody call Taylor Swift, because talk about a love story!
So, now you may be wondering — how exactly did Mark Consuelos end up stripping prior to his marriage to Kelly Ripa? Lucky for you, we have the scoop. Read on to learn more!
Mark Consuelos had a special nickname at the club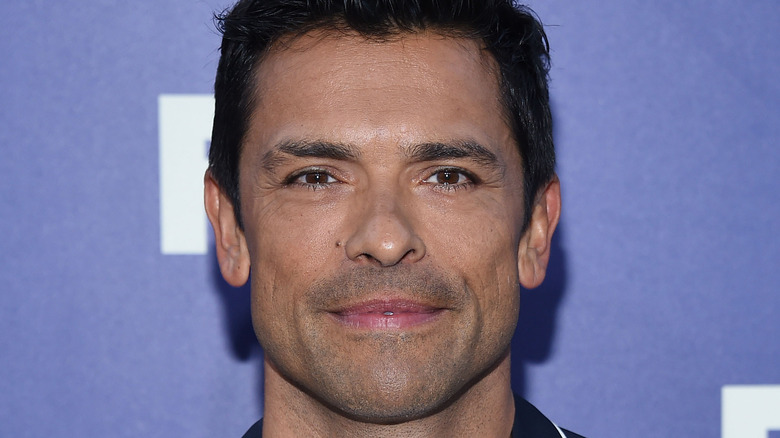 DFree/Shutterstock
Prior to starting his acting career on "All My Children," Mark Consuelos took to the stripper's pole to make ends meet. The decision, if you really think about it, was actually a rather genius idea on Consuelos' part. Using his chiseled good looks and Herculean build to his benefit, it's no doubt that Consuelos excelled during his short stint on the pole. In fact, don't even take our word for it — take it from Candace Yowell, a former club goer in the 1990s who recalled Consuelos' jaw-dropping performances.
After unearthing a picture of her and friends alongside Consuelos (affectionately dubbed "Meaty Mark" at the time) and company from the '90s, Yowell reminisced that "It was always fun in that bar" and that "[t]he guys all had their own little, sexy individual dances and they also danced together as a group" (via the Daily Mail). Yowell also noted that Consuelos "wasn't famous" yet and "was just one of the strippers in banana hammocks" at the time. In the photograph, the actor is pictured bronzed and rocking a youthful glow alongside several other dancers and women.
Yowell then recalled how the strippers would "walk around the bar and you'd put money in their g-strings" before performing some R-rated actions on the club goers themselves. You would imagine that this would leave a sour taste in wife Kelly Ripa's mouth, but what exactly does Consuelos' famous wife make of his stripper past? Keep reading to find out!
Kelly Ripa's proud of Mark Consuelos' work ethic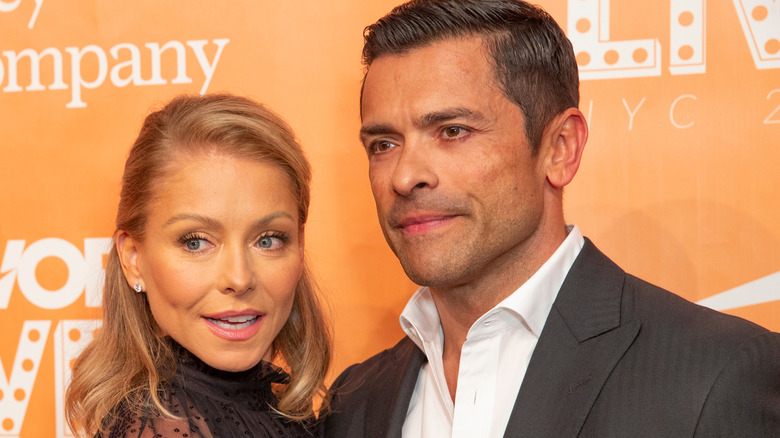 Lev Radin/Shutterstock
On Mark Consuelos' stripping past, wife Kelly Ripa actually looks back fondly and holds no grudges over her husband's erotic career choice, noting that she even has an "an old calendar pinup" from her hubby's glory days (via HuffPost)! In an interview with Vanity Fair (per HuffPost), Ripa revealed that "a lot of hot guys in Hollywood have [stripped]" before telling the story of how Consuelos, who was "straight out of college" at the time, entered the wild world of stripping.
"He's gorgeous [and] looking to break into show business," Ripa prefaced before revealing Consuelos "started off as a roadie to a group of these guys, and then they talked him into stripping." The "Live with Kelly and Ryan" host could not resist lusting over her husband either, telling the outlet "[h]e is so unbelievably gorgeous, with a Mexican father, Italian mother born in Spain and raised in Italy," before noting, "I will never give him up."
And though parents would usually be alarmed at such a revelation, Ripa revealed that her parents "worship Mark" despite his jarring job choice and mentioned that Consuelos is "probably the most responsible, hard-working, diligent person" she knows regardless of his humble beginnings.