The Sarah Paulson Impeachment: American Crime Story Controversy Explained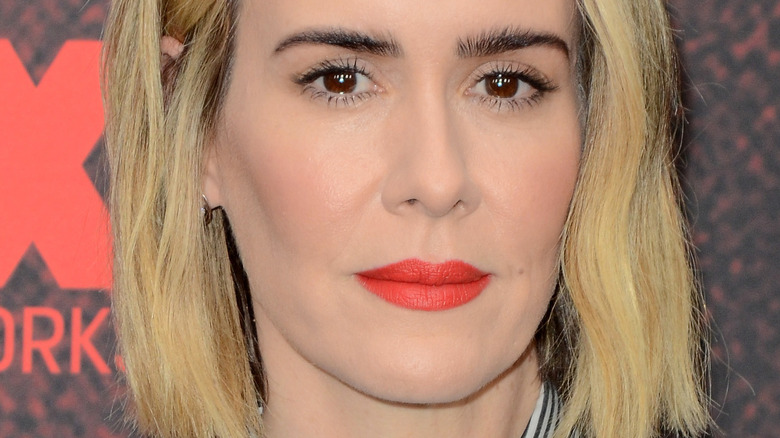 Kathy Hutchins/Shutterstock
When "American Crime Story" creator Ryan Murphy unveiled the trailer for the show's third season, many viewers were put off right away. The premise centers around the affair then-President Bill Clinton pursued with a White House intern, Monica Lewinsky, in the 1990s — eventually leading to his impeachment trial. Although the season, officially titled "Impeachment," doesn't air until September 7, it's probably too late to change anything.
Actor Sarah Paulson is of course in the picture for this season, as she is a mainstay in Murphy's television universe, appearing in his other show "American Horror Story" and the first season of "American Crime Story." In "Impeachment," Paulson plays Linda Tripp, who played a pivotal role in the true story after secretly recording conversations with Lewinsky. While fans were excited to see Paulson return for another installment from Murphy, controversy arose when viewers immediately noticed how Paulson was embodying the late Tripp, something the actor herself has even expressed regret over. Here's what's going on.
Fans took issue with Sarah Paulson's costume in 'Impeachment'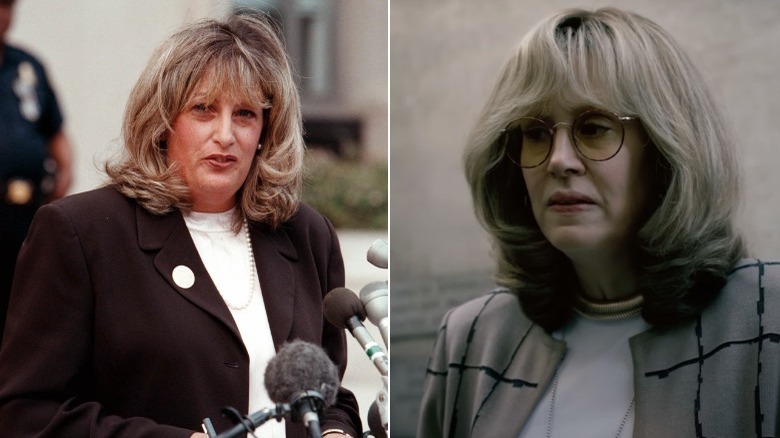 Karwai Tang/Getty Images
While the official September premiere of "Impeachment: American Crime Story" is steadily approaching, one of the cast members is speaking out about feeling guilty towards her on-screen portrayal. Sarah Paulson, who plays Linda Tripp in the Bill Clinton story, tackles the role by wearing a fat suit, something that many feel is outdated in Hollywood. As the Los Angeles Times notes in an August story on the series, Tripp died in 2020, and Paulson regrets her part in contributing to the woman's negative legacy — when she intended to do the opposite.
"Not only may it not affect anybody's assessment of her, it might make people double down. And that is something I never thought of. And I don't know if that makes me foolish, or it just makes me a person who was so invested in trying to be a person," Paulson reflected. Tripp, who recorded private conversations with Monica Lewinsky about her relationship with Clinton, has remained a controversial figure over two decades after the impeachment. "I think Linda was certainly a victim of being caught up in a machine," Paulson continued. "Don't get me wrong — she put the gas in the car, she put the keys in the ignition, and then she started driving, put her foot on the pedal. ... I will never think that what she did was right. Far from it. But I do have a greater understanding as to the why."
Sarah Paulson says "fatphobia is real"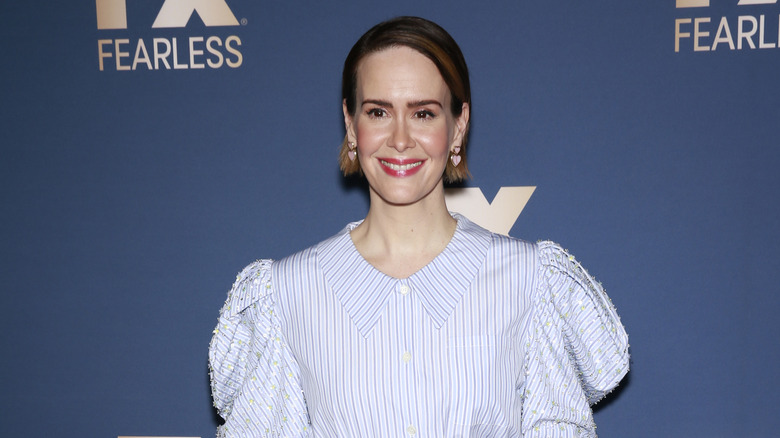 Ovidiu Hrubaru/Shutterstock
Although Sarah Paulson was hailed by Marcia Clark herself for her portrayal of the attorney in the first season of "American Crime Story" about the O.J. Simpson trial, her next acting role hasn't gone over so well. Paulson strapped on a fat suit to play Linda Tripp in "Impeachment: American Crime Story," making her not just unrecognizable, but with some critics arguing that it made Tripp seem like a joke. 
After images of Paulson emerged on set in April, Refinery29 published an op-ed about Hollywood just hiring fat actors in the first place. "It's not just the way these characters are represented that hurts fat people in the long run. These insulting suits.... are dehumanizing to actual fat people who can't just slip out of their fatness," writer Erica Russell opined. She also argued that hiring thin actors and putting them in a fat suit deprives other actors of a job, "resulting in a loss of potential income and opportunities that only perpetuate the real-life systemic marginalization and oppression of fat people."
That criticism is something that Paulson seemed receptive to. "There's a lot of controversy around actors and fat suits, and I think that controversy is a legitimate one," she told the Los Angeles Times in August. "I think fat phobia is real. I think to pretend otherwise causes further harm."