The True Meaning Behind 'I Like Dat' By T-Pain & Kehlani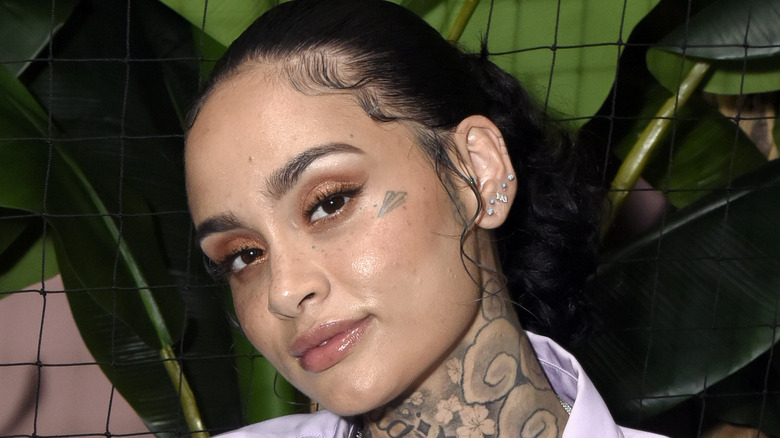 Vivien Killilea/Getty Images
Fourteen years after releasing "Buy U A Drink (Shawty Snappin')," T-Pain has decided to sample his 2007 smash hit and enlisted singer Kehlani to help him out. Titled "I Like Dat," the song first dropped on May 14 and marks T-Pain's very first collaboration with the R&B singer. The duo also released an official music video in June, and promoted the single via a live performance on "Jimmy Kimmel Live."
Speaking with ELLE, Kehlani revealed how the collaboration with T-Pain happened. "He sent [the song] and he was like, 'Yo, listen to this. I want to know if you're down,'" she explained. "I heard it, and I was like, 'You're kidding.' I sent him the verse super fast because I was so excited about it." For Kehlani, recreating "Buy U Drank" was somewhat of a full circle moment.
"The whole time, I'm just like, 'I'm on a flip of 'Buy U a Drank' with T-Pain,' and I vividly remember being in middle school and being at my eighth grade dinner dance, and 'Buy U a Drank' coming on, and the whole everybody losing their minds." The singer also shared a few kind words about her collaborator. "It was so cool," she continued. "He's really humble, almost to a fault, to where you have to constantly remind him that he's T-Pain." But what is T-Pain and Kehlani's "I Like Dat" really about? Let's find out below.
T-Pain and Kehlani want to do more than 'Buy U A Drink'
Although T-Pain took inspiration from his 2007 hit "Buy U A Drink," he's taken taking things up a notch. Now, he's not just buying drinks at the club... he's paying bills. "Ooh, ooh-ooh, she don't want the drink, she want the rent paid," T-Pain sings on the chorus. Apparently, the women he encounters now are financially stable, so a few free drinks won't cut it.
"She don't want drinks no morе if you ain't bringin' no dough to the table," he sings elsewhere on the song. "Ooh-ooh, ooh-ooh, she gon' be like, 'I got it,' pull a thousand dollars out her side pocket." Kehlani, who's featured on the second verse, shares similar sentiments as T-Pain — but her generosity takes place at the strip club.
"Every band I'm throwin' on stage, I got in my name, all that," Kehlani sings. "And I ain't throwin' twenties or tens, I'm out here paying rent and all that." Later in her verse, 'Lani reminds us that she doesn't need to date anyone for money. "Type of girl that got you 'cause I want you, not 'cause I need you." T-Pain and Kehlani's "I Like Dat" video counts over 14 million views on YouTube and, on July 10, the song peaked at No. 10 on Billboard's R&B Digital Song Sales chart — so the T-Pain x Kehlani formula is clearly working. So, is another collaboration on the way?
Are T-Pain and Kehlani working on an album together?
T-Pain and Kehlani's musical chemistry is apparently working well — to the point that fans can expect more collaborations sometime in the future. In a July interview with Complex, T-Pain revealed that he's working on an album with the singer. "I know you all are going to blast this out, but me and Kehlani are actually working on a project together," he said. However, it's not going to be your regular joint project. 
"But it's not the way you think," T-Pain continued. "She's going to executive produce an album for me that's just me and all female features." Per T-Pain, the album is tentatively titled "A Day Out With the Girls," and he's already locking down some pretty exciting collaborations. "We already are in talks with CHIKA, SZA... A bunch of people have been hitting us up already, so we're just getting on the move right now."
Aside from his Kehlani-produced album, T-Pain is working on some more records. "We've got a lot of projects," he continued. "We've also been talking about a project I'm supposed to be doing with Trap Money Benny — a seven, eight-song joint. Internet Money wants to do a project. So, I've got a lot of projects coming." Perhaps, all the incomings collaborations are happening because T-Pain (finally) caught up to all those unread Instagram DMs. Regardless, we can't wait to hear them all!