Lorde Lands In Hot Water With Fans For An Unexpected Reason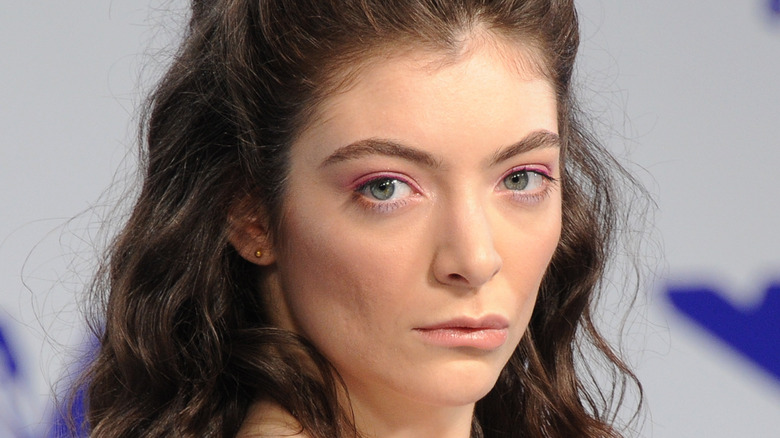 Gregg Deguire/Getty Images
If any Lorde fans are wearing a "Mood Ring" right now, it might just be turning red.
On August 20, Lorde released "Solar Power," her long-awaited third studio album and first in four years. Though fans are definitely hyped, the album is a departure for the New Zealand-born "Royals" singer in a lot of ways. Though, like her 2017 album "Melodrama," "Solar Power" is co-produced by music Svengali of-the-moment (and roof sesh maestro) Jack Antonoff (per Insider), you can draw a line in the literal sand there in terms of similarities. Whereas "Melodrama" is arguably dark, turbulent, and exhilarating (Pitchfork called it the 14th best album of the 2010s), "Solar Power" is sunny, faux spiritual (maybe not that faux?), and generally ... chill. In fact, its title track's music video takes place at a hidden beach and that seems where Lorde is at metaphorically. 
"I went back to living my life," Lorde (who has spent her time between albums laying low with her phone set to greyscale and without social media apps) told The New York Times recently, describing herself as a "massive introvert." "It's hard for people to understand that." Indeed, this era from Lorde may have big Yoga energy, but it does seem to be authentically what she is going through, and we love that! Yet, some fans who have received Lorde's new album on vinyl are feeling a little less zen right now. Here's why.
Some Lorde fans are receiving warped 'Solar Power' albums but one handled it hilariously
Over on TikTok, user coorpin_vinyl went viral after unboxing their "Solar Power" deluxe vinyl from Lorde, only to find it completely (and perhaps hilariously) warped. "Got my Solar Power vinyl today," they posted over a video spinning the warped album to no avail. "I feel like she is laughing at me." The video has 176k likes and counting. "Finally making it a bowl," the same user wrote in an update as they committed to salvaging the unusable vinyl, embracing their inner DIY, and microwaving the record into a piece of serveware. Resourceful! 
Over on Twitter, another user had a similar issue. "My signed Lorde vinyl came damaged and bent at one of the corners and all its contents are bent in the same place as well... including the signed insert, I'm so sad," they wrote. At least it's signed! "Praying for my lorde vinyl doesn't come warped," wrote another user.
Meanwhile, other users took issue not with the vinyl, but the attached poster in the deluxe edition, which starts things off on an interesting foot. "Best part of @lorde's deluxe vinyl is hands down the 6ft tall poster of her foot," one Twitter user wrote, along with a photo of the poster which is mostly, yep, Lorde's foot. No album rollout is perfect, and many copies seem intact. And it seems the original TikTok user got sent a replacement. So that's good.