How Kathy Griffin Became Friends With Stormy Daniels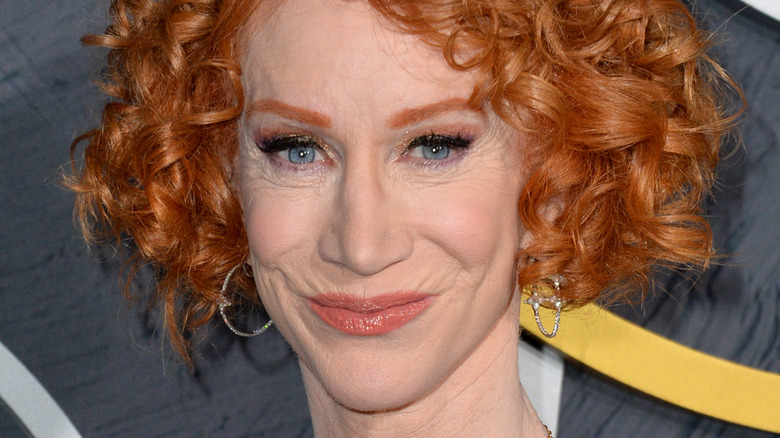 Featureflash Photo Agency/Shutterstock
Comedian Kathy Griffin and former adult film star Stormy Daniels became unlikely friends when the two bonded over a common foe. In 2017, Griffin came under severe scrutiny when she posed with the (fake) severed head of then-president Donald Trump, per NPR. As a result, the "Life on the D-List" star's career took a massive hit; she was scheduled to host CNN's New Year's Eve countdown but the network pulled her from the event once the photos surfaced, per Billboard.
Daniels — whose real name is Stephanie Clifford — also made sensational headlines when rumors of an alleged past affair with Trump that dated back to 2006 surfaced. She wrote a tell-all book titled "Full Disclosure" that provided details of the tryst (via The Guardian). In the book, Daniels claimed she was threatened to keep her relationship with Trump quiet, and that she was eventually given $130,000 to sign a non-disclosure agreement just before the 2016 presidential election. Both Griffin and Daniels voiced unflattering opinions about the 45th president, and both were lambasted by certain sects of the media as a result. 
In 2018, Daniels wound up in a legal battle over the Trump NDA, and Griffin decided to offer help. "I want you to know that I'm giving $2,500 to your legal defense fund because I know what [it's] like to go up against the Trump machine," the actor tweeted in March 2018. That was only the beginning of their blossoming friendship!
Their explicit message for Donald Trump
By May 2018, Kathy Griffin and Stormy Daniels had met to commiserate over their shared experiences. "And you should know that I'm friends with Stormy now, and I contributed to her legal defense fund," Griffin told the Houston Press. "So Stormy is gonna come to one of my shows," she added. True to her word, a month later, Griffin had Daniels backstage at one of her shows, and the comedian uploaded a photo of the duo giving a one-finger salute directed at Donald Trump. "@StormyDaniels it was an honor to have you at my Boston show tonight. I support you 100%!" Griffin tweeted while adding the explicit hashtag "#F***Trump."
The actor detailed the meeting with Daniels while appearing on "Jimmy Kimmel Live" in July 2018. "She came to see me in Boston, and we hit it off," Griffin revealed. "I said 'Hi Thelma, I'm Louise, let's take this f*** down," she colorfully added. Griffin also documented the encounter with a video clip she uploaded to Twitter that showed the two women bonding over a jacket the former First Lady wore which they believed was in poor taste, per the Daily Mail.
Griffin came to Daniels' defense when Trump bashed her in October 2018. "Great, now I can go after Horseface and her 3rd rate lawyer in the Great State of Texas," he tweeted at the time (via The Wrap). We won't post Griffin's terse reply here but she definitely had her pal's back. 
They continued to throw jabs
The relationship between Kathy Griffin and Stormy Daniels endured beyond their initial Twitter exchanges and meetings. In March 2019, Griffin had her fellow compatriot over to her home, and shared the experience with a cheeky photo on Twitter. "When @StormyDaniels comes to your house, you just get in the bathtub and gossip. Don't argue with me!" the comedian wrote. 
The duo took a jab at Donald Trump in another photo shared on Griffin's Twitter timeline in September 2020. "Hi [D]onald. We're having a great day. You?" Griffin wrote alongside a selfie of her and Daniels on a video chat together.
Both women were able to leverage their experiences with Trump into public tours. Griffin launched her "Laugh Your Head Off" comedy tour in 2018 — an obvious reference to her controversial photoshoot. The show appeared in prestigious venues such as Radio City Music Hall and Carnegie Hall, per The Hollywood Reporter. Not only did Griffin have harsh words for Trump, but the performer also castigated celebs such as Andy Cohen and Anderson Cooper. Daniels followed suit, albeit on a smaller scale, when she went on a comedy tour in 2019. She had prepared jokes for the performances, but the shows were mostly Q&As with fans as a means to promote her book, per The Daily Beast.