Inside Robert Redford's Friendship With Jane Fonda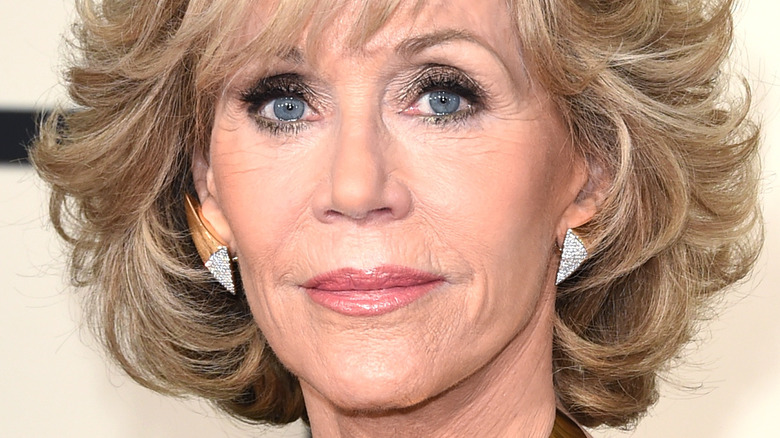 Jason Merritt/term/Getty Images
Jane Fonda and Robert Redford have spent quite a bit of time in passionate relationships — on-screen, at least. Throughout their lengthy careers, the legendary actors have played romantic couples four times, starting all the way back in the 1960s when Marlo Brando's "The Chase" (1966) came out. It did not take them much longer to reunite on the big screen. The following year, they starred as newlyweds trying to adapt to married life in a walk-up apartment in New York City in "Barefoot in the Park."
In Sydney Pollack's western "The Electric Horsemen" (1979), Fonda and Redford brought us an unlikely pair, with Fonda portraying a reporter who falls in love with Redford's former rodeo champion in the quest to release a thoroughbred race horse in a remote canyon. Their professional partnership didn't end in the 1970s, though. Nearly four decades later, in 2017, Netflix released "Our Souls at Night," bringing Fonda and Redford together for the fourth time. And their chemistry has not faded, as Little White Lies noted. "There was just a chemistry we had as human beings that we could carry on to the screen that required no effort. And it's been that way through all of our films," Redford told The Telegraph in 2017.
The chemistry between Fonda and Redford is certainly undeniable, yet the two veteran actors were never romantically linked. But the spark they displayed on screen did translate into a relationship. Keep reading to learn the details about Fonda and Redford's enduring friendship.
Jane Fonda and Robert Redford have been friends for five decades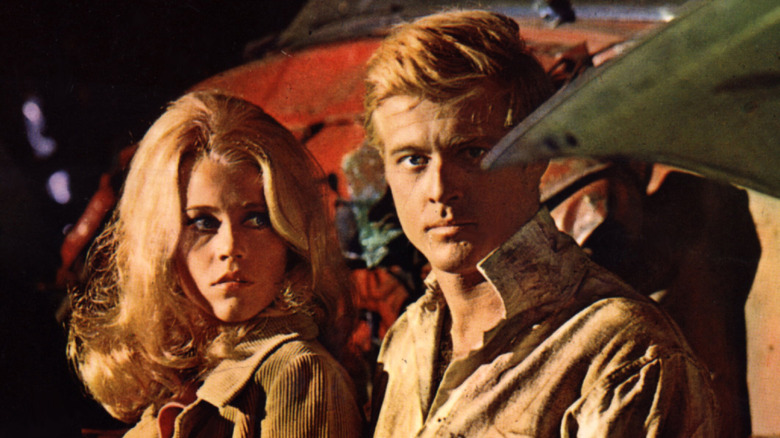 United Archives/Getty Images
Now in their 80s, Jane Fonda and Robert Redford have been sharing the screen since they were in their early 20s. "We've had a film relationship and a friendship that has gone almost 50 years," Redford said in a Netflix tribute video. Their journey together is one that Fonda looks "back [on] with great fondness," she said. Their fourth collaboration, "Our Souls at Night," in itself is a sort of tribute to their longstanding partnership. "People who know my history with Bob, and most popularly 'Barefoot in the Park,' are very fond of the idea of the two of us together again," Fonda said of the film, which explores the semi-platonic relationship between two neighbors who are both widowers.
Fonda, who is known for her sense of humor, as Forbes pointed out, joked about the actors reuniting in their twilight years. "This is our fourth movie together and now he's 80 and I'm 79 [in 2017], and I thought, 'That's pretty cool, who would've thought?'" Fonda said, laughing. A lot has been said about the chemistry the two share on-screen but the two, above all, understand each other. "We've done many films over the years so it just worked out that way, that there was not a lot of discussion, we didn't have to talk about a lot. Things just kind of fell into place between us, and there wasn't much more to think about," Redford said on "TODAY."
Jane Fonda claims she was in love with Robert Redford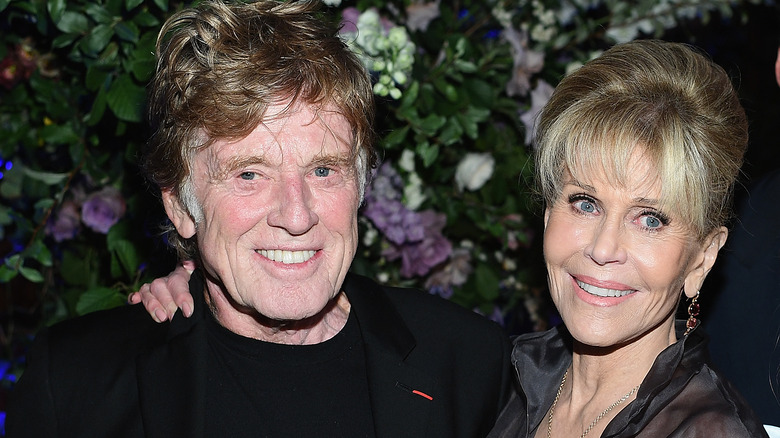 Dimitrios Kambouris/Getty Images
Jane Fonda and Robert Redford have never been more than co-stars and close friends. But that's only because the timing was always off. Well, at least according to Fonda. "I was always in love with Robert Redford — I made three films with him and nothing happened because I was married and he was married," she told The Guardian in 2015, before the release of "Our Souls at Night." Redford's side of the story is a bit different. While Fonda has gushed over Redford's looks several times, he was apparently unaware she had actual romantic feelings for him, he told The Telegraph. "I didn't know she was in love with me," Redford said.
Redford's revelation has not deterred Fonda from publicly exploring how she felt — and feels — about him. Speaking on "The Ellen DeGeneres Show" in March 2017, Fonda couldn't help but swoon over Redford's dreamy looks while looking through stills of their old movies. "God, he's so good looking," Fonda exclaimed. Maybe Fonda is so comfortable joking about her platonic feelings for Redford because she no longer harbors them. "I realize that I've grown up, because in the three previous movies, I was always in love with him," she told DeGeneres.
Even though Redford was none the wiser about Fonda's feelings, he is highly aware of their on-screen connection. That's why he was the one who suggested Fonda portray his love interest in "Our Souls at Night," per The Telegraph.