Lizzo's Twitter Controversy Over Madonna And Janet Jackson Explained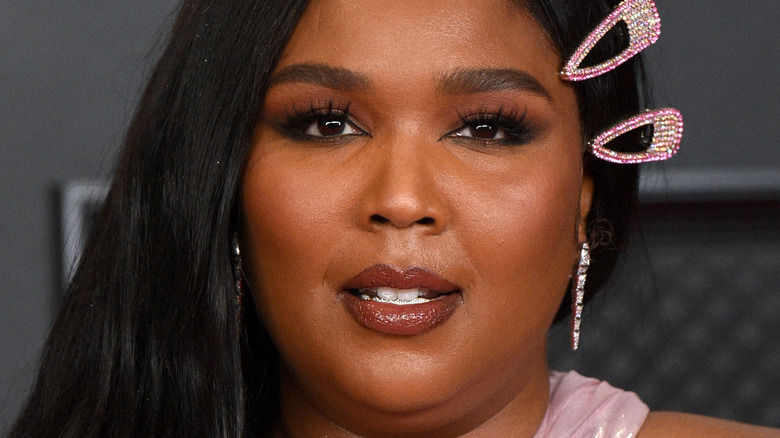 Kevin Mazur/Getty Images
Lizzo returned to Twitter less than a month ago after not tweeting for over a year, and she is already turning heads with her opinions. The "Good As Hell" hitmaker is one of entertainment's most talked-about names in recent years and has caused quite the debate among passionate music fans via social media.
It all started when Lizzo took to Twitter to praise Usher. "Usher the king of r&b. THANK U USHER," she wrote. Shortly after, the Grammy Award winner quote-tweeted herself and labeled deceased icon Michael Jackson as King of Pop, Justin Bieber the Prince of Pop, Britney Spears the Princess of Pop, Rihanna the Pop Princess, and Beyoncé as Queen of Music. As for the Queen of Pop, Lizzo insisted Michael's younger sister Janet Jackson fits that title. The singer's post quickly caught the attention of many and has been quote-tweeted more than 7,400 times and received 3,400 replies, as of this writing.
Janet is undoubtedly one of music's most legendary and influential powerhouse performers of all time. However, many questioned why Lizzo never gave Madonna a mention. Unsurprisingly, the "Like a Prayer" hitmaker's loyal fanbase had something to say on the matter and didn't hold back. Keep reading to find out more.
Madonna fans don't agree with Lizzo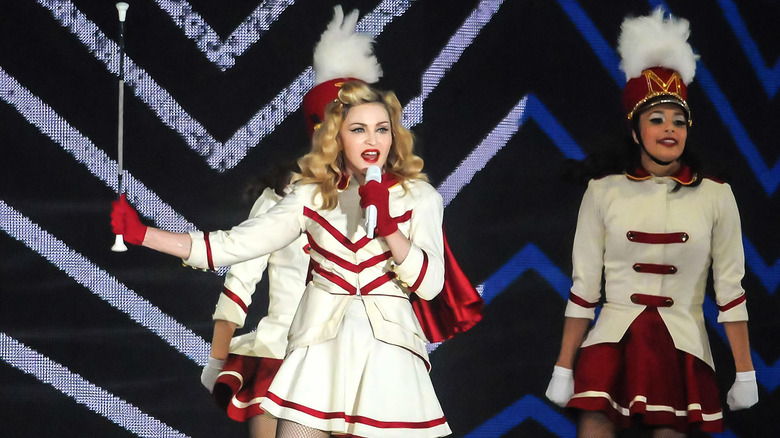 A.PAES/Shutterstock
As previously reported by NME, after Lizzo shared her list of who she believes deserved each musical title, Queen of Pop started to trend on Twitter because she put Janet Jackson under that label. Throughout the years, music mogul Madonna has commonly been crowned the Queen of Pop, which comes as no surprise as she has enjoyed a hugely successful career throughout the decades and influenced a whole generation. When Lizzo never gave the "Justify My Love" chart-topper a mention, they didn't appear too happy.
"Yeah cause Madonna isn't the queen of pop huh?" one user tweeted, adding a photo that showcased the numerous outlets that named Madonna the Queen of Pop over the years. "we don't need validation to know that Madonna is the queen of pop, PERIODT," another person shared. "There is and always will be only one true Queen of Pop. Madonna," remarked a third fan.
While many disagreed with Lizzo, there was also a large amount who agreed that Jackson was the queen. "Janet Jackson is the Queen of Pop and that's that. Argue with the wall," one user wrote, attaching a video clip of Jackson performing some killer choreography. "It's always a good day to acknowledge that Janet Jackson is the Queen of Pop," another fan tweeted. "janet jackson is showing up under queen of pop and the girls don't wanna hear it!! i'm cackling DOWN, my good sis damita did that," a third person shared.
Both Madonna and Janet Jackson are very established stars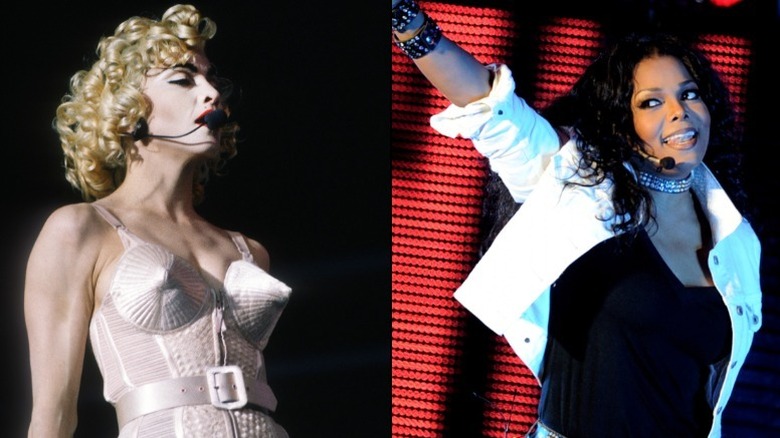 Gie Knaeps, Kevin Winter/Getty Images
After various debates on social media, singer Charlie Puth took to Twitter to express his appreciation for both artists and believes neither should be compared to one another. "Ugh why do we have to pin them both against each other in competition? Both were/are incredibly innovative sonically visually and musically," he wrote.
Madonna and Janet Jackson both debuted onto the music scene in the 1980s and set many trends and broken many records along the way. On the U.S. Billboard 200, Janet has achieved seven chart-topping studio albums. She is one of three artists to have a No. 1 LP in the last four decades, per Entertainment Weekly. On the same chart, Madonna has had nine albums reach the top spot. On the U.S. Hot 100 singles chart, Madonna has scored herself 12 No. 1s and 38 top 10 hits while Jackson has had nine No. 1s and 27 top 10 hits.
At the peak of both of their careers in the 1990s, Janet signed the largest music contract at the time in 1991. As noted in her BBC "Taking Control" documentary, she moved over to Richard Branson's label, Virgin Records, for $40 million in 1991. According to the AP, her older brother Michael Jackson and Madonna went on to surpass the record by signing deals for $60 million. However, Janet renewed her contract with Virgin in 1996 for $80 million, signing the largest contract in history for a second time. Boss moves!