Mayim Bialik Said She'll Quit Acting If This Happens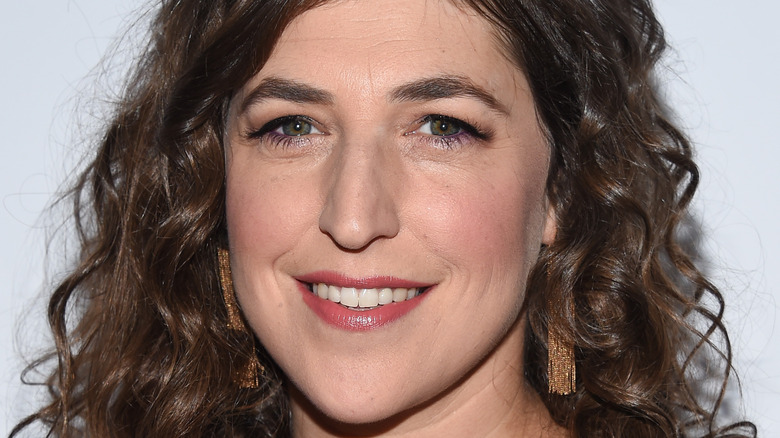 DFree/Shutterstock
Mayim Bialik earned a Ph.D. in neuroscience and managed to get cast in more than one of television's most iconic series, so "The Big Bang Theory" star's accomplishments have basically been a combo of Amy Farrah Fowler's career and the dream life of her BFF Penny (Kaley Cuoco). Bialik's breakout role came in the '90s when she starred on the sitcom "Blossom." The titular teen's progressive thinking and quirky style (aren't those flower hats due for a comeback?) made her stand out at the time and cemented Bialik's status as a queen of the small screen.
After earning her degree, Bialik spent half a decade teaching neuroscience to homeschooled students. She told NPR that she only resumed acting again because she "was running out of health insurance" and had two young children. She got that insurance and was earning over $425,000 an episode by the time "The Big Bang Theory" ended in 2019.
Her nine years on the show led to an opportunity starring on a new sitcom, "Call Me Kat," and she continued to build on her television legacy by landing a role as the host of primetime "Jeopardy!" spin-offs and specials. When she served as one of the game show's guest hosts, she told People that it was "one of the most iconic things I think that I'm ever going to do in my career." Bialik certainly seems to be on top of her game right now, but there's one thing that could kill her acting career.
Mayim Bialik won't do what some actors do to keep appearing in front of a camera
During a 2020 appearance on The Groundlings' "The Reality of Non-Reality TV" webinar, Mayim Bialik revealed that she will not undergo cosmetic procedures for the sake of a role and will change the course of her career if she starts feeling pressured to. "Already the collagen is breaking down right here, and as soon as someone tells me to inject it, that's when I turn into a fulltime producer and writer," she said, per Cheat Sheet. She also gave her "cleavage wrinkles" a shoutout, which is pretty awesome.
While Bialik might want to keep needles out of her body, the mother of two has fessed up to undergoing laser treatments at the urging of her "Big Bang Theory" makeup artist. In a candid 2018 blog post on her Grok Nation website, Bialik revealed that she had inexorably acquired dark spots on her face that could only be covered using a special effects brush. She was not happy about the proposed solution. "After hearing that this treatment was originally designed by someone from the Israeli army to remove paint from airplanes, I considered jumping out of the window," she wrote.
The pain was pretty intense, but Bialik stuck through it and "begrudgingly" admitted that the lasers made a difference. Luckily, age spots might not be as much of an issue for her latest gig.
Mayim Bialik said this is her favorite job
It's wild that a future "Jeopardy!" host was once so out of the loop with the pop culture world that she thought that "The Big Bang Theory" was another game show, but that's where Mayim Bialik was at before she landed the role of the brilliant, but socially awkward Amy Farrah Fowler. The scientist served as a love interest for physicist Sheldon Cooper, and Bialik became good friends with the man behind the perpetually stern face, Jim Parsons.
When Parsons approached her about a new series he wanted to produce, she thought he just wanted some feedback, but was "shocked" to learn that he was actually offering her a job. "He apparently thinks I'm not as annoying as I think I am, because he wanted to work with me!" Bialik said on Us Weekly's "Watch With Us" podcast.
Parsons and Bialik both produced the project, the Fox series "Call Me Kat." In it, Bialik stars as a math professor who opens up a cat café. Bialik said that she loved playing "a real woman" who wears minimal makeup and no Spanx, working with her cute feline co-stars, and being a part of the creative process of a show from the beginning. She described the sitcom as "the greatest job I ever had" during Fox's winter TCA presentation (via Entertainment Weekly). It was renewed for a second season, so those inevitable laugh lines and age spots clearly aren't costing Bialik work yet.