Who Is Heidi Klum's Daughter, Leni?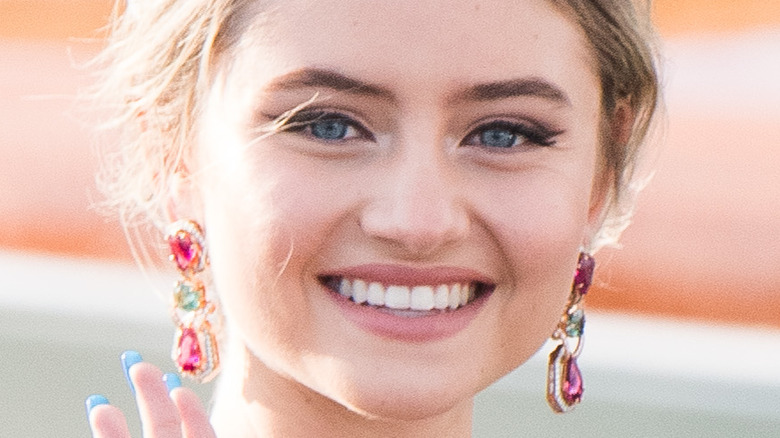 Jacopo Raule/Getty Images
Throughout the years, Heidi Klum has been very strategic about protecting her privacy, while also showing what her fans want to see on social media, especially when it comes to her life as a mother behind the scenes. The German-born supermodel shares four children — Leni, Henry, Johan, and Lou — with her ex-husband, Seal. Because of their hectic schedules, Heidi admitted to Redbook back in 2015 that she had a lot on her plate following their divorce, saying, "I'm a mom and a dad at the same time."
With that said, many of her followers have noticed that she's been very careful about not posting her children's faces on her social media accounts, even though she does post about their family vacations, holidays, and celebrations. But most recently Heidi has been posting full-face photos of her eldest child, Leni, and there's a good reason for it. Even though Leni is just 17, it seems like the "Germany's Next Top Model" host has big plans for her first-born — many of which have perhaps already been realized. Keep reading below to find out what they are!
Heidi Klum supports her daughter Leni Klum's dreams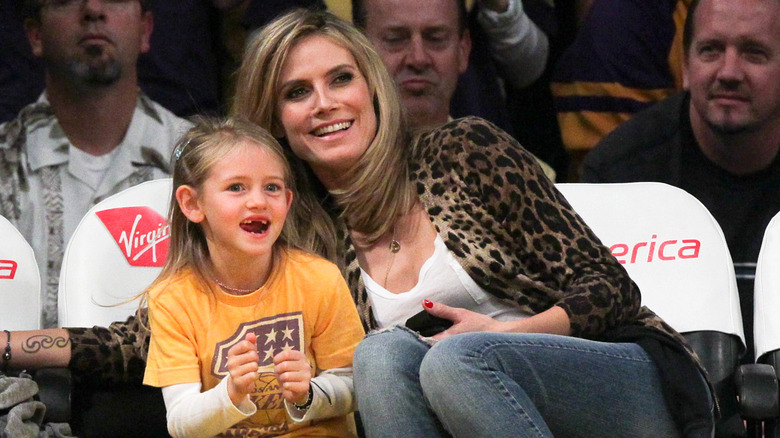 Noel Vasquez/Getty Images
It's perhaps safe to say that Leni Klum wants to follow in the same footsteps as her mother, international supermodel and television personality, Heidi Klum. In fact, the high-school teen just made her runway debut at Dolce & Gabbana's star-studded fashion show in Venice, Italy. Heidi was so proud of the moment that she shared several videos of her daughter's first runway show and even captioned one with, "The smile when she sees mom."
But this isn't the first time that Leni has been on a catwalk. Apparently, she's been wanting to be a model for a very long time and seeing how Heidi herself made a successful career out of it, she didn't want to get in her daughter's way and has allowed her to pursue her own dreams of becoming a tour de force in the fashion world. During an interview with E!'s Daily Pop, Heidi put it this way: "She's been begging me for years, and now her being 16, and I said fine. She opened German Berlin fashion week. I've seen her walk in heels around the house, but never professionally. It's kind of different when all of a sudden you look at your child like that and you're like, 'Wow, who is this?'"
While Leni certainly has her mother's model-like bone structure and contacts to make it in the industry, there might be one thing that is holding her back from becoming the next "Heidi."
The one thing Leni Klum didn't get from her mother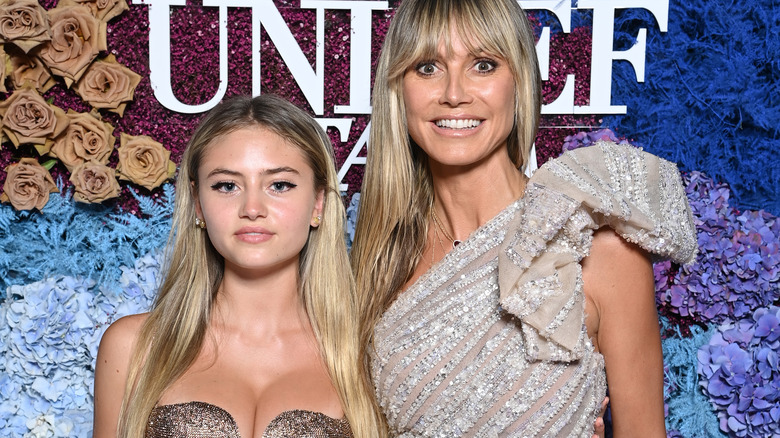 Daniele Venturelli/Getty Images
While Heidi Klum reportedly stands at 5 feet 9 inches — which is a respectable height in the modeling world — her daughter Leni Klum is only 168 cm tall, or 5 feet 5 inches, according to Fiv. While Leni herself hasn't confirmed her height, there's no denying that she is significantly shorter than her mother, especially when the two are posing side by side for the cameras. However, that didn't stop her from walking the runway at Dolce & Gabbana nonetheless.
Despite Leni not having her mother's genes in height, she is still determined to make it as a supermodel, both in her mother's native country of Germany and back at home in the U.S. After the teen appeared on the cover of the German edition of Vogue in December of 2020 alongside her famous mom, Heidi again took to her Instagram account to share in her pride of her daughter's success. She wrote, "Vogue is the best way to start the career you dream of. And even if it is a little difficult for me to let go of you into this world, I will always do everything so that you are happy and that your dreams come true. I am proud to be your mom!"
With a mom like Heidi by your side, you are already standing tall, right?