Did Allison Mack Try To Recruit Any Celebrities Into NXIVM?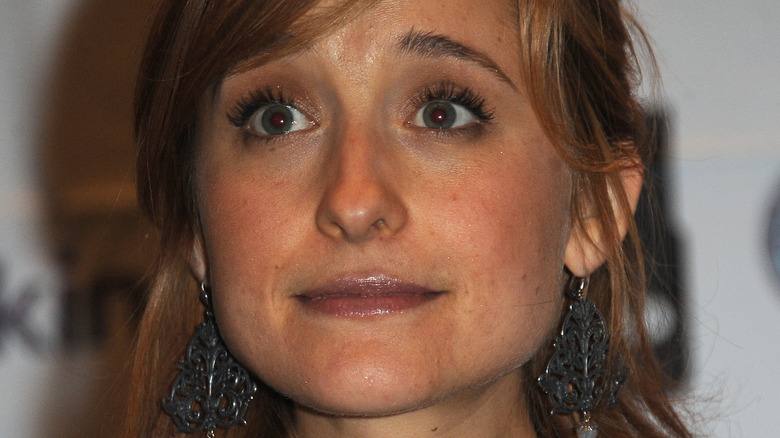 Albert L. Ortega/Getty Images
When you think of cults, you probably think of Jim Jones (see: Jonestown Massacre) or "American Horror Story." You may also recall NXIVM, the sex-trafficking cult that purported itself to be a multilevel marketing company. What made the case of NXIVM so fascinating, however, was its inclusion of several high-profile members, including Seagram heiress Clare Bronfman (along with sister Sara), and most notably, "Smallville" alum Allison Mack.
Founded by Keith Raniere in 1998, NXIVM worked to enroll nearly "16,000 people" in their courses — which were described as "a community guided by humanitarian principles that seek to empower people and answer important questions about what it means to be human" — over the following 20 years (via Insider). With alumni including BET co-founder Sheila Johnson and Ana Cristina Fox (daughter of former Mexican President Vicente Fox), NXIVM casted a wide net to ensure support from high-ranking individuals from their respective sectors.
Eventually, it all came crashing down for NXIVM in 2017 when The New York Times ran an exposé on NXIVM featuring former member Sarah Edmondson, who outed the company's inner sorority, Dominus Obsequious Sororium (DOS). DOS, the group responsible for NXIVM's sex trafficking activities, was flanked by Mack, who operated as a gatekeeper for the group. Tasked with introducing women to the cult, this begs the question — did Mack ever attempt to recruit any celebrities into NXIVM? Read on to find out!
Allison Mack made several public offers to high-profile stars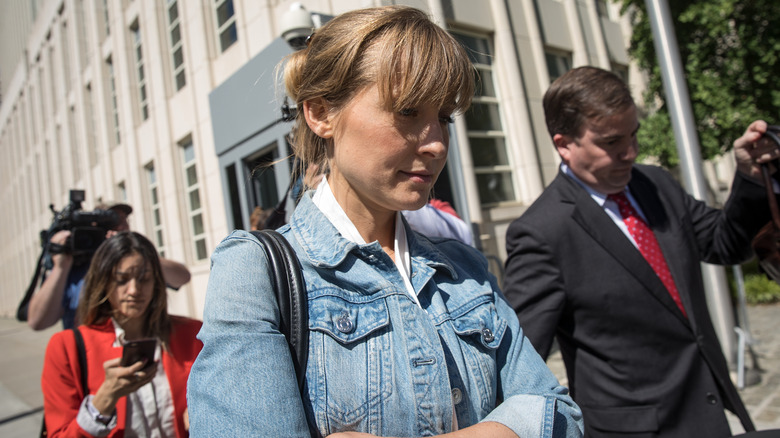 Drew Angerer/Getty Images
Allison Mack was introduced to NXIVM in 2006 by fellow "Smallville" co-star Kristin Kreuk. Mack's introduction to the group was a portent of doom; she would quickly ascend founder Keith Raniere's ranks, ultimately becoming a "master" for Dominus Obsequious Sororium, the secret sorority within NXIVM that promoted sex trafficking (via Fox News). In her position, Mack ellegedly forced women "to perform labor, take nude photographs, and in some cases, to engage in sex acts with Raniere."
Mack's pursuit to please Raniere knew no end. Serving as Raniere's second-in-command, the former actor would brand sex slaves with Raniere's initials (and sometimes even her own) amongst other various slave labors. When she wasn't busy abusing captive women, Mack was utilizing social media to her advantage. In what appeared to be thinly veiled attempts at recruitment, Mack reached out to several high-profile celebrities — including Emma Watson and Kelly Clarkson — in an effort to "chat."
On several occasions, Mack reached out to Watson on Twitter, with her first correspondence mentioning that she's "involved in an amazing women's movement I think you'd dig [and] I'd love to chat if you're open." Mack's second offer to chat with the "Harry Potter" alum notes that she "[participates] in a unique human development & women's movement." The actor even tweeted to Kelly Clarkson, "I heard through the grapevine that you're a fan of Smallville. I'm a fan of yours as well," before offering to chat.
Allison Mack's recruitment attempts fell short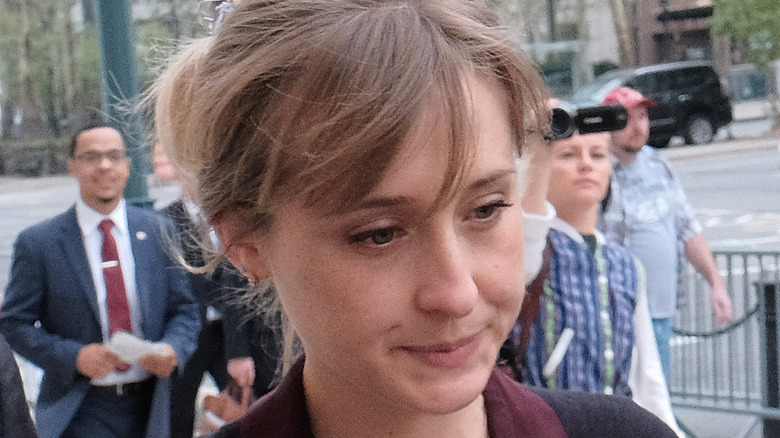 Jemal Countess/Getty Images
Allison Mack's attempts at recruiting Emma Watson and Kelly Clarkson ultimately received no response, though fans at the time (unaware of NXIVM's insidious nature) clamored for the "Smallville" actor to collaborate with the top celebrities. One commenter saw Mack reach out to Watson and excitedly responded, "Smallville and Harry Potter conversing. This is throwing me for a loop."
While her attempts at recruiting the stars went in vain, the actor secretly continued her reign of terror as Keith Raniere's second-in-command. In 2018, two years after her failed attempt at reaching Clarkson, Mack was arrested on "charges of sex trafficking, sex trafficking conspiracy and forced labor conspiracy," according to CNN. In 2019, the star pleaded guilty to racketeering and conspiracy charges — admitting to "state law extortion and forced labor" (per CNN).
In June, Mack was sentenced to three years in prison for her role within NXIVM. Upon her sentencing, Mack expressed "remorse and guilt" for her actions and denounced Raniere in the process (per Fox News). In a letter, Mack wrote, "I am sorry to those of you that I brought into NXIVM" and "I am sorry I ever exposed you to the nefarious and emotionally abusive schemes of a twisted man." Her apologies were quickly dismissed by victim Jessica Joan, who stated, "She can blame Keith all she wants but she is a monster cut from the same cloth," while referring to Mack as "a predator and an evil human being."
If you or anyone you know has been a victim of sexual assault, help is available. Visit theRape, Abuse & Incest National Network website or contact RAINN's National Helpline at 1-800-656-HOPE (4673).