What Happened To NXIVM Co-Founder Nancy Salzman?
The following article includes mention of sexual abuse.
As the more high-profile members of the multi-level marketing cult NXIVM continue to face their day in court — including cult leader Keith Raniere, who was sentenced to 120 years in prison for charges ranging from sex trafficking to racketeering, and former "Smallville" actor Allison Mack, who was given three years for aiding Raniere in his crimes — it looks like NXIVM co-founder Nancy Salzman is next on the list. 
Salzman, who began NXIVM as a multi-level marketing scheme with Raniere in 1998 in the suburbs of Albany, pled guilty to conspiracy racketeering in 2019, becoming the first of the cult's top officials to be officially convicted, per the Albany Times Union. As The New York Times noted in their own coverage of the cult's downfall, Salzman admitted to orchestrating "invasions of privacy" in order to evade lawsuits previously brought against NXIVM, which also amounted to identity theft and altering records within the group. While it is unclear whether Salzman's guilty plea could influence the court in her favor at her sentencing, she could still face up to 34 years in prison given her status as a NXIVM co-founder and her rank, which earned her the honorific of "Prefect," within the group. But what has Salzman been doing in the interceding months since entering her guilty plea? And how does she feel about her role in NXIVM now? Read on to find out.
NXIVM founder Nancy Salzman has expressed regret
As the Times-Union reported in July 2021, Nancy Salzman expressed how she now views the cult she presided over, along with leader Keith Raniere, for nearly two decades in a letter penned to U.S. District Judge Nicholas Garaufis. The letter was written on behalf of her daughter, Lauren Salzman, who also served as a top official within NXIVM and was responsible for recruiting female cult members into a secret organization named DOS within NXIVM.
While Nancy did not go into detail regarding Lauren's misdeeds within the cult (including blackmailing DOS recruitees – who were branded with Raniere's initials with a cauterizing pen — for the purposes of sexual coercion on his behalf) Nancy did express that Lauren's involvement in the cult's upper echelons would not have occurred had she not been one of Raniere's most ardent followers. 
Calling her decision to expose her daughter to Raniere and his teachings her "personal failure as a mother to protect her and guide her," Nancy also attempted to explain why it took her so long to see his true nature. "Keith's behavior ultimately was cruel and domineering and I (very belatedly) lost belief in the good faith I had harbored for so long," Nancy wrote. "When the NXIVM world was unraveling, it was easier for me than it was for Lauren to understand that Keith had lied and withheld information from people, including us, for his own demonic purposes."
Nancy Salzman is biding her time under house arrest until sentencing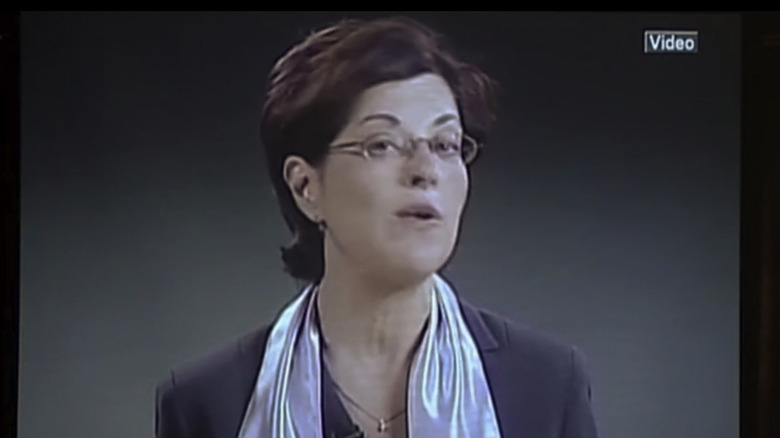 HBO
In her statement to the judge who oversaw her daughter's sentencing, Nancy Salzman wrote that since the disintegration of NXIVM's executive leadership — which also included her daughter Lauren Salzman, Allison Mack, and leader Keith Raniere (pictured above with Nancy) — she was finally able to see Raniere for what he truly was. As Nancy said, per the Times-Union, Raniere was "not the laid-back genius he pretended to be, but was instead a sex-crazed power hungry man taking advantage of damaged people to achieve his sick goals." She also evidenced the fact that she kept the true extent of her own (at times sexual) relationship with Raniere hidden from Lauren — who, as it was ultimately alluded to in the HBO docuseries "The Vow," also had a years-long sexual relationship with the convicted sexual trafficker. Over time, Salzman said "at my urging ... [Lauren] came to see that Keith was a sexual predator, a narcissist and likely a psychopath," as did Nancy herself.
Up until now, it seems Nancy has done much of this reflecting in the privacy of her own home, where she was placed under house arrest following a $5 million bail and remains until her September 2021 sentencing hearing. And apparently, she might even get to see Lauren, who was sentenced to community service, as well as five years probation, per Deadline.
If you or anyone you know has been a victim of sexual assault, help is available. Visit the Rape, Abuse & Incest National Network website or contact RAINN's National Helpline at 1-800-656-HOPE (4673).