The Real Reason NXIVM Leader Keith Raniere's Lawyer Quit His Case
While Keith Raniere, the leader of the self-help cult NXIVM, was sentenced to spend 120 years in prison after he was convicted in October 2020 for sex trafficking, it seems that the fact that he will presumably spend the rest of his life behind bars has done little to keep his name out of the media mill. As the Albany newspaper the Times Union reported on March 22, 2021, the latest development in Raniere's legal battle, which is now gearing up for the appeal stage, has less to do with the cult leader himself and more to do with one of his attorney's — specifically, her quiet exit from his defense team.
Per the Times Union, Danielle Smith, who served as a defense attorney for Raniere's legal team, has purportedly not only quit her role but has departed from her law firm, DerOhannesian & DerOhannesian, altogether. As the newspaper noted, the reason she's left her position, according to law partner Paul DerOhannesian, is to be closer to and focus on her family.
Despite the statement issued by her law firm, is there more to Smith's departure than meets the eye? And have other lawyers involved in the NXIVM case also exited under similar — or even different — circumstances? Read on after the jump to find out.
Keith Raniere's lawyer left right before a big error went public
While Danielle Smith's egress from Keith Raniere's legal team was one which Raniere was informed of and "consented" to prior to her removal, per the Times Union, it also purportedly coincided with another controversy regarding Raniere's case. As the New York Daily News reported on March 23, 2021, Raniere's attorneys faced criticism from the Brooklyn Federal Court and district prosecutors after it was revealed that a recent filing included information that identified victims of Raniere's sex trafficking — a story that broke only one day after Smiths departure. 
"The Raniere Filing contains the full names of victims and sensitive victim information, including medical records, in contravention of the Court's orders in the above-captioned case," prosecutor Tanja Hajjar stated in a court document requesting that the information be made private, per NY Daily. The media outlet also noted that according to Stephen Metcalf, another one of Raniere's lawyers, the original filing made by the defense and which was meant to be under seal was the result of a "technical error."
Although whether or not Smith's withdrawal from Raniere's legal team and the recent filing kerfuffle are connected is speculative at best, it's also not outside the realm of possibility. Then again, considering that Smith is hardly the first of Raniere's lawyers to take leave from representing their client, there could be more at play.
Keith Raniere's lawyer Danielle Smith isn't the first attorney to leave his defense team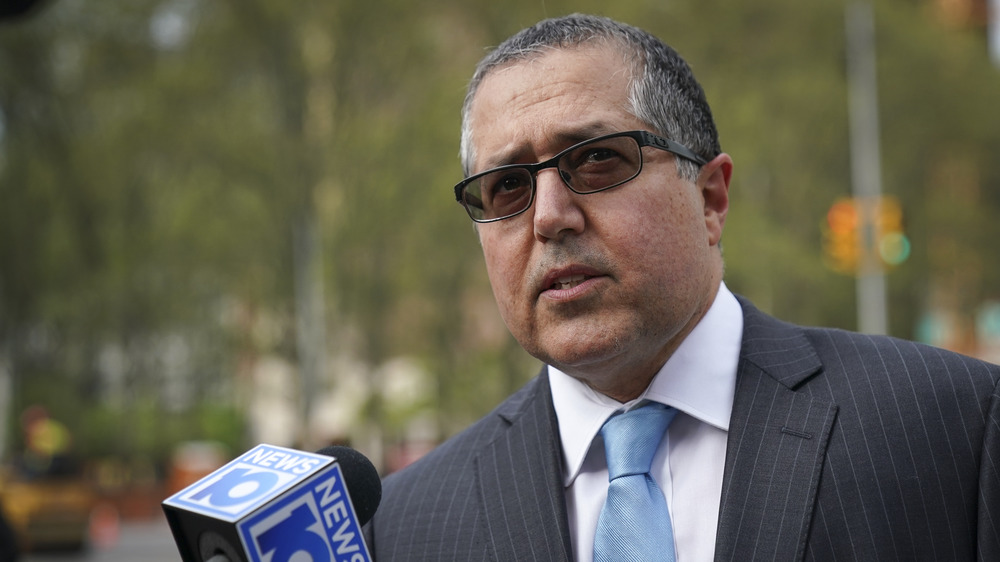 Drew Angerer/Getty Images
As the Times Union reported in January 2021, Marc Agnifilo, another attorney who represented NXIVM cult leader Keith Raniere, also left Raniere's defense team months before Danielle Smith followed suit. Agnifilo's departure was seemingly abrupt — especially given the fact that the lawyer became a de facto spokesperson for Raniere both in press conferences concerning his conviction and in documentaries like Seduced: Inside the NXIVM Cult. 
Agnifilo also made headlines after he vowed to appeal to his client's 120-year sentence in October 2020, asserting that his client's conviction was heavily influenced by "publicity campaigns," according to The New York Times, possibly referring to the widespread media coverage NXIVM and the case against Raniere had received. In a statement made by attorney Joseph McBride (via News 10), who was hired by Raniere after Agnifilo took leave, McBride commended his previous lawyer's efforts for "[advocating] for Mr. Raniere" under "impossible circumstances."
Both Smith and Agnifilo aren't the only two of Raniere's former defense attorneys to step away from their client. As The New York Post reported in September 2019, lawyer Teny Rose Geragos seemingly attempted to remove herself from Raniere's legal coterie after the tabloid obtained documentation that she had applied for a position to work at the U.S. Attorney's Office in Brooklyn. Despite this, Geragos continued to represent Raniere until January 2021, when she, too, resigned as a member of Raniere's defense alongside Agnifilo, per the Times Union.