The Good Morning America Harassment Controversy Explained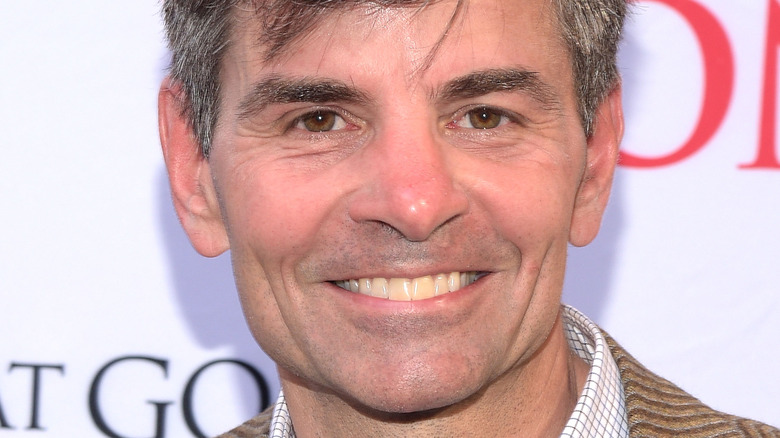 J. Kempin/Getty Images
ABC's "Good Morning America" isn't just reporting news; after a sexual harassment controversy was made public, it's making news. Kirstyn Crawford, a producer for George Stephanopoulos on GMA, filed a lawsuit on August 25 against the show's former executive producer Michael Corn, per The Daily Beast. The outlet reported that Crawford's lawsuit alleged Corn assaulted her during a 2015 business trip. Corn "kissed her head and touched her legs while in an Uber back to their Los Angeles hotel in 2015, claiming he wanted to help her career," per the outlet. The lawsuit also alleges that Corn assaulted former ABC News producer Jill McClain in 2010 and 2011.
People reported that McClain isn't a plaintiff in the lawsuit, but she shared her story "in support" of Crawford. According to People, the lawsuit states McClain "suffered grievous psychological harm" as a result. Per the lawsuit, "Both [Crawford] and McClain were traumatized and rendered incapable of reporting the incidents for fear of losing their jobs, since Corn was their supervisor." Corn left ABC News in April and currently works for the network NewsNation. Corn "vehemently" denies the allegations, per The New York Times.
Per The Daily Beast, the lawsuit states Stephanopoulos told Crawford that he had heard about the alleged 2015 assault in November 2017. Stephanopoulos urged Crawford to report it to ABC, then disclosed the incident to a senior publicity director for GMA. However, Crawford feared "retaliation" from Corn and did not file a formal complaint. 
Are George Stephanopoulos and Robin Roberts fighting as the news makes waves?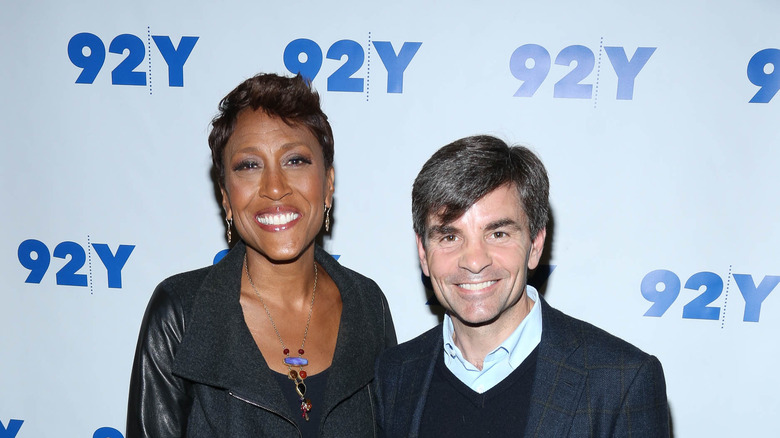 Rob Kim/Getty Images
The Daily Beast and The Daily Mail reported that George Stephanopoulos and Robin Roberts are "at war" over the Michael Corn sexual assault lawsuit. Roberts is "incensed" that ABC News didn't take action after discovering the allegations. Some sources say Roberts is upset with her co-host Stephanopoulos. According to The Daily Beast, Roberts declared on a team call about the lawsuit that "If this happened to someone on my team, I would have burned the place down." The outlet reported that some staffers thought Roberts was throwing shade at Stephanopoulos with her comment.
According to People, Crawford's lawsuit stated that ABC "knew or should have known that Corn had a propensity to sexually harass female colleagues and that he perpetuated a hostile work environment." The outlet claims ABC knew about the alleged 2015 assault in 2017 but "did not investigate the matter until she and McClain made complaints" in February.
ABC News spokesperson Caragh Fisher told The Daily Beast, "Robin and George are fine." In addition, Fisher told the outlet, "She [Roberts] told him [Stephanopoulos] personally that she wasn't referring to him and called the team the next day to reiterate that her comment was not about any one individual." So you might take the headlines about the "war" between the GMA co-hosts with a grain of salt.
Michael Corn was reportedly 'untouchable' because of his GMA track record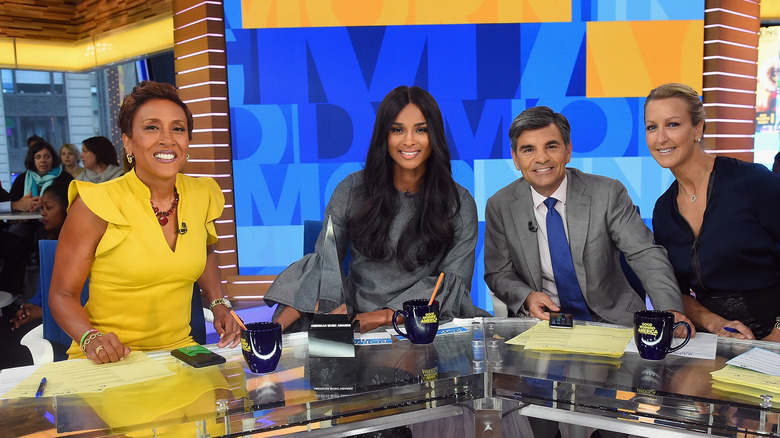 Ben Gabbe/Getty Images
The ABC News reaction to the Michael Corn lawsuit has employees upset. According to NBC News, the statement ABC News released after the lawsuit was filed was called "offensive" by many employees. "Morale is beyond low. Women are questioning why they are still at ABC because they are all so disgusted. It's a company they don't want to work for anymore," one said. Another ABC News staffer told NBC News, "It's the #MeToo era, and in the eyes of many here, ABC put out a statement that questioned the veracity of a woman who made an accusation against somebody ABC already fired. They read that statement from ABC News as an attack on a woman who is still coming to work here every day."
According to Deadline, after Kirstyn Crawford filed the lawsuit (which sees ABC News named as a defendant), the network made a statement that said it "disputes the claims made against it and will address this matter in court." According to NBC News, the lawsuit describes Corn as "untouchable," and said the network overlooked his behavior because he turned "Good Morning America" into "a ratings giant," as NBC wrote. 
Crawford claimed in the lawsuit that, like George Stephanopoulos, ABC learned of the alleged assault in 2017. Yet they "did nothing to protect Plaintiff or remove Corn from his position of power," per the lawsuit (via Deadline). What a mess.