The Real Reason Ken Jennings Lost The Jeopardy! Hosting Gig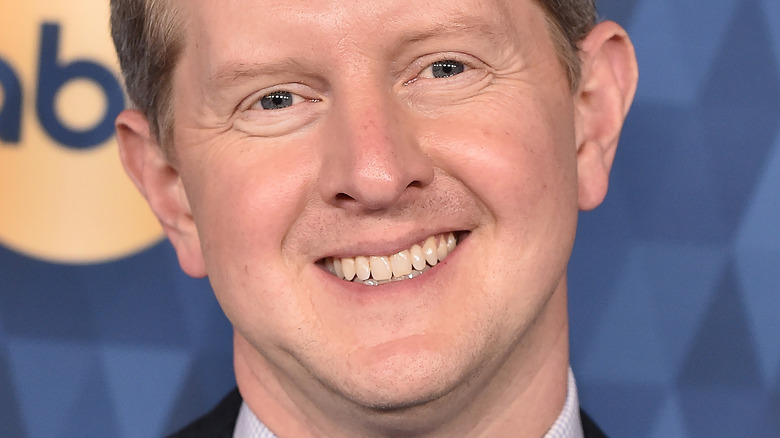 DFree/Shutterstock
The death of Alex Trebek in November 2020 irrevocably changed the television gameshow landscape. The iconic host manned the "Jeopardy!" ship, one of ABC's longest-running shows, for more than 35 years. He held a special place in the American zeitgeist as an all-around loveable celebrity. He never got into any Twitter feuds, rarely spoke up about hot-button issues, and stayed out of the tabloids. Simply put, on and off-screen, Trebek was deeply respectable. 
Since last November, producers have been faced with the insurmountable task of finding his replacement. Who could fill Trebek's shoes? At first, they bided their time by bringing in an army of celebrities to guest host while they figured things out. Anderson Cooper, Dr. Oz, and Katie Couric were among those who stepped in. Most thought that Ken Jennings, a former successful "Jeopardy!" contestant himself, and who nabbed a two-week spot as a guest host, was a shoo-in for the permanent role. In the end though, the honor was split between and Mayim Bialik of "Big Bang Theory" fame, and Mike Richards, a tenured game show producer, per Wall Street Journal. Though that's since come crashing down too. 
But why did Jennings, a "Jeopardy!" legend, last just two weeks? Well, that wasn't the original plan. Here's what we know. 
Ken Jennings' past came back to haunt him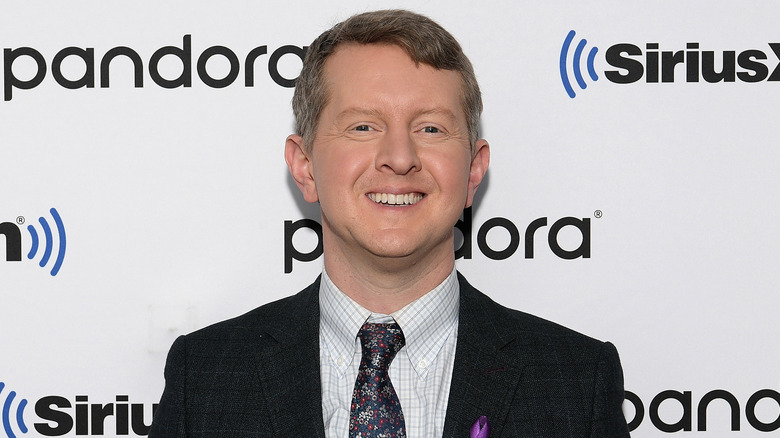 Dia Dipasupil/Getty Images
So why didn't "Jeopardy!" superstar Ken Jennings end up as host? Well, the answer has to do with some avoidably insensitive tweets. Back in 2014, Jennings posted some less-than-savory things that inevitably resurfaced. "Nothing sadder than a hot person in a wheelchair," one of the since-deleted tweets read, per the New York Post. 
A few years later, fans took notice, prompting a public apology from Jennings. "I never did a public flogging thing for this but I did apologize personally to angry/hurt people who reached out personally," he wrote in a 2018 tweet. "It was a joke so inept that it meant something very different in my head & I regret the ableist plain reading of it!" Thanks, we guess? Unfortunately for Jennings though, the public wasn't as eager to forget. Just as it looked like he might officially take over as Alex Trebek's replacement in December 2020, Jennings was pushed to apologize yet again when the tweets re-resurfaced. "Hey, I just wanted to own up to the fact that over the years on Twitter, I've definitely tweeted some unartful and insensitive things," he wrote in a five-tweet thread. "Sometimes they worked as jokes in my head and I was dismayed to see how they read on screen."
The public fallout from the Twitter scandal caused producers to reconsider Jennings as a permanent replacement, per The Wall Street Journal. In Fact, "reconsider" may be putting it lightly ...
We now know Ken Jenning's tweets did him in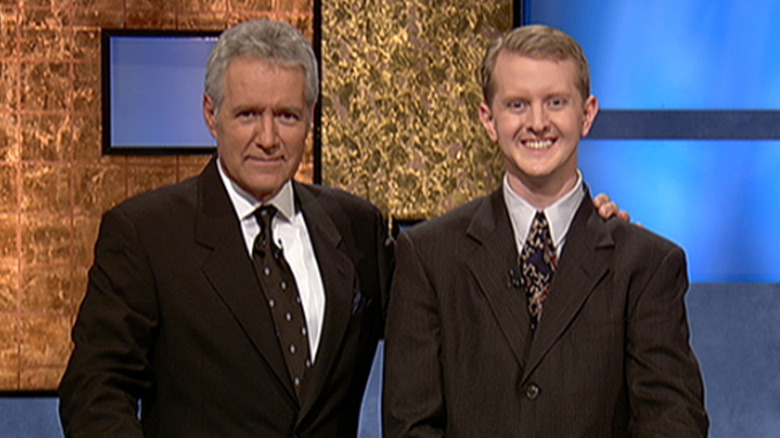 Getty Images/Getty Images
Though it may have just been projecture that Ken Jennings' problematic tweets were the reason he wasn't immediately named "Jeopardy!" host after Alex Trebek, we now know that's definitely the case. According to The Wall Street Journal, Sony Pictures Entertainment executives were in agreement that Jennings would be the perfect successor for Trebek, and that he would rise to the occasion of hosting as he went on. But then the tweets came rolling back in and it shut everything down for him. 
As Esquire wrote, "People familiar with Sony's selection process told the [Wall Street Journal] that executives were concerned by reactions to the tweet and feared a fan-powered backlash. According to The New York Post, "Jennings had apparently scored low on the audience's charisma meter, saying focus groups reportedly 'didn't react well' to the idea of seeing Jennings at the podium following the tweet revelations." As Esquire continued, "The subsequent dip in Jennings' focus group ratings didn't help his case." All of these issues, per Esquire, "convinced the Sony execs to put the kibosh on Jennings and resume, in earnest, the hunt for a new host." 
So it really was the tweets after all. That makes two huge "Jeopardy!" contenders (also counting Mike Richards) who are now out of the race.