Inside Adele And Rich Paul's Relationship
Frazer Harrison/Getty Images
It appears that singing legend Adele and her new beau, big-time sports agent Rich Paul, are officially "Rolling in the Deep" after recently being spotted enjoying yet another night out on the town together.
As reported by Page Six, the lovebirds were spotted leaving the trendy Los Angeles restaurant Otium. According to the hotspot's official website, patrons can expect to indulge in salmon, duck, lobster, steak, and various other entrees, all while dining in an open-kitchen atmosphere. Definitely date-night worthy! While Adele opted to observe date night donning a black turtleneck, plaid skirt, and tall boots, Paul kept it casual sporting a zip-up hoodie and jeans. Due to COVID-19 protocols, both were also wearing face masks.
The new couple first made headlines when they stepped out courtside at a NBA finals game on July 17 between the Milwaukee Bucks and the Phoenix Suns, per Elle. Only three days later, the couple all but confirmed the relationship rumors after being photographed by The Sun enjoying a date night at NYC's famous Cipriani complete with loads of PDA. But what's the real scoop behind the new relationship? Keep reading after the jump to find out!
Adele and Rich Paul may have been together longer than we thought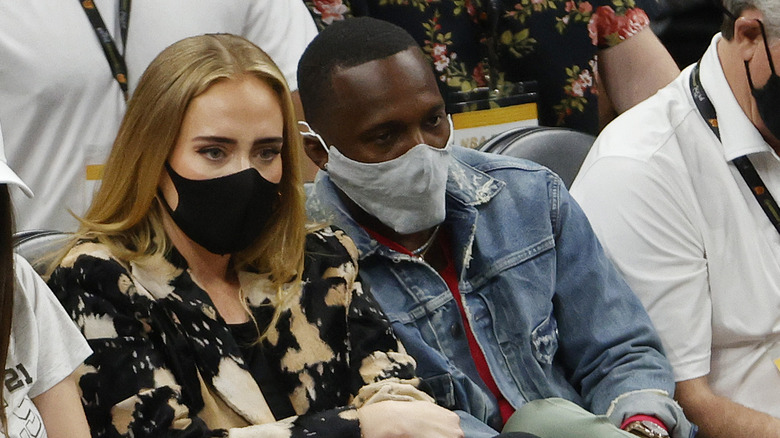 Christian Petersen/Getty Images
While the couple has only been linked together publicly since July, it appears that the masses may have been sleeping on this new power couple for quite some time!
During an interview for the The New Yorker, writer Isaac Chotiner couldn't help but be privy to a conversation between Rich Paul and his advisor, Adam Mendelsohn. During the conversation, Paul told Mendelsohn that a female pop star that shall remain nameless was over at his house the day prior. When Mendelsohn pushed further asking what she was doing at his house and why, Paul explained that they were hanging out, and as for why they were hanging out, the answer was simple: "Why not?" The conversation left Chotiner visibly curious. In an effort to clear things up for the journalist, Paul looked at him and said, "I'm not dating, I'm single. Put that in the story," and then he let out a big laugh.
Hindsight is always 20/20, however, and now many are sure that the aforementioned mystery woman was none other than superstar Adele. It should be noted that The New Yorker piece was published May 31, so we'll let you do the math on that one...
Adele endured a very long, drawn-out divorce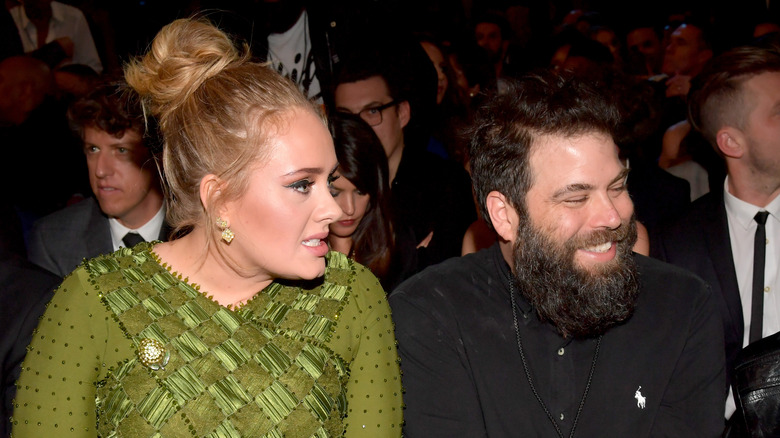 Lester Cohen/Getty Images
Alas, we can't bring up Adele's new flame without at least mentioning her former one. As reported by Vanity Fair, Adele's divorce from former spouse Simon Konecki was finalized in March — a whopping three years after the couple publicly announced their separation. According to Us Weekly, much of the drama surrounding the long, drawn-out divorce hinged on the pair's inability to come to an agreement about the details surrounding the divorce.
As you may recall, the couple welcomed a son together in October of 2012, but did not wed until May 2018. It's reported that in February 2019, Adele bestowed Konecki with the gift of all gifts: her Los Angeles abode. Unfortunately, on the heels of the couple's separation announcement only two short months later, many assumed that the grand gesture was actually nothing more than a logistical move on Adele's part. 
Still, even in the midst of a long and dragged-out split, a rep for Adele was adamant that the couple was committed to co-parenting their son "lovingly."