Who Is Dwight Yoakam's Wife, Emily Joyce?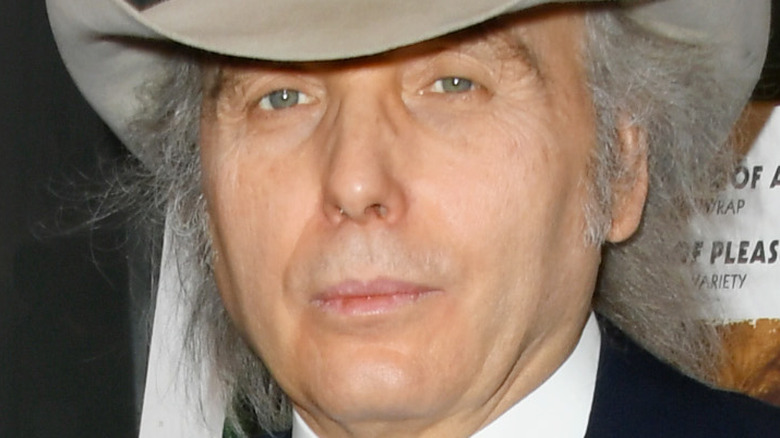 Jon Kopaloff/Getty Images
Throughout most of country superstar Dwight Yoakam's career, he was known for sporting a cowboy hat and often running stag. He had occasionally been romantically linked to women in the entertainment industry, but overall, the singer did not appear to have much luck in finding a long-term partner.
In 1992, Yoakam turned heads when he showed up to the Academy Awards as Sharon Stone's date to the star-studded affair. Not much was known about their relationship, except it appeared to end poorly. The "Basic Instinct" star described Yoakam as a "dirt sandwich" after their split, and during an interview in 1995, she doubled-down on the insult. "That's one of my favorites!" Stone replied to the Orlando Sentinel when asked about the disparaging comment.
Following Yoakam's unceremonious split from Stone, the "Long White Cadillac" singer dated model and actor Karen Duffy. The musician pampered her with romantic gestures, such as filling a bungalow with roses and buying her an assortment of jewelry. "We went out off and on for about two years, or, as I like to say, about 60 carats worth," Duffy told the Toledo Blade. In 1999, Yoakam started dating Bridget Fonda, and their relationship lasted three years. Afterwards, he was rumored to be dating fellow country star Wynonna Judd, per Country Thang Daily. It was not until 2010 that Yoakam started dating his future wife. Keep reading to find out more about their relationship.
These two got married after a decade together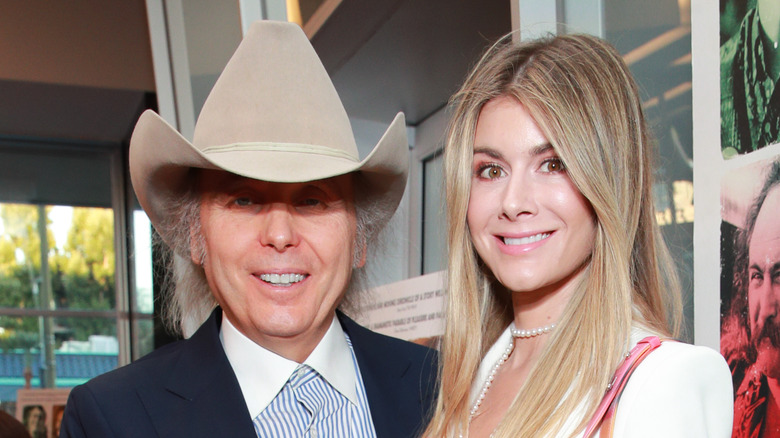 Rich Fury/Getty Images
Dwight Yoakam kept his relationship with Emily Joyce under wraps in the early days of their courtship. The first time Joyce accompanied Yoakam to an event was in 2013. She later joined the singer for Warner Music Group's Grammy party in January 2014, and then became a mainstay alongside Yoakam at future red carpet events, per Country Thang Daily. Unbeknownst to many, Yoakam and Joyce first started dating in 2010. In 2016, they were engaged, but did not tie the knot for four more years, per Hollywood Life. The couple got married in March 2020 to little fanfare. Due to the Covid-19 pandemic they were forced to have an intimate wedding ceremony that had less than 10 people present.
Out of respect for those suffering during the early throes of the pandemic, Yoakam waited until May 2020 to announce the marriage on his Instagram page. "At a time when there is so much uncertainty in the world, there are still happy moments," the statement read. "In the face of shutdowns and social-distancing requirements, love prevailed." The post included two snaps of the newlyweds where Yoakam donned his signature cowboy hat. They said "I do" at St. Monica Catholic Church in Santa Monica, which is the same church that Gisele Bündchen and Tom Brady had their nuptials in 2009, per Hollywood Life. 
Keep reading to find out what the singer's wife does for work, and how she has contributed to his career.
Emily Joyce is a proud mom and professional photographer
In August 2020, Dwight Yoakam and Emily Joyce had their first child, a baby boy named Dalton Loren Yoakam. Similar to their wedding earlier in the year, the couple announced the joyous event on Yoakam's Instagram page. A photo of Joyce flaunting her baby bump, along with a snap of the country superstar cupping his wife's bump were uploaded. "Like the lyric from the song 'Waterfall' that Dwight wrote for Emily on his '3 Pears' album says ... Babies get born even in a ... Pandemic lock down," the caption read. The song referenced was released in 2012 and included the lyrics, "Babies get born, even in a war" (via Song Meanings).
Joyce keeps busy behind-the-scenes working as a professional photographer, and is often on-hand while Yoakam records his SiriusXM show. The photographer captures snaps of the celebrities who visit the show including notable names such as Billy Bob Thornton and Post Malone, per Hollywood Life. Whenever Yoakam uploads Joyce's snapped images to his Instagram page he makes sure to credit her by including a camera emoji and tagging her professional Instagram page. Although Joyce has amassed a solid following on the platform, she chooses to stay out of the spotlight and remains quiet on social media.