Meredith Vieira Cried When This 'View' Co-Host Got Fired
Kathy Hutchins/Shutterstock
Meredith Vieira is one of the most experienced television journalists out there. Per Britannica, Vieira graduated from Tufts University with a B.A. in English in 1975 and began her career as a radio host announcer. She worked her way up the ranks and made history in 1989 when she became the youngest correspondent for CBS' flagship news program, "60 Minutes," as noted by the Los Angeles Times. But her time on "60 Minutes" was not as positive as many thought, because she experienced sexism from people she worked with.
"I think there was sexism for sure," Vieira told Variety in 2018 amidst the #MeToo movement. "I never was harassed, per se. But it was difficult during the time that I was, particularly at that show, to navigate your way as a woman who wasn't following the party line."
Vieira left "60 Minutes" in 1991 after she was fired from the program because she "resisted a full-time role," per Variety, following the birth of her son. The firing proved to be a welcome change for Vieira, who joined ABC. She became one of the original panelists on "The View" in 1997, but was unprepared for the show's ruthlessness when one of her co-hosts got fired. Find out which co-host's firing made Vieira cry below.
Meredith Vieira viewed this co-host like a sister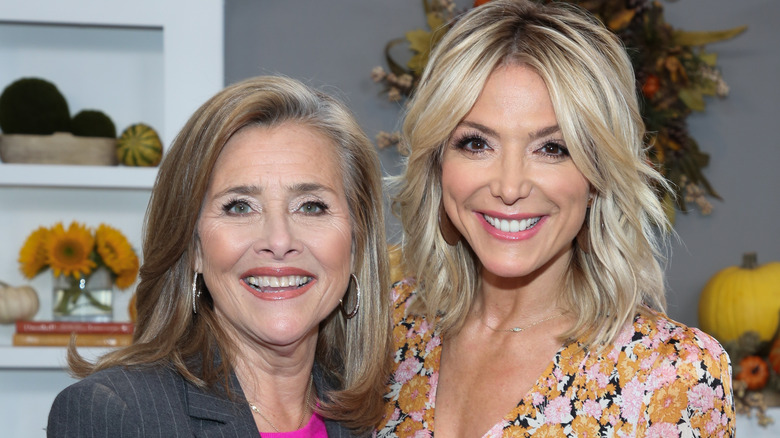 Paul Archuleta/Getty Images
While "The View" has been known to switch out its panelists after a few seasons, the practice actually began in the late '90s when Debbie Matenopoulos was let go. Barbara Walters, Matenopoulos, Star Jones, Joy Behar, and Meredith Vieira were the OG hosts on "The View," but viewers didn't particularly have a good impression of Matenopoulous — then a college student from NYU — which led to her firing.
Matenopoulos' lack of knowledge on many talking points annoyed viewers who pointed out her inexperience. "The audience just didn't like Debbie," former executive producer Bill Geddie revealed in the book "Ladies Who Punch: The Explosive Inside Story of The View" (via Showbiz Cheat Sheet). "The older people were okay with her. They thought she was an idiot, but it was funny. Younger people didn't see themselves in Debbie."
Seeing Matenopoulos as a ratings bomb, Walters had Geddie fire her, which also upset Vieira, who served as the group's moderator on the show until 2006. Per the author of the book, Ramin Setoodah, Vieira "started bawling" after hearing of Matenopoulos' firing and even tried to persuade Walters to reverse the decision. "Debbie was like a kid sister to me. I think of her as a puppy or a deer," Vieira told Setoodah. "I always felt bad because it was like they were trying to put words in her mouth. Her opinions were not as respected. I could have never done the show at her age."
Despite Vieira's best efforts, Matenopoulos was fired from the show in January 1999, but they still remain friends.
Debbie Matenopoulos reunited with Meredith Vieira several times since her firing
S Bukley/Shutterstock
Twenty two years after Debbie Matenopoulos was fired from "The View," the host still has a close relationship with Meredith Vieira. She appeared on Vieira's talk show in 2015, where she read Vieira's fortune. They also reunited a year later for the 20-year anniversary celebration of "The View," where they joined Joy Behar for the "Hot Topics" segment (via Variety).
Matenopoulos' appearance on "The View" has made viewers ask if she'd ever return to the show, especially in the light of Meghan McCain's departure this past August. A spokesperson for Matenopoulos told People that she has been in talks with ABC executives and that "she'd never say never to returning to her first television home."
Whatever Matenopoulos decides, there's no doubt that Vieira will be the first one to cheer her on if she does return to the female-led talk show.