Who Is The View Co-Host Nearly 30% Want Off The Show?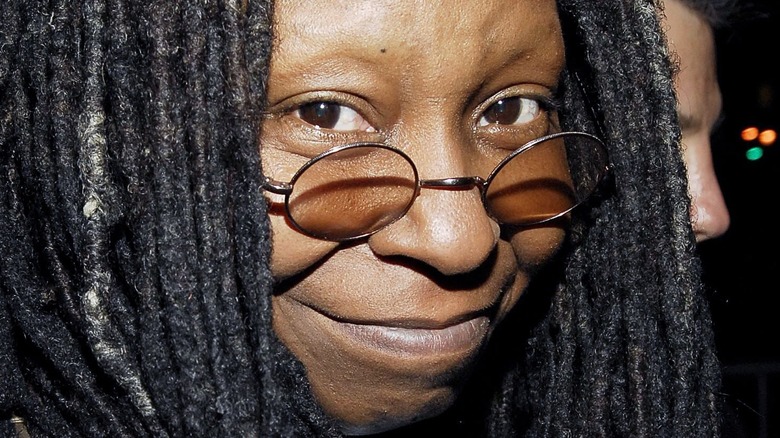 Shutterstock
"The View" has had a lot of changes in its slate of hosts over the years. Just about every combination of co-hosts clashes from time to time, and viewers get quite vocal about their favorites and least favorites. Nicki Swift asked nearly 600 people which "The View" co-host they would eliminate if they could, and the answers may seem a bit surprising.
As Us Weekly detailed, "The View" debuted in August 1997. The group of co-hosts included Barbara Walters, Meredith Vieira, Joy Behar, Star Jones, and Debbie Matenopoulos. Some, like Jones and Vieira, stayed for quite a while, and Behar left for a couple of years and later returned. Others, like Matenopoulos, left "The View" relatively quickly. Walters was the show's executive producer and hosted regularly until 2014.
Over the years, "The View" tapped a wide range of personalities to sit at the hosting table. "Survivor" veteran Elisabeth Hasselbeck spent a decade on the show, while journalist Lisa Ling left after three years. Rosie O'Donnell had two fairly rocky runs with "The View," and viewers watched Jenny McCarthy, Rosie Perez, Raven-Symone, Nicolle Wallace, and Candace Cameron Bure, and others come and go relatively quickly, per Us Weekly. Meghan McCain had an often rocky ride during her four years on "The View," and she officially revealed she's moving on as well. Which of the current co-hosts would "The View" fans single out as the next who should depart? Read on to find out.
Whoopi Goldberg rose to the top
Actor and comedian Whoopi Goldberg joined "The View" in 2007 (per ABC News). Barbara Walters detailed this would be "a great new chapter" for the show and referred to Goldberg as "brilliant, funny and irrepressible," according to the site. But despite Goldberg's success elsewhere (she's an EGOT winner), a survey of 598 Nicki Swift readers ranked her as the top pick to be eliminated, receiving 29.43% of the votes.
Why do "The View" fans have an issue with Goldberg? Some former co-hosts acknowledged they didn't click with her. Rosie O'Donnell claimed on "The Howard Stern Show" that "Whoopi really didn't like me," and that "She was mean to me on live TV." According to Jenny McCarthy, Goldberg clashed with her as well as Walters. As McCarthy claimed to Vulture, "Whoopi had an addiction to controlling people's thoughts, their words, the room, the table, your feeling, your mood."
In 2017, Goldberg nearly left "The View" (per E!). "I never thought I would get in as much trouble as I seem to have gotten in. You have to be prepared for half the country to hate you every day. It's a lot to carry," she admitted. As for the rest of the survey results, Meghan McCain received 28.76%, and it seems like, with her departure announcement, fans are getting their wish. Joy Behar followed close behind with 27.76%. Sunny Hostin only received 14%, so it seems "The View" fans are happy to keep her around.