Inside Rosie O'Donnell's Rocky Relationship With Her Daughter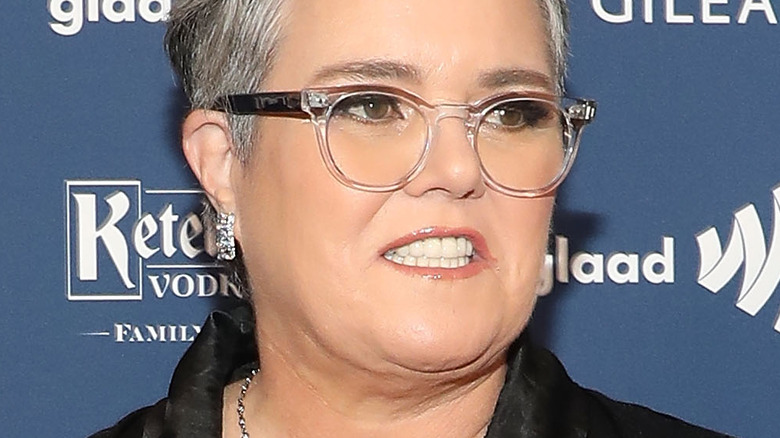 Taylor Hill/Getty Images
Rosie O'Donnell is a mother to five children, but not all of those relationships have been consistently positive ones. The comedian and television personality has shared a lot about her family over the years, opening up about both challenges and successes they've experienced. O'Donnell's relationship with one of her daughters has been especially difficult at times.
As Closer Weekly detailed, O'Donnell is mom to two sons and three daughters. She adopted son Parker in 1995, daughter Chelsea in 1997, and son Blake in 1999. At the time, O'Donnell was in a long-term relationship with then-girlfriend Kelli Carpenter. The two women added another daughter, Vivienne, in 2002 via artificial insemination. O'Donnell and Carpenter married in 2004 but split just months later. In 2012, O'Donnell fell for Michelle Rounds. They didn't wait long to wed, and they adopted one more child, Dakota, in 2013. Rounds and O'Donnell split in 2015, and in November 2017, Rounds died by suicide (per Us Weekly). 
These days, O'Donnell is on her own and focused on her kids, although some of those relationships have been strained at times.
Rosie O'Donnell's had rough times with daughter Chelsea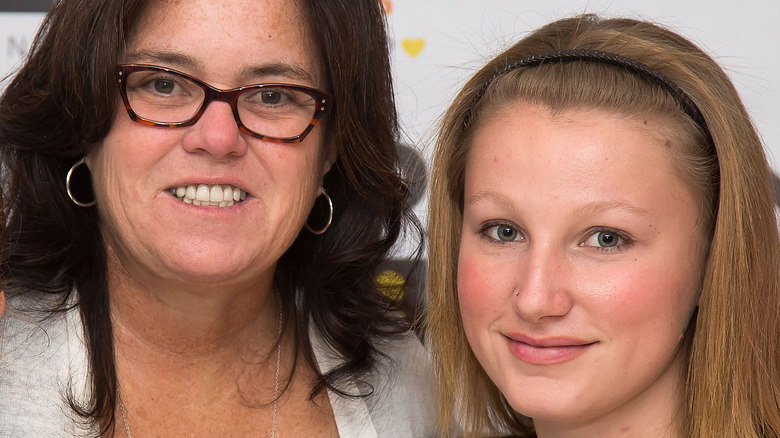 Ben Hider/Getty Images
During Chelsea O'Donnell's teen years, her relationship with mom Rosie O'Donnell became strained (per the Daily Mail). Chelsea described a May 2015 incident where Rosie allegedly was "drunk" and threatened her daughter as she looked for a tattoo Chelsea had gotten. This was shortly before Chelsea's 18th birthday, and the teen alleged Rosie threatened to hit her with a wine bottle and said "if she really wanted to she could kill me." Chelsea acknowledged, "I didn't go to the police because of who she is," adding, "She would have tried to say I was crazy and they just wouldn't believe me." Chelsea also detailed earlier times where Rosie was allegedly verbally and physically abusive, "making me feel that there was something wrong with me."
A few months later, Rosie claimed Chelsea "stopped taking her medicine and is in need of medical attention," insisting she'd run away from home. However, Chelsea said Rosie kicked her out and knew where she'd gone. A week later, Chelsea was found by the police, staying with a man she'd met online. Chelsea's time back home was short-lived, as Rosie reportedly packed her daughter's bags and told her to leave. 
Chelsea spent time with her biological mother before meeting Nick Alliegro in November 2015. She reconciled with Rosie and soon was pregnant and secretly married to Nick. Chelsea miscarried, and her relationship with Rosie broke down again. 
If you or someone you know may be the victim of child abuse, please contact the Childhelp National Child Abuse Hotline at 1-800-4-A-Child (1-800-422-4453) or contact their live chat services.
Chelsea and Rosie O'Donnell have come a long way
Radar Online noted Chelsea O'Donnell and Nick Alliegro split in April 2018, and things got ugly. She alleged he "arranged for me to provide interviews about my family" and kept the money she was paid. As the separation and divorce proceeded, it was revealed Chelsea was dating Jacob Bourassa and was pregnant again (per Radar Online). Chelsea and her mom, Rosie O'Donnell, managed to reconnect again during that time, the television personality told People. When Chelsea welcomed her daughter, Skylar Rose, in December 2018, Rosie was at the hospital to snuggle her first grandchild (per Twitter).
It appears Chelsea and Rosie have maintained a connection since Skylar's arrival. Rosie shares photos of Skylar on her Instagram page from time to time, noting in a June 28 post the little girl was Chelsea's "mini me." In January, Rosie posted a photo on Instagram showing Skylar snuggling a younger baby girl and captioned it "my beautiful granddaughters – skylar and riley #love." A June TikTok video showed Skylar and Riley again, and it seems Chelsea added a second daughter to the family within the past year. 
Rosie and Chelsea have had their struggles over the years, but it appears they've worked to set their differences aside as they embrace the newest babies in the family.