Inside The Tragic Deaths Of Luke Bryan's Siblings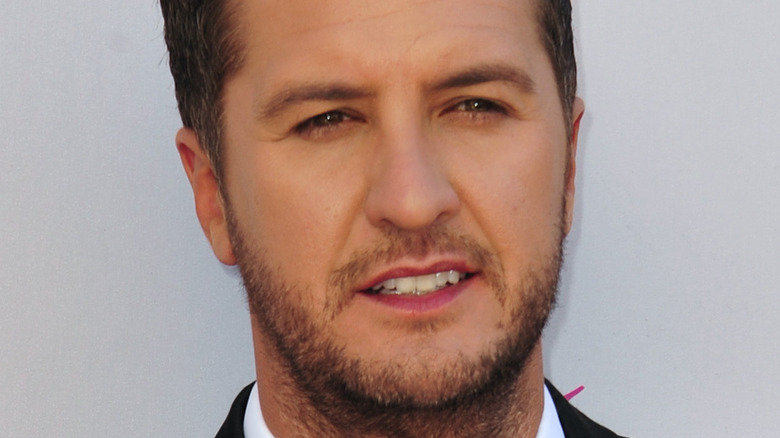 Jaguar PS/Shutterstock
Luke Bryan has been a country music staple ever since he first hit the scene with his debut single, "All My Friends Say," all the way back in 2007. The track was certified platinum in the U.S. for selling more than 500,000 copies, and very much launched Bryan onto the path of being one of the biggest and most successful artists the genre has ever seen.
The star has gone on to release a slew of other massive hits, including "Country Girl (Shake It For Me)" in 2011, "That's My Kind Of Night" in 2013, and "Play It Again" in 2014, while he's also made that big transition from the country music world and into the TV world. Many fans got even more familiar with Bryan when he joined forces with Katy Perry and Lionel Richie on the judging panel of ABC's rebooted version of "American Idol," where he's reported to make a whopping around $12 million a season (per Wall Street Journal).
But while it seems like Bryan has it all in his professional life, there's no doubting this relatable country star hasn't had it easy in his personal life. The Bryan family has experienced some unimaginable losses, including the tragic deaths of Luke's two siblings, his sister Kelly Bryan Cheshire and his brother, Chris Bryan. Read on to find out how Luke weathered the storm and stepped up when his family needed him the most.
Luke Bryan's brother was involved in a car accident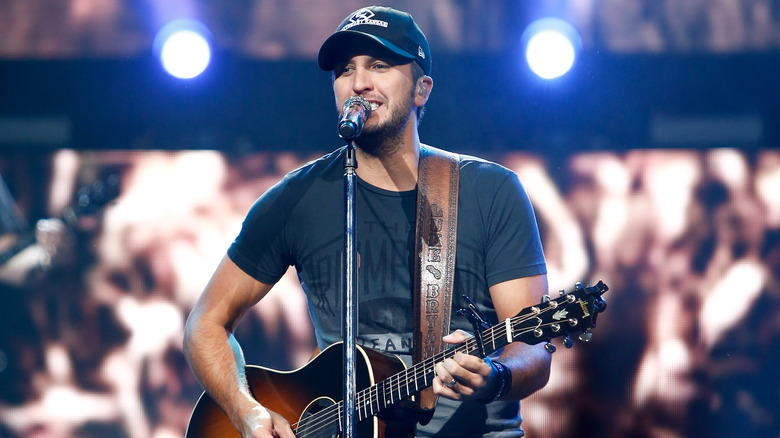 Debby Wong/Shutterstock
Luke Bryan's first sibling tragedy happened in 1996 when his brother, Chris Bryan, died in a car accident. Luke was 19 at the time and right on the cusp of moving to Nashville to pursue his country music dreams, dreams that were put firmly on hold. "I was never convinced I'd get back to Nashville, but I didn't spend time on should I go or should I not? It was just not going," Luke explained to People in 2013. "Your mother had just lost a child. At that point, her youngest son was not going to leave the house. Chris's death made me a little more mature."
The family opened up more about the decision to "20/20" in 2013, when Luke's mom, LeClaire Bryan explained she "couldn't bear the thought of him being away." Luke also admitted Chris' death was still very difficult for him to deal with. "I'm kind of hyperventilating talking about it. ... You never truly ... move beyond it," he admitted. 
Luke made the decision to stay in Georgia where he attended college, also working alongside his dad on their farm while getting music practice in by playing in bars. After a few years passed, it was Luke's dad, Tommy Bryan, who urged him to finally make the move to Music City.
But sadly, it was while Luke was in Tennessee and just about to become one of the genre's biggest names that tragedy struck again.
The cause of Luke Bryan's sister's death has never been determined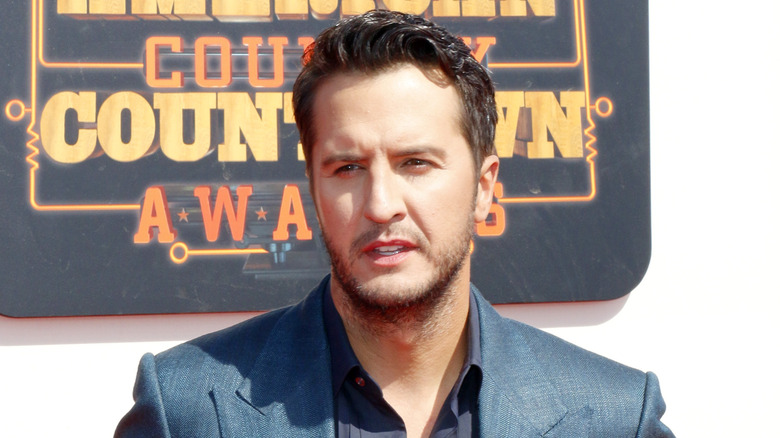 Tinseltown/Shutterstock
Luke Bryan suffered another unimaginable loss in 2007 when his older sister, Kelly Bryan Cheshire, died very unexpectedly. "She was home with her 3-year-old, and it was like someone turned the lights out. They never determined what happened. The autopsies, the coroner, no one could figure it out. I mean, a 39-year-old girl? That doesn't happen. It was just... abnormally tragic," Luke told People.
The timing of Kelly's death was made even more difficult by the fact she'd organized a trip to see her little brother make his Grand Ole Opry debut just a few days later. "My only older siblings...gone from the world, in a flash, in two...two different, crazy, tragic manners, that...we'll never know, and never understand," Luke told "20/20."
Horrifically, that wasn't the last tragic events for the Bryans. In 2014, Kelly's husband, Ben Lee Cheshire, died over Thanksgiving weekend, leaving their three children without parents (per Taste of Country). Ben's cause of death was not publicly released, but Luke stepped up again. 
Luke and his wife, Caroline Bryan, took in Kelly and Ben's youngest child, 13-year-old Til, who went to live with them and their two children. Luke described the situation as "tough stuff" in a 2015 ABC News interview, but noted, "I have to pray that people that have had similar situations can maybe look at my family and see me positively dealing with it. I'm not saying it's easy."