What Sam Elliott Looked Like When He Was Younger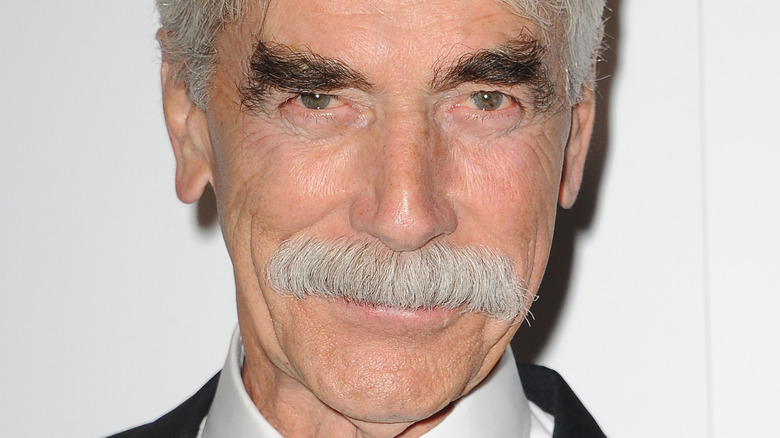 Tinseltown/Shutterstock
Sam Elliott is the kind of actor who has been a mainstay in Hollywood for years. That's why you surely recognize his face — as well as his incredibly distinctive voice — from movies like 1989's "Road House," 1998's "The Big Lebowski," and 2018's "A Star Is Born." You might have also seen him on shows like "Justified," "Grace and Frankie," "Parks and Recreation," and "The Ranch."
Granted, not everyone was convinced that Elliott made the right choice when he decided to go into show business. Though he was sure that acting was what he wanted to do when he was just nine years old, according to Biography, his father didn't think it was a good idea and held that belief up until his death when his son was 18. "He died thinking, 'Man, this kid is going to go down the wrong path,'" Elliott later explained in an interview (via Biography). "And I think on some levels that was either hard on me or made me more focused in my resolve to have a career."
In the end, though, succeeding in the spotlight while dealing with the shadow of his late father's doubt certainly wasn't the only time that Elliott defied expectations. Indeed, while the actor — like other industry icons such as Carol Burnett, "Murder She Wrote" actor Angela Lansbury, and mustachioed megastar Tom Selleck — was commended for his good looks, he wasn't interested in becoming just another Hollywood hunk.
Sam Elliott didn't want to be a sex symbol
When Sam Elliott was younger, he seemed to have everything he needed to be a star — he had talent, he had a strong presence, and he had camera-worthy good looks. Just take a peek at the actor back in the '70s stealing a scene in "Hawaii Five-0" (seen above) alongside another Hollywood legend, the late Jessica Walter. With thick and wavy hair, sharp features, and the same kind of smoldering look that he can still deliver these days, Elliot was the perfect person to play roles that required both acting and attractiveness.
However, Elliott apparently wasn't intrigued by parts that merely needed him to look good and didn't want a reputation for being the kind of star who was known for simply making audiences swoon. "I don't want to be known as a sex symbol," he said in 1976 while talking to Playgirl (via Biography). "There's a great stigma that goes with that tag."
So, if Elliot wasn't keen on being labeled as a sex symbol, what did he want to be known as? Well, he added, "I want to be a Sam Elliott." Fair enough. There's certainly no doubt that he's stayed true to himself — even when that means speaking out about a problem in the industry that has to do with leaving youthful good looks behind and embracing aging.
Sam Elliott says that 'Hollywood is hard on' older actors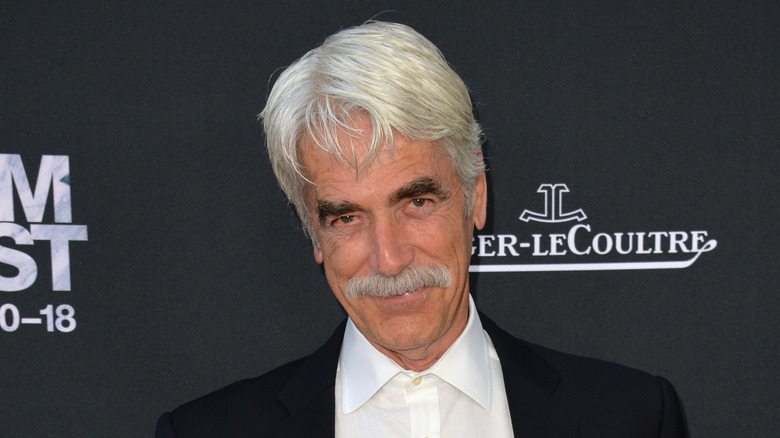 Featureflash Photo Agency/Shutterstock
Sam Elliott may have entered show business as a young, good-looking man, however, he's continued to nab gigs and entertain fans as he's continued to get older. While he still looks just as good on camera as ever, he admits that it's not easy being an actor who's aging.
"Hollywood is hard on women. It's hard on all of us actors, I think, in this day and age, because it's all about youth," Elliott told Huffington Post while opening up about the industry back in 2015. He then clarified, "[Maybe] not 'all about' — I mean, nothing is 'all about,' obviously — but there is certainly a focus on it, for lack of a better word, at the moment."
Granted, at the time, Elliott had starred in movies called "Grandma" and "I'll See You in My Dreams," which feature stories that revolved around older characters. For the actor, it was a move in the right direction. "I think it's [the industry's treatment of aging] getting better. I hope it is," he said. Let's hope this does, indeed, mean that Hollywood is at a place where it's willing to see the beauty in stories about older people that are told by older performers.