Luke Hemmings Didn't Get Along With This 5SOS Bandmate When They Met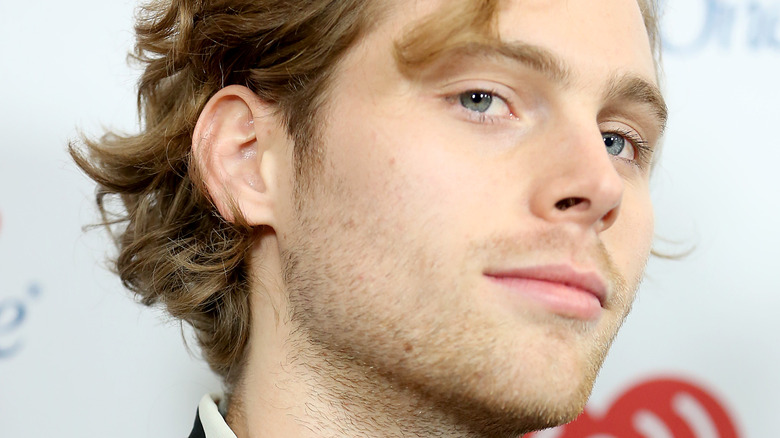 Monica Schipper/Getty Images
The boys of 5SOS may share a bromance these days, but previously, they couldn't stand spending a few seconds with each other. 5 Seconds of Summer frontman Luke Hemmings even went so far as to say he "actually hated" one of his bandmates back in the day, per People. 
The popular Aussie pop/rock band has been together for almost 10 years, amassing a huge fan base — and fortune. Hemmings is reportedly worth $20 million, according to the Sydney Morning Herald. 5SOS have sold more than 10 million albums (of the four they've released) and have more than seven billion streams, something they simply couldn't foresee during their school days. Hemmings, who is now 25, was just 15 when the band began back in 2011 at their local Sydney high school. "We started the band when I was 15 or so, and we've just been on this amazing, up-and-down adventure since I was a teenager," Hemmings told the Sydney Morning Herald in August.
While it would seem a school band would form between friends during lunch break, apparently that wasn't the case. In fact, Hemmings and fellow bandmates Calum Hood and Michael Clifford (Ashton Irwin, who was older, joined later) initially didn't listen to their music teacher's advice to join up. Thank goodness they eventually did.
Luke Hemmings spent a year feuding with Michael Clifford during school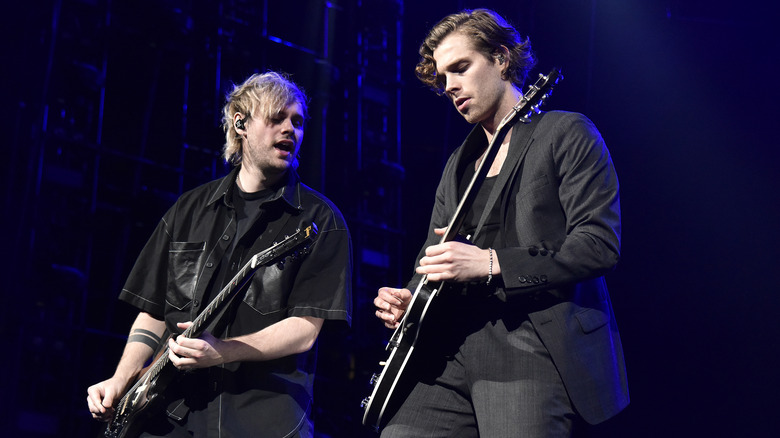 Tim Mosenfelder/Getty Images
Luke Hemmings previously admitted his relationship with Michael Clifford was far from perfect during school. However, the boys' music teacher encouraged them to get along. "'I started teaching them music in year 7, and they excelled in all the practical activities of music but were very quiet and shy and reserved," Adam Day told the Sydney Morning Herald in 2014. "I wrote on their reports back then that it would be good to seek performance opportunities to develop their confidence." 
While it took the boys some time to embrace the idea, Hemmings said he eventually got over his feud with Clifford due to a shared love of Green Day. "We actually hated each other for a solid year of my life," Hemmings confessed during a YouTube video. Now he and Clifford are the best of buds ... even enjoying the odd rom-com together. "Just watched a chick flick with Luke," Michael tweeted, via People. 
5SOS has since been through thick and thin. Hemmings told BuzzFeed in August 2021 that their first gig had an audience of 12 people, including the band's parents. Hey, you've got to start somewhere! "As 5SOS came together, it all just clicked, we were best mates and it seemed to be resonating even on the small level that we had." But with Hemmings having released his first solo album, will it spell the end of 5SOS?
Luke Hemmings said he "needed" to make music on his own
The coronavirus pandemic put touring at a standstill — and for 5SOS, it couldn't have come at a worse time. When the U.S. went into lockdown, the band was just a few weeks away from releasing their fourth studio album, with a tour and promotional coverage to follow, per Rolling Stone. 
While the band was reluctant to cancel any concerts, they eventually realized their 2020 tour would have to wait. Stuck inside and with extended time away from the band, Luke Hemmings got his creative juices flowing by way of songwriting. Inspired by Ashton Irwin's debut isolation album "Superbloom," Hemmings got to work on his solo album, which Rolling Stone called "equal parts mesmerizing and immersive" due to its influences from Neil Young, Pink Floyd, and Bon Iver.
However, 5SOS fans were concerned that two separate solo albums meant the band was breaking up. Thankfully, Hemmings assured that wasn't going to happen with the release of "When Facing the Things We Turn Away." "I was very open with them about the reasons why I wanted to do this: because it's a creative outlet, because it's a challenge I set myself to do something on my own," Hemmings told the Sydney Morning Herald. "It's something I need to do just to understand myself... there's no ill intention; the band are friends, the band's still together." 5SOS is even cooking up some new music; stay tuned.