Inside Stanley Tucci's Cancer Journey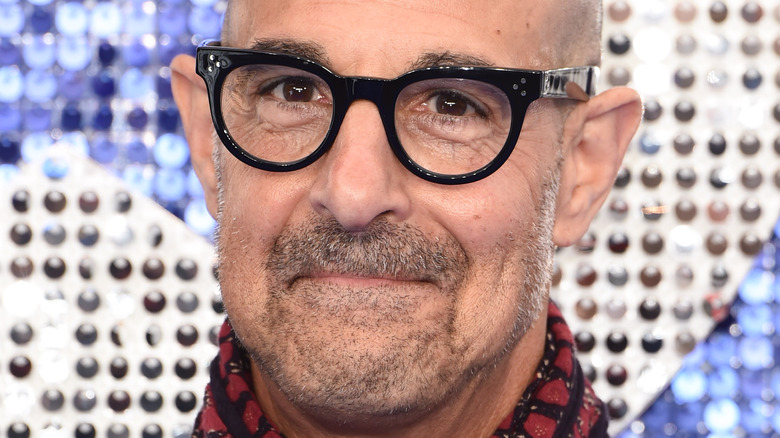 Featureflash Photo Agency/Shutterstock
Stanley Tucci is a man of many hidden talents and secrets. The Hollywood actor has been delighting fans with his cocktail-making skills ever since the start of the pandemic (he certainly makes a mean Negroni) and showing off his knowledge and love for Italian cuisine in his CNN docuseries "Searching for Italy." But his zest for life may have something to do with overcoming two personal tragedies. 
Tucci revealed to Vera, Virgin Atlantic's monthly in-flight magazine, in its September cover story, that he has been quietly battling cancer for three years. In 2018, Tucci was diagnosed with tongue cancer, which required "high-dose radiation and chemo," as the tumor was too large for removal. Tongue and various oral cancers have a "particularly high" death rate due to late detection, but they also have a relative survival rate of 67% if diagnosed within five years, according to the American Cancer Society.
While the "Easy A" actor is now in remission, he explained the treatment process was more emotionally painful than physical. "I'd vowed I'd never do anything like that, because my first wife died of cancer, and to watch her go through those treatments for years was horrible," Tucci shared.
Stanley Tucci's first wife died from breast cancer at age 47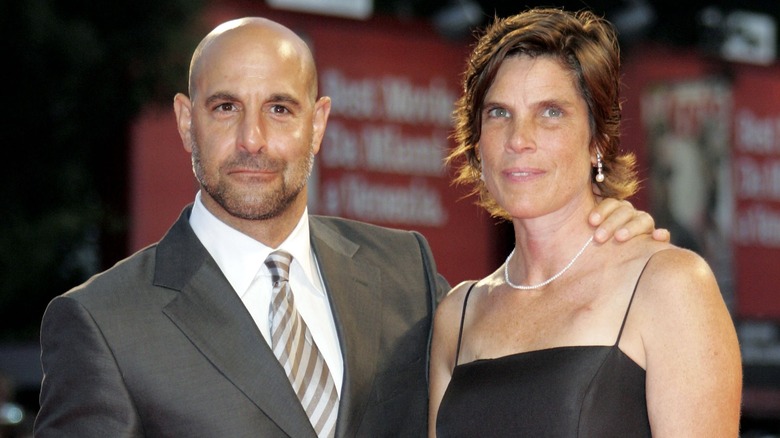 Mj Kim/Getty Images
The Tucci family already had emotional scars from cancer when Stanley was diagnosed. The actor's first wife Kate died of breast cancer in 2009 at only 47 years old. She and Tucci had three kids — fraternal twins Niccolo and Isabel and daughter Camilla, who were ages nine and seven at the time of her death. Tucci told Vera he was particularly concerned about his kids' wellbeing, having to confront cancer for a second time. "The kids were great, but it was hard for them. I had a feeding tube for six months. I could barely make it to the twins' high school graduation." While Tucci said it's unlikely his cancer will return, the experience changed his perspective on life. "[Cancer] makes you more afraid and less afraid at the same time. I feel much older than I did before I was sick. But you still want to get ahead and get things done," Tucci said. And that's exactly what he did.
Tucci has kept himself exceptionally busy on the big and small screen, even working on three projects the year he was diagnosed. He recently starred in the critically-acclaimed "Supernova" opposite Colin Firth and the film adaptation of Roald Dahl's "The Witches" with his "The Devil Wears Prada" co-star Anne Hathaway. The classic and ever-so-quotable fashion rom-com also holds a special place in Tucci's heart given he met his current wife at its premiere.
Stanley Tucci has been married to Emily Blunt's sister since 2012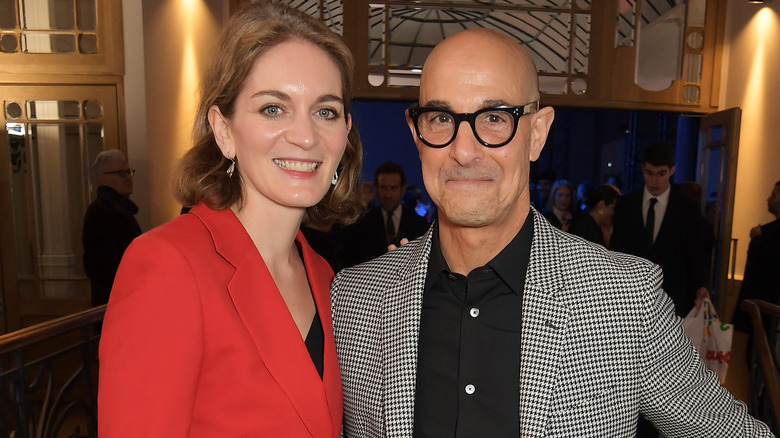 David M. Benett/Getty Images
"The Devil Wears Prada" provided Stanley Tucci with a little more than just a love for shoes. Tucci recalled the "odd" way he met his current wife, Felicity Blunt, on "WTF With Marc Maron Podcast." The 60-year-old explained he attended the film's 2006 premiere with his late wife Kate when he was introduced to Felicity by Emily Blunt. "So I did the movie, and she started treatments, and then we had the premiere, and then she was alive for four more years after that. But that's where I met Emily and we became friends," he began. "And, actually, Felicity — Emily's sister, my wife — she and Kate talked at the premiere that night and I have a photo of them together, which is so odd. And then many years later, I ended up marrying Felicity."
After Kate died, the New York-native reconnected with Felicity at Emily's wedding to John Krasinski, per Yahoo! After dating for several months, Tucci proposed, but felt "guilty" afterwards as he thought about Kate, but eventually realized his late wife would not want them to "wallow in that grief." "It's still hard after 11 years ... And it will always be hard. But you can't let it ... and she would never want any of us to ever wallow in that grief and let it take over our lives. She would never want that," Tucci told "CBS Sunday Morning." He and Felicity share two young kids, son Matteo and daughter Emilia.