Alex Trebek Wasn't The First Host Of Jeopardy!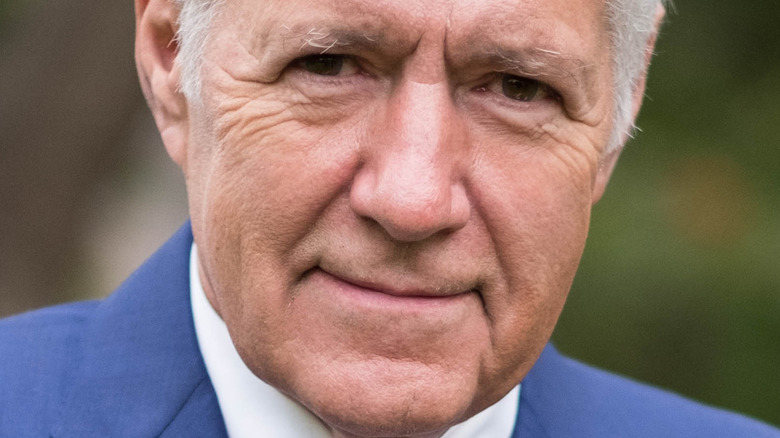 Emma Mcintyre/Getty Images
Alex Trebek hosted "Jeopardy!" from 1984 until he died in 2020. Trebek died on November 8, 2020, about a year and a half after he was diagnosed with pancreatic cancer. On March 6, 2019, Trebek announced his diagnosis in a YouTube video. "Just like 50,000 other people in the United States each year, this week I was diagnosed with Stage IV pancreatic cancer. Now, normally the prognosis for this is not very encouraging. But I'm going to fight this. And I'm going to keep working," Trebek vowed. Two months later, he spoke with People magazine and had a positive update. "The doctors said they hadn't seen this kind of positive result in their memory...some of the tumors have already shrunk by more than 50 percent," he told the outlet, adding that his cancer was "near remission." 
In March 2020, about a year after his original diagnosis, Trebek made another YouTube video to provide an update. He shared that his chemo treatments had been very tough, and that he had experienced "some massive attacks of great depression," but was happy that he had beaten the odds; the "median survival rate for Stage IV pancreatic cancer is between two and six months," according to Healthline.
Tragically, Trebek died eight months later. For the first time in more than three decades, "Jeopardy!" is in need of a new host — the show's third. What some people may not realize is that Trebek was not the first host of the popular trivia show. Keep reading to find out about the man who was.
Art Fleming hosted Jeopardy! for more than a decade
Art Fleming was the original host of "Jeopardy!" He was hired to host the show in 1964, and was part of the show for a decade, according to The New York Times. In 1974, the show's creator, Merv Griffin, decided to do a bit of rebranding, and Fleming was brought in to host "The All New Jeopardy," in 1978. "It was Mr. Fleming who gave 'Jeopardy!' its face and its voice, not to mention its dignified posture," The New York Times reported back in 1995. "The All New Jeopardy" was a "short-lived revival," according to IMDb, and ended in 1979. The show was brought back to life again in 1984, but Griffin had found himself a new host; Alex Trebek.
Fleming, a New York City native, was diagnosed with pancreatic cancer in 1995, according to the Los Angeles Times. He died two weeks after his diagnosis, at the age of 70. "We're all stunned. He was a great fellow. Art was the first 11 years of the success of 'Jeopardy,'" Griffin said at the time. Fleming enrolled at both Colgate and Cornell Universities, according to the LA Times, and he also served three-and-a-half years in the navy during World War II. After returning home from the war, Fleming explored acting, and launched a successful career in the entertainment industry. He was a father to one daughter named Jan Marie Hanna.
Jeopardy! will look to hire a third host in 2021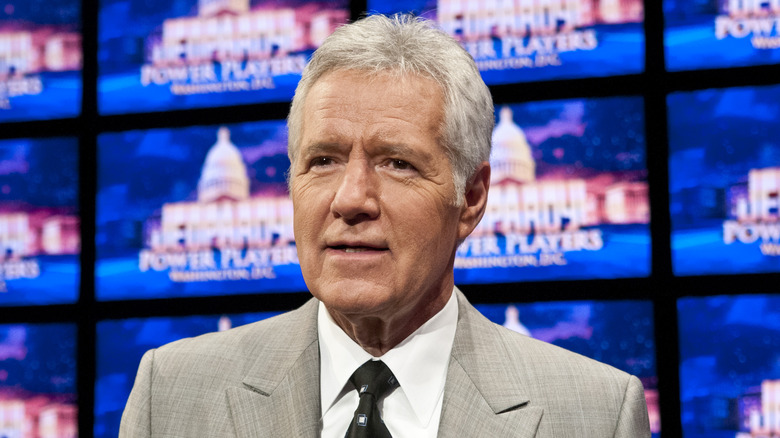 Kris Connor/Getty Images
After Alex Trebek's death, "Jeopardy!" producers were faced with the difficult task of finding the show's next host. According to Good Housekeeping, several guest hosts have chipped in to keep the show going until a permanent replacement was hired. Guest hosts have included Mayim Bialik, Bill Whitaker, Ken Jennings, Katie Couric, LeVar Burton, and Joe Buck, to name a few. 
In August, executive producer Mike Richards was announced as the show's new host, according to The New York Times, however, he resigned a little more than a week later, according to NPR. His decision to step down came after a few outlets reported that he had previously made "sexist and other inappropriate comments" during a podcast that he once hosted, the outlet reported.
Producers had also tapped Bialik as host for "Jeopardy!" tournaments and specials. Following Richards' resignation, an announcement that "The Big Bang Theory" actor would fill in as temporary host on a nightly basis when the show returns from its summer hiatus was made, according to The New York Times.