How Chris Noth Got In Trouble As A Teenager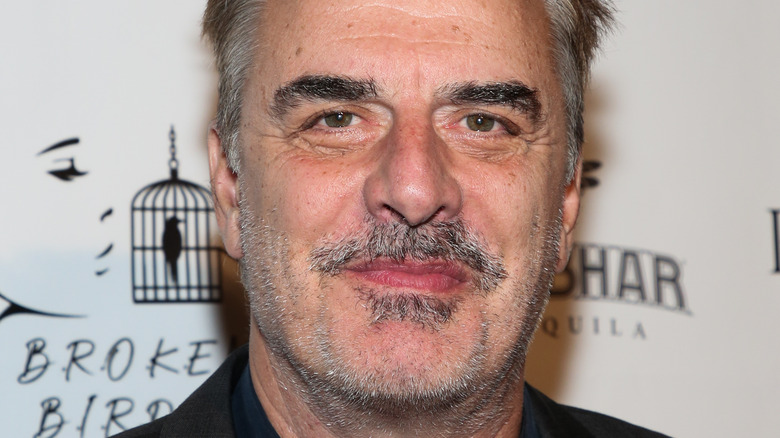 Paul Archuleta/Getty Images
Chris Noth may have played a bad boy on "Sex and the City," but the actor was one in real life back in the day. Noth previously told Entertainment Weekly that had he not changed schools, he would have "headed toward a lifestyle of possible juvenile crime." The 66-year-old has almost 80 screen credits to his name including roles on both "Law & Order" and "Law & Order: Criminal Intent" and as Alicia Florrick's (Julianna Margulies') husband on "The Good Wife." But his most famous on-screen relationship would be as Carrie Bradshaw's (Sarah Jessica Parker's) emotionally unavailable partner in "Sex and the City."
Noth was catapulted into international superstardom after being cast as Mr. Big in the HBO Emmy-winning dramedy in 1998. According to The Guardian, an estimated 10.6 million people tuned in for the show's finale episode. The huge popularity of the show saw fans confuse Noth with the stylish, debonair character he played on the screen. Back in 2008, Noth said a gaggle of girls waited for him to leave a Los Angeles restaurant just to see what car "Mr. Big" drove. "We got in, and you could hear them go, 'Oh my God, he's riding in a Toyota. Mr. Big would never ride in a Toyota.'" Clearly not phased by the typecast, Noth agreed to reprise his role in the SATC revival "And Just Like That...". However, Mr. Big — as we know him — could have looked completely different had Noth not straightened himself out as a teenager.
Chris Noth said he drove his mother "wild"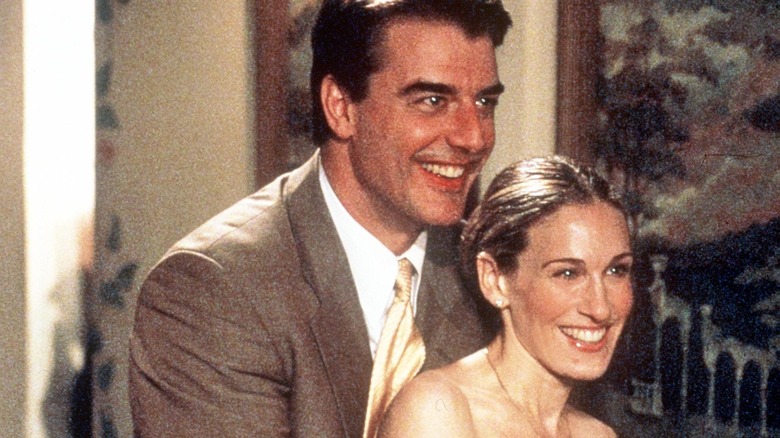 Getty Images/Getty Images
Before Chris Noth studied at the prestigious Yale School of Drama, he was apparently "blow[ing] up pumpkins." The actor grew up in Connecticut with little clue about what he wanted to do aside from "partaking" in marijuana and petty crime. Noth's father tragically died from a car accident when he was 12-years-old, leaving his mom, a CBS News reporter, to raise him and his brothers. Noth opened up about his rebellious streak to Entertainment Weekly in 2008, saying he "managed to drive at a very young age" and even snuck into Chinatown to buy fireworks each Halloween.
"I probably wasn't getting the best education, and I was driving my mother half wild with anxiety and madness," Noth shared. "I was probably headed toward a lifestyle of possible juvenile crime — but only because it was fun." Fun or not, his mom had enough after Noth stole a neighbor's car and crashed it. His punishment was to attend an all-boys school. However, Noth perhaps showing off his innate Big attitude, persuaded her to enroll him in a co-ed school. "I'll never forget, as we were driving up, I looked to my left [and] there were three girls skinny-dipping," the actor recalled. "My mother didn't see it, and I just went, 'You know, Mom, I think I could really learn a lot at this school."' Regardless of his cheeky intentions, the decision was all for the best as Noth eventually received acting offers at both Juilliard and Yale University. 
Chris Noth previously gave fans a glimpse of his teenage self on Instagram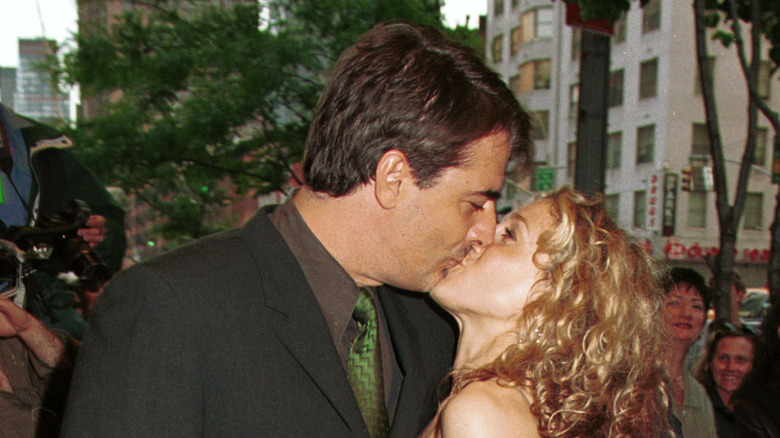 George De Sota/Getty Images
Chris Noth may be known as a silver fox now, but he was still a stunner during his teenage days. The actor, who will be 67 in November, shared an image from his youth to Instagram for Stephen Colbert's Puerto Rico relief project back in 2017. "Hey @stephenathome, so glad I don't have to wash that anymore... Puerto Rico, stay strong! We are with you!" he wrote. The grainy black and white photo shows a serious-looking Noth dazing into the distance with luscious long hair — almost physically reminiscent of Carrie Bradshaw's other beau Aiden. And fans clearly loved the throwback, writing: "Wow... just wow" and "gorgeous." His "Sex and the City" co-star Sarah Jessica Parker even gave her tick of approval (only necessary, as a TV wife) and commented: "Beeeeeautiful!!!!! Xx." We love to see it.
While the pair often comment on each other's posts, they've also been appearing in them. On August 12, both Noth and Parker shared their own adorable Instagrams amid production for the SATC revival "And Just Like That...". Noth wrote, "'Just like the old days!" with an image of them snuggling in bed. Parker, meanwhile, uploaded a sweet shot of Noth cradling her face and captioned it: "These 2. I bet they stay out late tonight." We certainly will be up all night when those 10-episodes hit HBO's streaming service.