The Truth About Guy Fieri's Youngest Son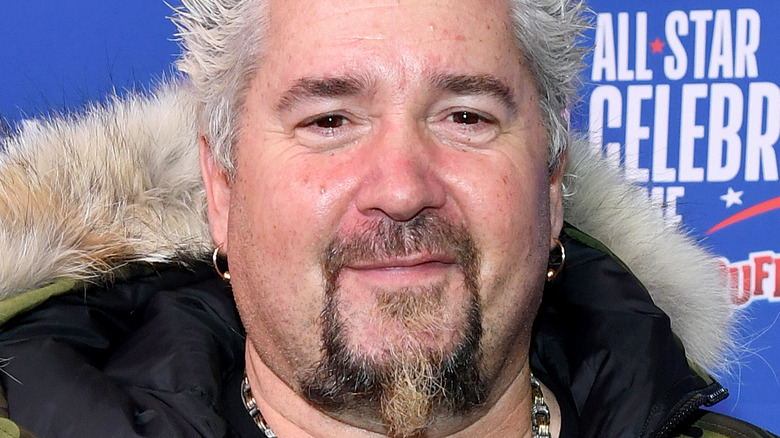 Kevin Mazur/Getty Images
Guy Fieri is a chef and television star. You probably know him best for his energetic one-liners about the food's flavor during Food Network's "Diners, Drive-Ins, and Dives." As his career has progressed, though, he has also picked up game show hosting with his spin-off series, "Guy's Grocery Games." However, Guy doesn't really discuss his life outside of the restaurant world and shies away from sharing personal anecdotes without permission.
In reality, Guy Fieri has been married to Lori Fieri since 1995, after meeting at a restaurant. The couple has two sons: Hunter and Ryder. Some Food Network fans might recognize Hunter, Guy's oldest son, from "Guy & Hunter's European Vacation," where they toured the continent and sampled different foods. However, Guy's youngest son, Ryder, flies more under the radar compared to his older brother. After all, he is still a teenager and hasn't appeared in any food-focused shows. But curious fans are wondering: who is Ryder Fieri? Here's the deal. 
Ryder Fieri is still figuring out life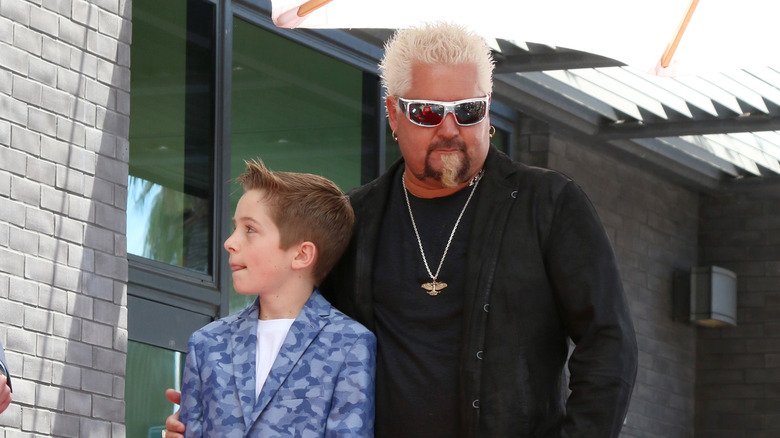 Kathy Hutchins/Shutterstock
Although Food Network host Guy Fieri has two sons, Hunter and Ryder, they are at very different stages of life. Given they were born almost a decade apart, Hunter has figured out he enjoys following his dad into the realm of food and television, while Ryder is still navigating life as a teenager.
Even though Guy tends to keep his family life largely to himself, he hasn't shied away from showing his son some love on social media. Back in December 2020, Guy wished Ryder a happy birthday on Twitter with both a sweet caption and some fun throwback photos of his son. "Happy 15th birthday Ryder," the proud father wrote. "So proud of you my son, 15 years has flown by! You are a great person, friend, ball player, boyfriend, pool player, and most importantly son! Love you, Dad."
In Ryder's free time, he enjoys posting travel shots on his Instagram. He was also active on TikTok, as many kids of his age are, to share dances with his friends. However, his last post on the platform was in December of 2020.
Guy Fieri doesn't know if Ryder will follow his career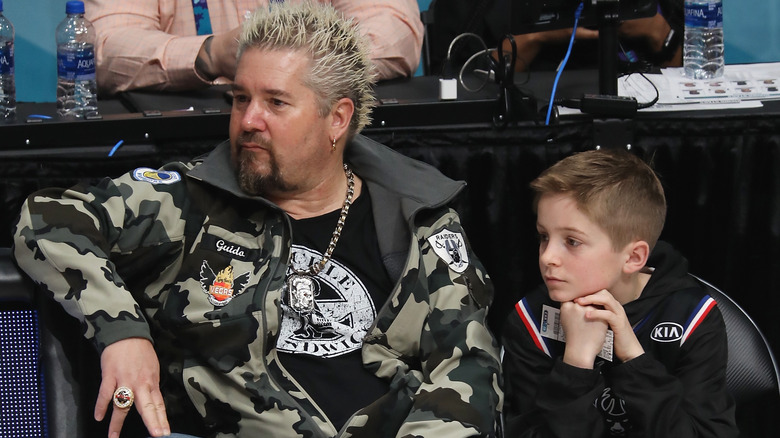 Jeff Hahne/Getty Images
Given that Guy Fieri's son, Ryder, is still growing up, both are unsure about his future career trajectory. Although it's unclear if Guy has taught Ryder any culinary tricks, he does try to instill that knowledge in his sons, at least according to Guy's oldest son, Hunter. "When I was in third or fourth grade [Dad] tells me, 'I'm done getting up and making you breakfast at 6 a.m. before school. You're going to get up now, I'm going to teach you how to make breakfast,'" Hunter told the New York Post in 2020. "He taught me how to make a French toast sandwich and put cream cheese and sliced strawberries in the middle."
Guy also holds the hope of his sons striking out on their own when the time comes. "I wanted him to get a couple years of his own feeling and flavor and message," Guy explained to Delish about Hunter's career. "When that gets done, we'll all know when it's time for him to come back to the family program. It's gonna happen, I don't have any question. Matter of fact, I look forward to it. I'm almost wanting to cheat the system and bring him back early, but I know what's going to be best for him." Time will tell whether Ryder follows suit — but we have a good feeling that he will.