What Is Kylie Jenner's Due Date With Her Second Baby?
Being the A-list mogul that she is, Kylie Jenner is no stranger to making headlines and captivating people's attention.
The reality star gave birth to her first child, daughter Stormi Webster, with rapper Travis Scott in January 2018 after keeping her pregnancy under wraps. After much speculation, Kylie has now announced that her Stormi will have a younger sibling very soon. Page Six reported in August that Kylie and Scott were pregnant with their second child and informed readers that an inside source revealed the whole family was "thrilled" about the news. Kylie kept quiet for a few weeks and finally opened up to her 265 million Instagram followers about expecting another baby on September 7. 
The makeup guru shared a video clip that showcased her, Stormi, and Scott going for a scan and telling her mom, Kris Jenner, that she was going to be a grandmother again. At the end of the clip, Stormi kissed Kylie's growing baby bump, which appeared to be several months into the pregnancy. The "Keeping Up With the Kardashians" star has yet to reveal how far along she is and has left fans guessing when she might be due. However, old tweets might indicate how pregnant she really is. Keep reading to find out what we know.
Fans think they've figured out how many months pregnant Kylie Jenner is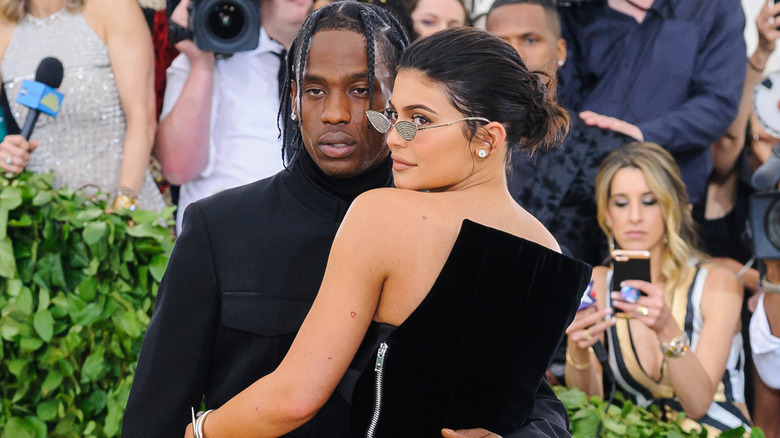 Sky Cinema/Shutterstock
Kylie Jenner might be tight-lipped about how pregnant she is, but an old saucy tweet from Travis Scott in January might indicate when their baby-making started. If Kylie conceived in January, she would be in the last weeks of her pregnancy at the time of her announcement. One fan previously assumed Kylie might be quite deep into her pregnancy during August, writing, "According to my calculations, Kylie Jenner is about 5-7 months pregnant lmfaaaoo."  Another person shared, "Omg kylie must be 6-7 months pregnant," while a third insisted Scott was secretly telling us about him expecting another child with his January tweet. 
That isn't all fans are speculating. Many are predicting that the duo is having a boy. On August 12, Kylie posted a snapshot of her daughter, Stormi Webster, wearing a blue mermaid outfit on Instagram. Over a week later, she shared more pics of Stormi and captioned the upload by writing, "favorite girl," with the blue heart emoji. Kylie is known for dropping sly hints, and E! News reported that she has been giving subtle hints about her pregnancy for quite some time. Therefore, these fan theories could not be out of reach.
According to The Sun, an inside source told the outlet that Kylie is expected to welcome her second child in January 2022. But, only time will tell.