Eric Stonestreet Said This Is The Rudest Celebrity He's Ever Met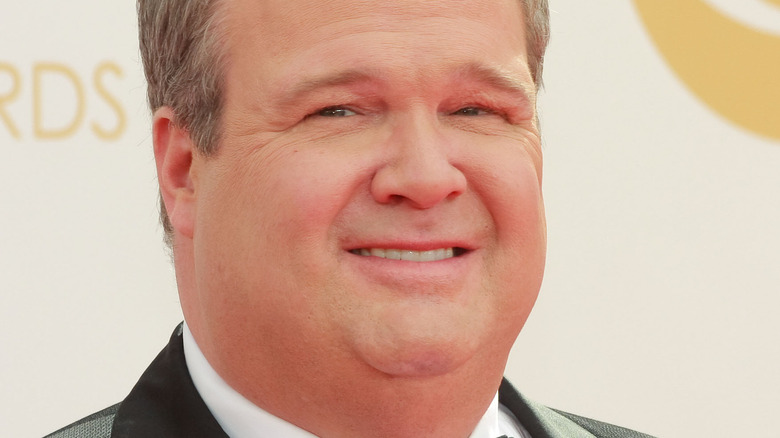 Featureflash Photo Agency/Shutterstock
Some cases of celebrities reportedly being rude surprise us; others... not so much. After Ellen DeGeneres was reported by BuzzFeed News as promoting a "toxic work culture" behind the scenes of "The Ellen DeGeneres Show," equally shocking tweets emerged about her reported attitude off-the-clock. "90 Day Fiance" star Chris Farah tweeted in March 2020 that, while serving DeGeneres as a waiter at a Los Angeles restaurant, the talk-show host "wrote a letter to the owner & complained about my chipped nail polish (not that it was on her plate but just that it was on my hand)... almost got me fired." Shocking, given that DeGeneres spent decades cultivating a persona of friendliness, literally starting a brand called Be Kind. 
Pop icon Christina Aguilera also made Buzz Mag Live's list of "33 Rudest and Meanest Celebrities." Unlike pre-2020 DeGeneres, Aguilera doesn't have the cleanest reputation when it comes to niceness, as evidenced by her feud with fellow songbird Mariah Carey. Actor Valerie Bertinelli also claimed on "Watch What Happens Live with Andy Cohen" (via Us Weekly) that when she approached Aguilera at a Van Halen concert and told her, "Oh my god, I think you're a beautiful singer," the singer simply replied, "Yeah, whatever." Frigid! 
As Bertinelli found out, it stings to have a celebrity, even a fellow celeb, reject your display of fandom. Keep reading to find out which famous rock star reportedly taught Eric Stonestreet's mother — of all people — this lesson the hard way.
Which member of KISS called Eric Stonestreet's mother "Aunt Bee"?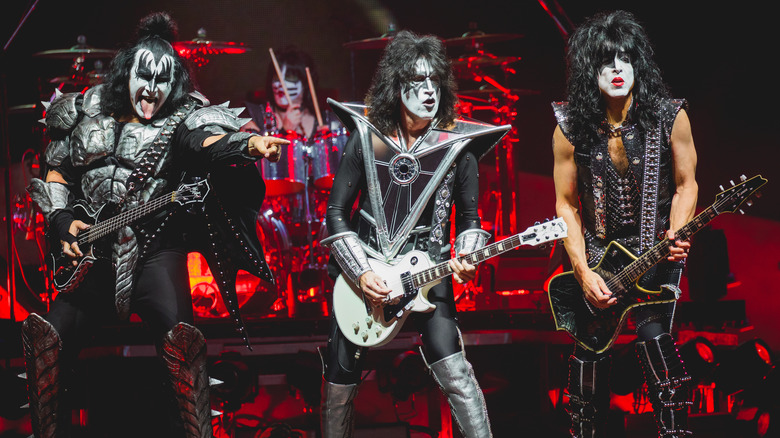 Tony Norkus/Shutterstock
Gene Simmons and Paul Stanley of KISS narrowly escaped a confrontation from Eric Stonestreet after the latter claimed they were cruel to his mom aboard a plane ride in 2014. Via the Daily Mail, Stonestreet shared on Instagram an exchange of texts between him and mom Jamey Stonestreet, revealing Jamey had spotted Simmons and Stanley and wanted to greet Simmons. "I think Simmons is on my flight. Do you think I should go give him a kiss," Jamey humorously texted Eric, to which her son deadpanned, "Yes. With tongue. He's into that."
Based on the subsequent texts between mother and son, it is unclear if Jamey ever did approach Simmons. However, Eric's Instagram share soon after suggests she did — and it didn't go well. "Gene tried to bully my mom out of her seat and when she said no, he said, it's ok, I just bought the plane and then asked her for HER autograph. -d*** move,'" Eric's screenshot read. Worsening matters was Stanley who, as Eric relayed to followers, reportedly called Jamey "Aunt Bee." "D*** move," Eric noted again, continuing that "I can't wait to run into you two old a** makeup-wearing f***s and tell you in person; you should have been nicer to my mom." 
That sounds like one angry son! Keep reading for how things ended up resolving — or not — in the Great Battle of Stonestreet versus KISS.
Gene Simmons denied Eric Stonestreet's rudeness claims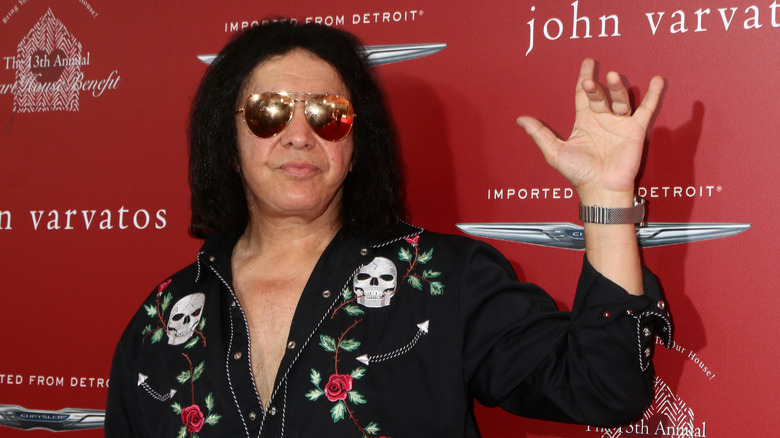 Kathy Hutchins/Shutterstock
Per the Daily Mail, Gene Simmons was unsurprisingly forced to address Eric Stonestreet's Instagrammed claims about his and KISS co-lead singer Paul Stanley's treatment of his mother Jamey aboard a 2014 airplane. In a since-deleted tweet, Simmons wrote, "Someone posted a story which is blatantly untrue. The essence of it was that we were mean to somebody's mother. It's simply untrue." The vague nature of Simmons' response only further rubbed Eric the wrong way, with him tweeting, "It was me and it was my mom. Just say sorry for the confusion Jamey Stonestreet and we're good." 
Simmons doubled down, however, and continued the Twitter exchange, writing, "LOOK, I HAVE A MOTHER, TOO. I would never be mean, especially to mothers. You know that." Eric replied, "Im gonna go ahead & believe my 70yr old mom on this one. u should continue to make HER the aggressor tho. Its a good color on u." 
The heated argument thankfully came to a peaceful end when Stanley tweeted his apology, saying, "I actually waited so your mom could get off first. The rest-A misunderstanding of joking. I apologize anyway. Good son." Eric accepted his words, writing back, "Thank u for that. She did tell me you let her go first. I will tape my glow in the dark KISS posters back together now." 
All we know is, it would have been nice to be aboard this plane ride to see what really unfolded for ourselves.