Mel B's Former Nanny Sues Over Sordid Divorce Details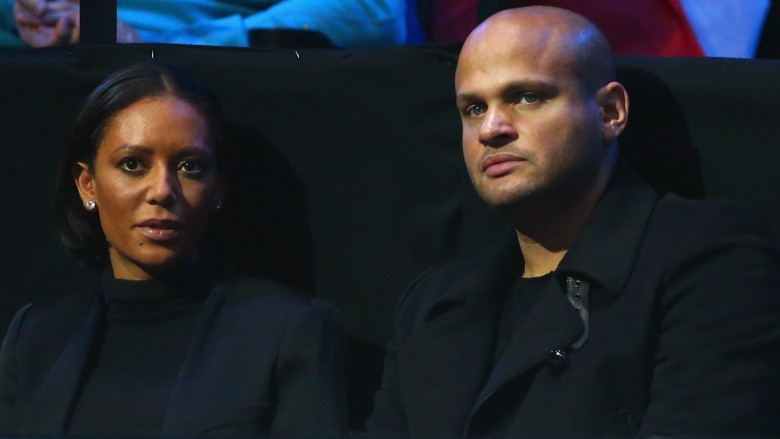 Getty Images
Melanie "Mel B" Brown's divorce from Stephen Belafonte just got even more complicated: The estranged couple's former nanny, Lorraine Gilles, is suing the America's Got Talent judge for libel, invasion of privacy, and intentional infliction of emotional distress.
The lawsuit stems from Brown's restraining orders against both Belafonte, 41, and Gilles, 26. In the filings, which were initially obtained by TMZ, Brown accused Belafonte of attempting to blackmail her with numerous sex tapes of her, as well as of the couple together with other women, including Gilles. Brown alleged that many of the videos were recorded without her knowledge or consent. Brown alleges that Belafonte would coerce her into having threesomes and that if she refused, he'd threaten to release the tapes; Belafonte denied all of the accusations.
It didn't end there: Brown also stated in her declarations that Belafonte sought a three-way relationship with Brown and Gilles, and that he even got Gilles pregnant, then "forced" her to get an abortion. Brown also accused Belafonte of paying Gilles $300,000 of Brown's money for "alleged nanny services."
Now, in court documents obtained by The Sun, Gilles has claimed that all of her relations with Brown were with consent—and that the filming of said relations was often done by Brown herself. Gilles also denied having any sort of sexual relationship with Belafonte outside of Brown's knowledge but admitted that they did sleep together at Brown's own insistence. Gilles alleges that the relationship lasted seven years and that Brown preyed upon her youthful naiveté.
Gilles also claimed that, while she did get pregnant and have an abortion, the child wasn't Belafonte's but rather the result of a one-night stand with another man—and that he didn't force her to have said abortion, nor did he pay for it.
"Feeling confident she can discreetly confide in her best friend and mentor Brown for support, Gilles immediately sought guidance from Brown about the 'one night stand' and unexpected pregnancy, explaining to Brown the circumstances of the pregnancy and sexual encounter," the papers read. "At no point did Brown question Gilles about how she became pregnant, and at no point was it suggested or implied that Brown believed Belafonte to be the potential father of the child. In fact, Gilles had not had group sex with Brown and Belafonte for several months prior to the unexpected pregnancy ... After the procedure was completed, Gilles resumed her work as a nanny as usual, and Gilles and Brown continued their sexual and employment relation."
Sources told TMZ that Brown doesn't dispute that she, Gilles, and Belafonte had a three-way relationship, but claims that Belafonte crossed the line when he slept with Gilles without Brown's knowledge—and that it happened numerous times throughout their nearly decade-long marriage.
Meanwhile, a source told The Sun that Gilles wasn't the only pretty blonde to be propositioned for relations with the estranged couple. An insider revealed that both Rita Ora and British socialite Lady Victoria Hervey were approached for group sex with Belafonte and Brown but that Ora turned them down.
"Rita was one of Mel and Stephen's 'targets,'" an insider said. "When they asked her back to [their place], she was surprised. She was [at an event with the couple] purely for work reasons, anything else was out of the question. So she made her excuses politely and went home ... She told friends she knocked them back and had tried her best to avoid being in their company from then onwards."